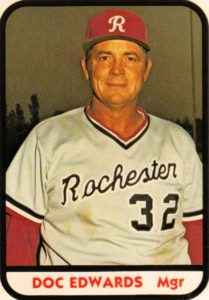 Courtesy of RedWingsBaseball.com
ROCHESTER, NY – Doc Edwards, who managed the Rochester Red Wings from 1979-81 and was at the helm during the longest game in professional baseball history, has passed away. He was 81.
Born Howard Rodney Edwards, "Doc" spent 57 years in baseball as either a player, coach, manager or scout. The Red Jacket, W.V. native made his major league debut with the Indians in 1962 and would also appear in games with the Kansas City Athletics, Yankees and Phillies. He also managed Cleveland to a 173-207 record during parts of three seasons from 1987-89. That 1989 club included current Red Wings manager Joel Skinner.
In Edwards' final year leading Rochester in 1981, the team played the longest game in professional baseball history at Pawtucket, a 33-inning affair that began on April 18 and was completed on June 23.
Edwards managed or coached for several organizations including the Phillies, Indians, Mets, Yankees, Cubs, Expos and Orioles. He also managed Buffalo from 1993-94 and served as the Bisons hitting coach in 1992.
He is survived by his wife, six children, 16 grandchildren and four great grandchildren.