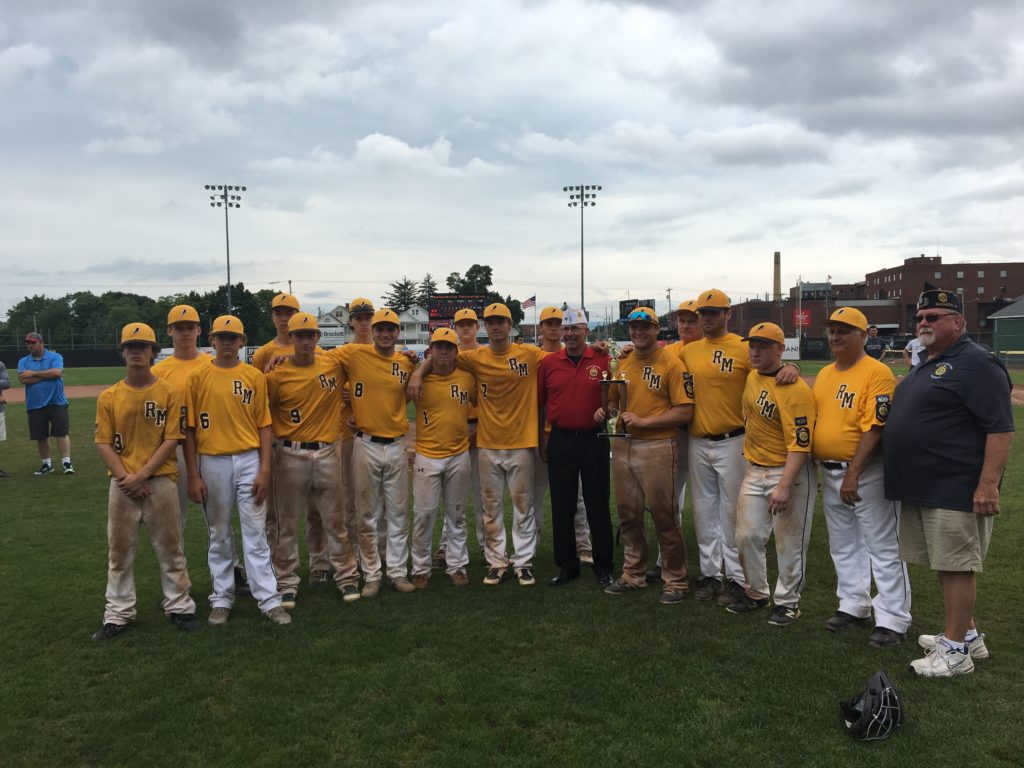 By BILLY HEYEN
UTICA, N.Y. — Jason Bocklage tossed his bat to the side, then his helmet. Colin Smith chucked his helmet behind him, as well. The Rockland Pirates, just 60 feet, six inches away, piled atop each other near the pitcher's mound.
Minutes later, Rayson Miller posed for pictures with a runner-up trophy, with not many smiling faces in the shot. When Rockland got its giant of a trophy, everyone smiled as they held up three fingers for three-peat.
The greatest season in Rayson Miller history ended just short of a state title with a 10-2 loss to Rockland on Wednesday at Murnane Field. Never before had 45th-year head coach Tom Sapienza won more than a game at the state tournament. This time around, Rayson Miller heads home after compiling a 4-2 record in Utica. But the final result wasn't quite picture-esque.
"I'd tell you what my wife has told me coming home from tournaments for 40-something years: wasn't meant to be," Sapienza said. "But I'll tell you what, it was a good ride while we had it."
Rayson Miller's backs were against it from the start. Rockland had advanced via the winners' bracket, giving them a day off Tuesday. Rayson Miller, on the other hand, had to win twice Tuesday to make it to the championship, and would have had to win twice Wednesday as well. With strict pitch count rules, none of Rayson Miller's top five pitchers were available to be used on the mound.
So even though Rayson Miller scored a run in the first on an Owen VanNewkirk RBI single, Rockland answered right back off Owen Jones with two in the bottom of the first. After two walks and an error, a hit was tucked right inside the third-base bag to drive home two.
Then in the third, a leadoff Rockland triple was brought home via another ball just inside the line. That came ahead of seven more runs in the bottom of the third to blow it wide open and leave little doubt in the outcome.
"It's the vagaries of the game," Sapienza said. "The balls are fair by two or three inches a couple of times."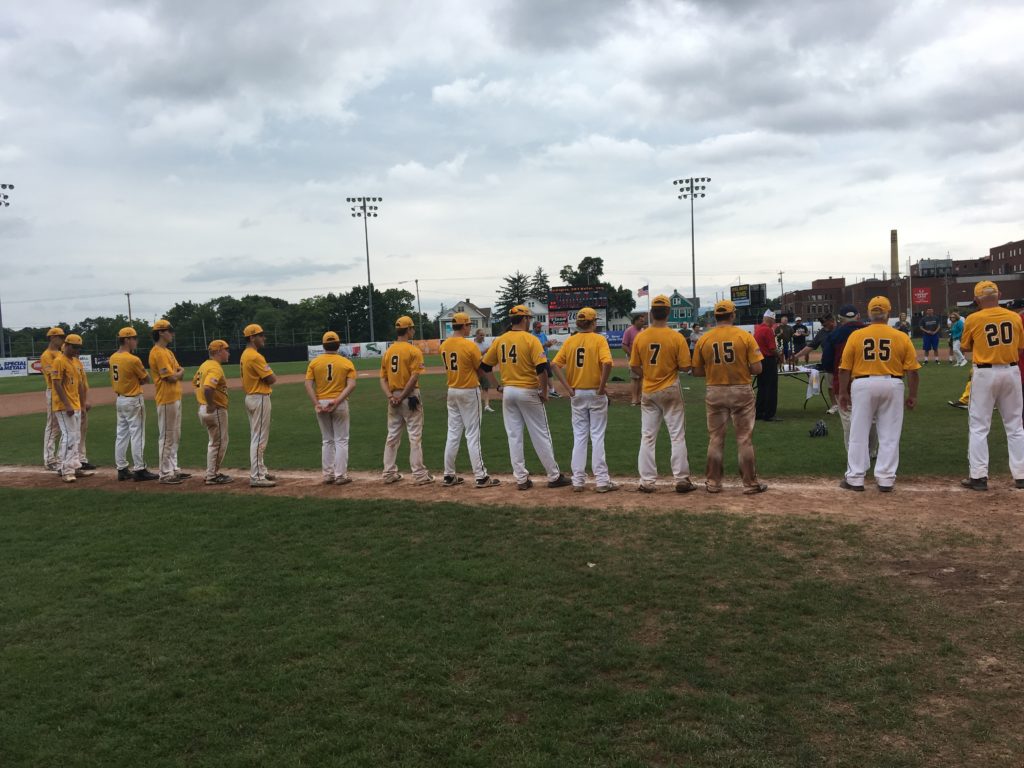 Rayson Miller kept the energy up between innings, but a 10-1 deficit on the scoreboard against a Division I southpaw in Rider's Ray Pacella — who earned tournament MVP honors — didn't allow for the comeback magic that Rayson Miller had benefited from in its postseason run.
Colin P. Smith entered to pitch from centerfield for Rayson Miller to stop the bleeding in the third. And he did, for the most part, putting up zeros in the fourth, fifth and sixth innings. Rockland was within one and then two runs of ending the game early via the mercy run-rule, but Smith prevented that from happening with a controlled fastball and occasional knuckleballs to allow Rayson Miller to get all seven innings in.
Hopes of a comeback dwindled when Rayson Miller catch Jourdan Plaisted had to exit the game in the middle innings. He was backpicked at first base in the second inning and jammed a finger on his throwing hand. After playing through it for a few innings, Sapienza pulled Plaisted, ending his Legion career.
Plaisted had caught every inning of Rayson Miller's postseason, and it was easy to spot him in Utica: his was the uniform with the most dirt on it, his pants more brown than white by Wednesday. In the end, his absence probably didn't matter because Rockland had scored too many, too early with a good arm on the hill.
"Helluva team," Sapienza said of Rockland. "That's why they've won three times. It was an honor to be on the field with them. I do consider them the evil empire, but they do a lot of things right."
After the postgame ceremonies, there were a few heartfelt moments on Rayson Miller's sideline. Plaisted couldn't seem to put the trophy down, holding onto it in his swollen right hand. Grady and Colin T. Smith took a photo with Sapienza, who had coached their father Justin on a 1990 district championship team. There was chatter of making it back to Utica again next year.
But next year is a long way away. For some, the fall will see the beginning or continuation of college baseball. For others, like Bocklage, a rugby player at Stony Brook, this may have been the conclusion of a competitive baseball career. Regardless, Rayson Miller got somewhere that it had never been before, the state finals. And that, Sapienza said, made him very proud of his team.
"They won a league championship," Sapienza said. "They won a district championship. And they were one of two teams standing on August 1 in Legion ball. I'd say it's a decent season."