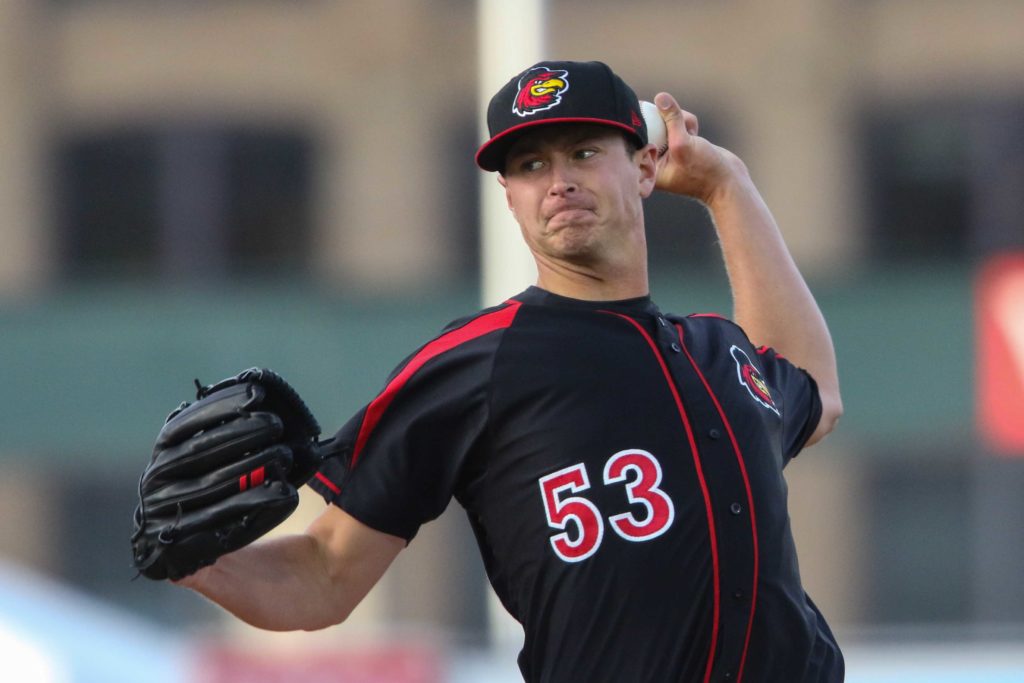 By PAUL GOTHAM
Rochester Red Wing parent club, the Minnesota Twins made a pair of moves on Friday sending veteran infielder Eduardo Escobar to Arizona and right-handed reliever Ryan Pressly to Houston. Filling spots on the roster, Miguel Sano and Gabriel Moya got the call up. At the same time, Taylor Motter was outrighted to the Wings. What does this mean? For now, the Wings will go with their third different leadoff man in as many games with Motter stepping to the plate first tonight at Louisville Slugger Field. Byron Buxton held the duties last night and Gregorio Petit the three previous nights. Alex Perez led off last Sunday when the Wings hosted Norfolk.
As reported by Mike Berardino of Twin Cities Press, Minnesota received a pair of Top 15 Prospects from Houston in RHP Jorge Alcala and outfielder Gilberto Celestino. Arizona sent three minor leaguers to the Twins: outfielder Gabriel Maciel, RHP Jhoan Duran and outfielder Ernie De La Trinidad. All three played with Kane County of the Low-A Midwest League. The Twins may have more deals in the offing. Berardino also reported that Brian Dozier might be on the move with divisional leading Cleveland among the interested suitors.
Other Friday Moves
Buxton returned from the DL. Addison Reed is on MLB rehab assignment to recover from a triceps injury, and Juan Graterol was placed on the DL after being hit by a pitch. Buxton wasted no time making his presence known connecting on a leadoff home run to start Friday night's 5-3 win over Louisville. The round tripper marked the eighth leadoff dinger for Buxton in 84 career games played with the Wings.
Bullpenning Continues
"Opener" has taken on an added meaning as that is what Red Wing media director Nate Rowan uses for the Wing pitcher (a reliever) who throws the first inning before giving way to the scheduled starter. Initially used last Sunday when Trevor May hurled the first before Zack Littel took over from there, the Wings also went with the approach Wednesday when Gabriel Moya hurled the first, and Kohl Stewart the next five. Friday night, Nick Anderson made his first "start" in 29 appearances. Littel toed the rubber in the second for the home nine.
How Much Longer Before Gonsalves Gets Promoted?
Over his last 40.1 inning of work, Wings left-handed starter Stephen Gonsalves has allowed two runs. That's not a typo. Two. Dos. Deux. Whatever language you want to use. Gonsalves has gone seven starts allowing 1 run or less. His ERA over the last seven appearances? 0.45. He has given up 19 hits over that stretch and 21 walks while striking out 31. As Rowan also reported, Gonsalves had gone 153 batters without allowing an extra-base hit until he surrendered a Jason Martin leadoff triple in the fifth last Tuesday.
Mark Your Calendar
Toronto promoted Vlad Guerrero, Jr. who will join the Buffalo Bisons after he attends the Hall of Fame induction of his dad on Sunday. Guerrero Jr. was hitting .402 with 14 home runs and and 60 RBI in 61 games with Double-A New Hampshire. The Wings host Buffalo August 28-30.