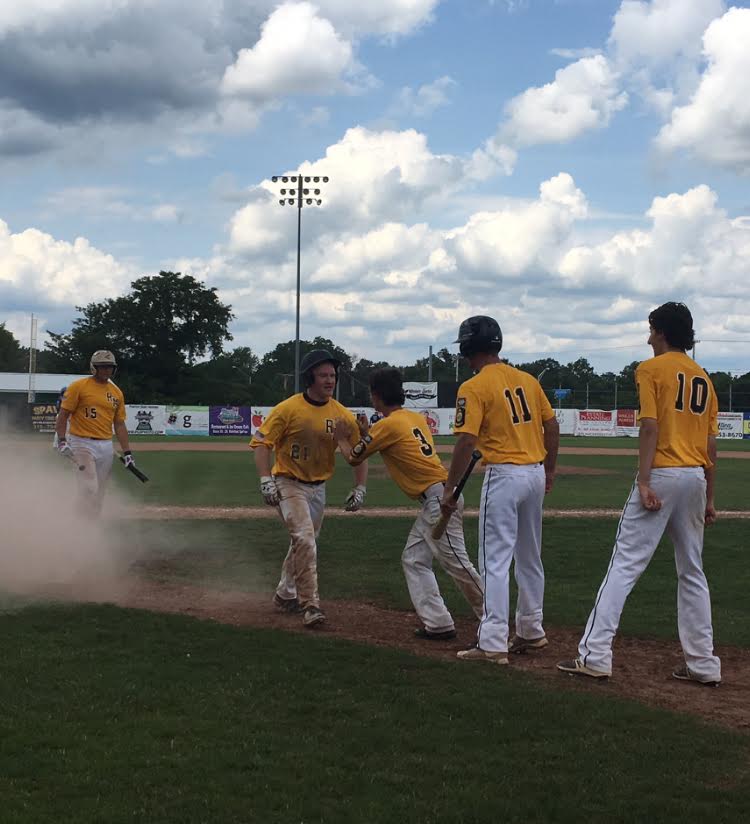 By BILLY HEYEN
UTICA, N.Y. — Rayson Miller's Sam Cestra lifted his leg for the 1-2 pitch and fired. Fastball, right over the plate, and right past a swinging bat and into Jourdan Plaisted's glove.
Plaisted pumped his fist in sync with his battery-mate. Rayson Miller had looked in control for five innings. Then in the sixth, it looked like a blown chance. Then in the top of the seventh, a comeback. Then in the last half inning, it almost slipped away again.
But Cestra did his job when brought on with two on and no one out, retiring all three hitters he faced. A week after winning the District 7 championship in almost-collapse, comeback fashion, Rayson Miller did the same in its state opener.
"That's not the plan," Sapienza said, laughing. "But to the credit of our ballclub, there's no quit, and now we're on a real good horse. Now that they've won it again that way, I think their confidence has grown even more."
A game that entered the bottom of the sixth with Rayson Miller ahead by two was turned on its head and back again, but in the end Rayson Miller pulled out an 8-7 win over the Clinton County Mariners at Murnane Field on Saturday afternoon. Owen VanNewkirk had three run-scoring hits to lead the offensive charge, and Rayson Miller ensured its path would stay in the winners' bracket for at least a day after a crazy finish.
Rayson Miller batted first on Saturday, and that seemed to pay off in the first. After the first two hitters made outs, Colin Smith was hit by a pitch and Maxx Countryman blooped a single into right. That set up VanNewkirk, and he said he just went to the plate looking to hit something hard.
Mariners' starter Ben Champagne tried to sneak a first-pitch heater by VanNewkirk up in the zone, but it didn't work. The tall first baseman was all over it and laced it to left center to score two runs.
"I know when (Jason Bocklage) got up, he threw his changeup," VanNewkirk said. "And I didn't want to give him a chance to throw that. So I got a fastball early and I jumped on it."
Owen VanNewkirk lasers a ball to left center. Two come around to score. After the first half inning, Rayson Miller has given Countryman a two run lead to work with. @PickinSplinters @HFLCSD pic.twitter.com/EF0N4IpDcq

— Billy Heyen (@Wheyen3) July 28, 2018
Clinton County got a run back in the bottom of the first off of Countryman. But Rayson Miller made the lead two again with a run in the third. VanNewkirk hit a high chopper to the third baseman that he beat out, and the throw was errant, so Smith could come home and score.
The lead jumped to 4-1 when a wild pickoff throw by Champagne allowed Cestra to come in from third an inning later. Clinton County answered with a run in the bottom of the fifth, but with just six outs to get, Rayson Miller was ahead by two.
Then, the Mariners rallied. The first six Clinton County hitters in the bottom of the sixth reached base. The first five scored. An infield single, a single that barely squeaked through the infield, and a bunt that didn't end in any outs started the frame. Kevin Sheppard was called on to stop the bleeding after three runs had already scored to give the Mariners the lead. He allowed an RBI double to the first man he faced before retiring the next three to escape with the deficit at three.
After blowing a four-run lead to Irondequoit Post last Saturday in the District 7 championship, Rayson Miller responded with two runs to walk off for the title. That win had left the dugout with belief even as the game against Clinton County unraveled.
"In the previous two innings, their pitcher had kind of gone to another level and was throwing a little bit harder," VanNewkirk said. "So I knew we had a task in front of us. I knew we could do it."
Nine-hitter AJ Nestler led off with a single. Lukas Haefner walked. Then Bocklage came through clutch, just as he has all postseason, with a two-run double into the rightfield corner. After an out, Countryman was hit by pitch and VanNewkirk had a chance to deliver again.
He did, lining a single through the right side to score Bocklage.
"He threw a fastball away and I jumped on it and hit it to right field and J Bock was wheeling," VanNewkirk said.
Owen VanNewkirk just got his third hit and we're tied at 7 in the seventh. @PickinSplinters pic.twitter.com/vFuh5fHo2C

— Billy Heyen (@Wheyen3) July 28, 2018
In stepped Jourdan Plaisted, now with the game tied and a runner on third. Plaisted bats lefthanded and is a catcher, both things that would suggest he wasn't the ideal squeeze candidate. After the game, Sapienza said that Plaisted had a squeeze attempt last season that went awry. This one, though, didn't.
"He's not the best bunter because he doesn't bunt," Sapienza said. "That was a pretty good bunt."
This is crazy. @jourdan2093 with the squeeze to score Countryman and it's 8-7 Rayson Miller in top seven. @PickinSplinters @ElmiraBaseball pic.twitter.com/Vgvk1BuzrO

— Billy Heyen (@Wheyen3) July 28, 2018
Rayson Miller held the lead, but Clinton County looked to rally once more as two men reached to start the bottom of the seventh. That's when Cestra came in throwing gas and slamming the door shut.
The win means Rayson Miller guarantees itself a stay in Utica until at least Monday. It means another day's worth of $18 per diem for meals for the players, which Sapienza said they were excited about. And for Sapienza himself, it reminded him of why he keeps on coming to the field in his Rayson Miller jersey to coach, now at 767 wins and counting at the helm of Rayson Miller.
"As an old guy who's been through a few of these, you see why I say it doesn't get tiring," Sapienza said. "And to watch my guys come alive like that, the magic is happening."