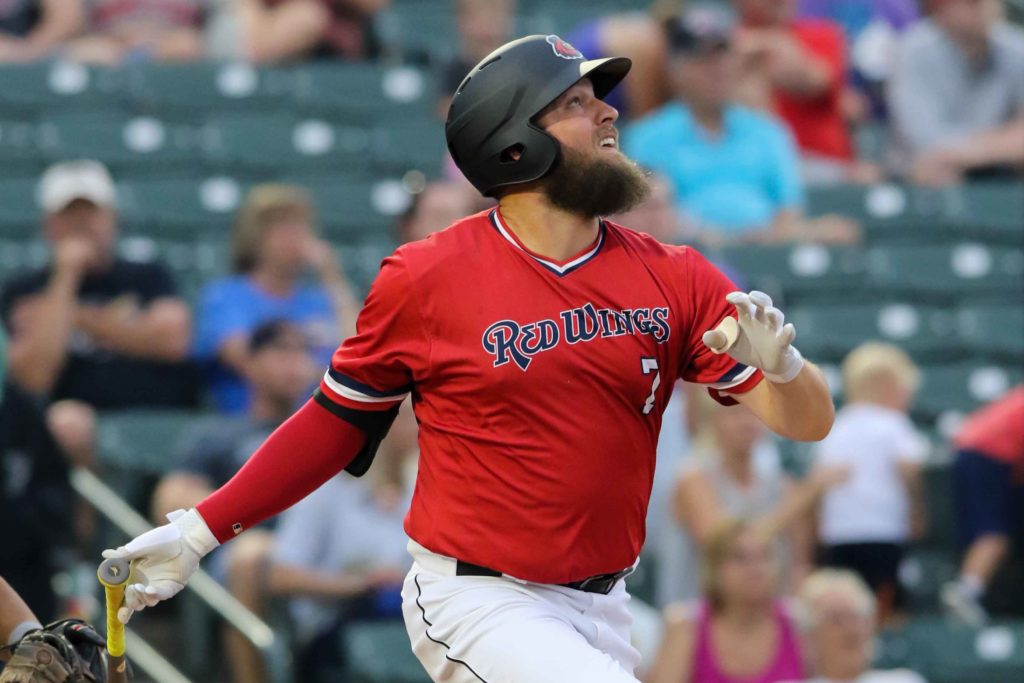 By KEVIN OKLOBZIJA
The day began for Andy Wilkins with a bright-and-early, one connection flight from Chattanooga, Tenn., to Rochester.
It ended with some night-time fun at the ball park, as Wilkins provided the biggest hit in a night of lots of hits (13) for the Rochester Red Wings.
Promoted from Double-A in the morning, Wilkins belted a grand slam to ignite an eight-run fifth inning as the Wings overcame a 5-4 deficit to blow out the Louisville Bats 13-6 Monday night at Frontier Field.
"It was a good night," said the 29-year-old Wilkins, now in his ninth season of pro ball.
It was also a strange night. The fifth inning took 59 minutes and 30 seconds to play, starting at 8:23 and 43 seconds when Wings starter Zack Littell threw a strike to Josh VanMeter. It ended at 9:23.13, when Domingo Tapia finally ended the bottom of the fifth by retiring Wilkins on a grounder to second.
How long was the inning? Wilkins' flight from Chattanooga to Atlanta sure didn't take that long.
"About 12 minutes," Wilkins said, "and the flight from Atlanta to Rochester was three hours."
The entire game took just slightly longer than that flight, 3:23.
The Wings (44-46) saw a 4-0 lead disappear in the top of the fifth when the Bats scored five times against Littell. Brandon Dixon delivered the clutch hit, a bases-loaded, bases-clearing double that tied the score. He then scored on a Gabriel Guerrero single.
Littell created his own problems, however, by issuing a one-out walk to Phillip Ervin, loading the bases after he had been ahead in the count 0-2.
"After that it was just a baseball inning," Wings manager Joel Skinner said. "The game just got out of control."
Did it ever. The Wings sent 14 batters to the plate in the bottom half, scoring eight times against starter Keury Mella and reliever Brandon Finnegan.
Wilkins hit the slam, Taylor Motter had an RBI double and Kennys Vargas and Lamonte Wade contributed RBI singles. The other run scored on a wild pitch.
"It was a good way to answer back," Wilkins said. "We showed some resiliency."
While Wilkins was playing his first game in a Red Wings uniform, he has spent plenty of time in Triple-A. He has played 402 games over parts of four seasons while in the Chicago White Sox, Toronto Blue Jays, Los Angeles Dodgers and Milwaukee Brewers organizations. His career Triple-A average is .264 with 67 home runs and 250 RBI.
Last year, however, he found himself out of organized ball when the season began. He landed in the Atlantic League with Sugar Land and caught the eye of the Minnesota Twins. They signed him and sent him to Chattanooga.
Now he's with the Wings, called up because Leonardo Reginatto went on the disabled list with a fractured left hand.
"You've been in affiliated ball and then you're not, so you start re-thinking some things; you have a wife and child to take care of," Wilkins said. "But at the same time, you know your career's not over."
That turned out to be the prevailing belief.
"I'm going to keep going until nobody wants me," he said.
Wilkins sure fit right in with the Wings in his debut. The grand slam was his only hit in five at-bats but it was the most important hit of the night.
And it came at a ball park that wasn't necessarily his favorite. He hadn't come here often, but even a series or two with the Charlotte Knights were too a few too many.
"The last time I was here, it was like 900 degrees — below zero," he said. "It was so cold. I have nothing but horrible memories of here."
He has very pleasant memories of Monday night, however.