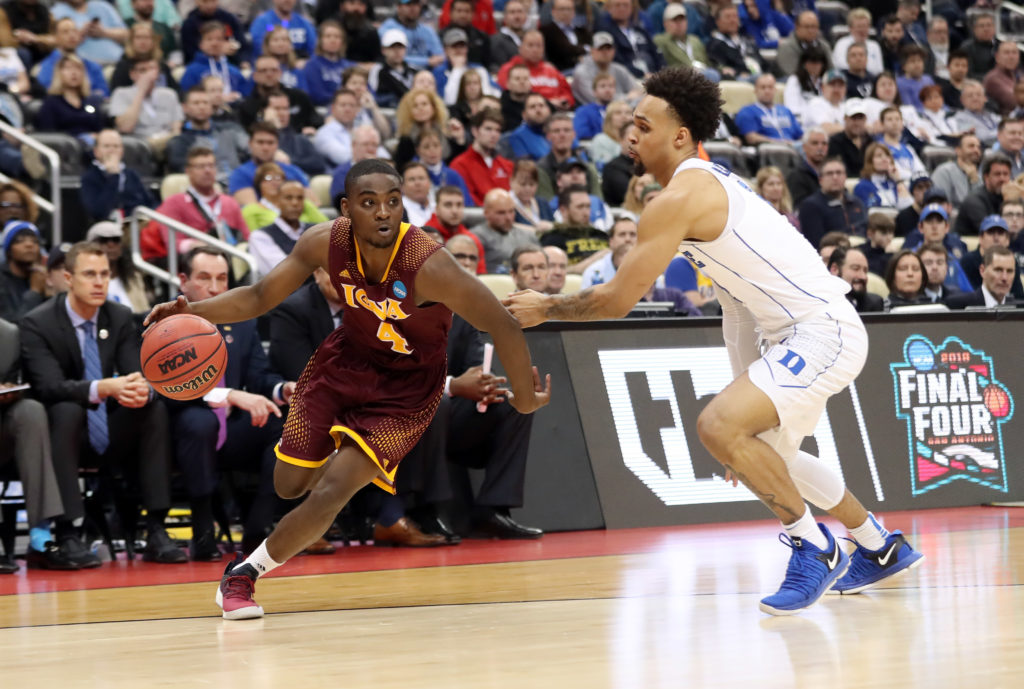 Courtesy of FGCUAthletics.com
DUNK CITY, Fla. – The FGCU men's basketball team landed a major graduate transfer addition on Tuesday when 1,000-point scorer Schadrac Casimir (pronounced: SED-rick KAZ-meer) joined the Eagles from Iona. The fifth-year guard will be eligible immediately for the 2018-19 season as a redshirt senior.
In 106 career games with Iona, Casimir averaged 10.5 points, 2.1 rebounds and 1.8 assists per contest. As part of his 1,112 points, more than half came from beyond the arc as the 5-10 guard knocked down 205 3-pointers. Comparatively, 2015 graduate Bernard Thompson holds the FGCU Division-I program record for 3-pointers made with 219 in 134 games.
"We're extremely excited to add Schadrac to our program and family," said FGCU head men's basketball coach Michael Fly. "He is a proven winner who has been a member of three-straight NCAA tournaments, is a double-figure career scorer and a prolific shooter. His presence will make us even more versatile on the perimeter and will allow our roster to maintain a good mix of young, developing talent combined with experienced, veteran leaders like Schadrac."
Not only a prolific, but efficient, shooter, Casimir is an incredible 87.8-percent free-throw shooter for his career (231-263). He has also shot at least 42 percent from 3-point range in each of his seasons, and is coming off a career-best 45.8-percent clip (65-142) last year.
In his first collegiate game as a true freshman in 2014-15, Casimir scored 20 points against Cleveland State; in his fifth career game he poured in an astonishing 40 points in only 28 minutes versus Delaware State, going 11-13 from the floor and 8-9 from 3-point range. Two games later, he tallied 29 points at conference foe Monmouth, knocking down eight 3-pointers once again. Additionally, against FGCU in late December, Casimir scored 16 points and grabbed five rebounds.
For his freshman campaign, Casimir averaged 14.8 points en route to being named MAAC Rookie of the Year. In addition to shooting 42.3 percent from 3-point range (94-222), the Stamford, Conn., native set the Iona single-season program record by going 89.5 percent from the free-throw line (102-114). Additionally, the 94 makes from 3-point range are still tied for the 5th-most in program history for a team which has finished among the top-35 in the nation in scoring three of the past four years.
After starting each of the first four games of his sophomore season, Casimir suffered a season-ending injury before returning as a redshirt sophomore in 2016-17. In his first game as a starter that season, the Trinity Catholic High School product scored 27 points versus conference opponent Canisius, making 7-of-9 3-point attempts. He added another 27-point performance later in the year at Marist before finishing the season by averaging 7 points per game.
Last year, the 165-pound Casimir started each of the final 19 games of the year on his way to averaging 10.4 points, including a season-high 30 at Manhattan late in the regular season. He helped lead the Gaels to a third-straight MAAC Championship with a 24-point performance in the semifinals.
"I'm so excited for a new beginning with FGCU," Casimir stated. "I connected really well with coach Fly and the rest of the staff, and I feel like this is the best place for me both on and off the court. I'm looking forward to contributing a winning attitude to the program."
Casimir joins an FGCU program which went 23-12 in 2017-18, and won the ASUN Regular Season Championship outright for the second-straight season with a 12-2 record. The Eagles played in the NIT for the second time in program history; part of a larger stretch of six postseason appearances in the program's first seven years of eligibility – believed to be the only team in NCAA D-I men's basketball history to have accomplished that feat.
Despite losing its leading scorers from last year's club, FGCU brings back plenty of quality returners and welcomes a slew of talented newcomers.
The Eagles will introduce redshirt junior Haanif Cheatham (Fort Lauderdale, Fla./Pembroke Pines HS), a 6-5 guard who has already scored more than 700 points in just over two years at Marquette, and was a member of the Big East All-Freshman Team.
Additionally, redshirt sophomore forward Troy Baxter Jr. (Tallahassee, Fla./Oldsmar Christian HS) from UNLV will be eligible. The former 4-star recruit stands at 6-8, and averaged 4.3 points and 2.3 rebounds as a true freshman at UNLV in 2016-17. Baxter Jr. – whose athleticism is similar, if not greater, than that of fellow UNLV transfer and 2017 FGCU graduate Demetris Morant – should fit Dunk City well as he won the National High School Slam Dunk Contest in April of 2016.
The Green and Blue also have a good mix of veteran and young backcourt talent with junior Decardo Day (Jackson, Miss./Iowa Western CC/Southern Utah/Callaway HS) and freshmen Caleb Catto (Cape Coral, Fla./Southwest Florida Christian Academy) and Zach Scott (Fort Lauderdale, Fla./Westminster Academy).
Fly will usher in a new, exciting era of up-tempo Dunk City action in 2018-19, and season-ticket reservations are now being processed as the Eagles return to Alico Arena as three-time defending ASUN tournament or regular-season champions. The renewal deadline for season tickets was July 6, and any unsold tickets will go on sale soon first to those who were on the waiting list.