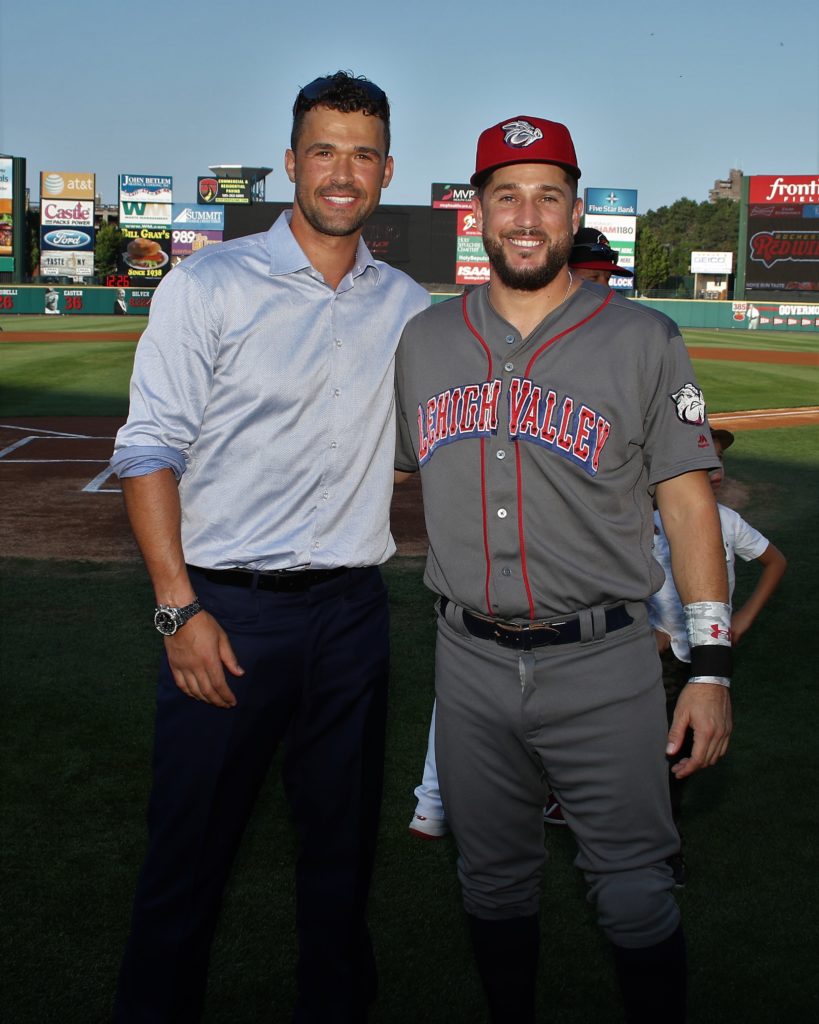 By BILLY HEYEN
ROCHESTER, N.Y. — Before Saturday's game, Garrett Jones was inducted into the Rochester Red Wings Hall of Fame. A familiar face, longtime Rochester favorite Trevor Plouffe, poked his head out of the Lehigh Valley dugout and came out and embraced Jones. The two had a few words and took a picture together.
"When I first got to Rochester, he was here and a veteran presence here," Plouffe said. "Kind of showed me the ropes. I loved following his career with the Pirates and then the Yankees. We were talking, you know, we're both old. He said, 'I'm really old.' And I said, 'Well, I'm catching up.'"
While Plouffe was friendly with someone representing the Red Wings before the game began, he had his way with Rochester during the game. He went 2-for-2 with a home run, a double and two walks as Lehigh Valley beat Rochester, 6-2, at Frontier Field on Saturday night. That brought his season numbers against Rochester to 9-for-26 with four home runs, half of his season total of eight.
"It's a bunch of guys I know, I'm familiar with," Plouffe said. "And it's fun to compete against them."
Plouffe, 32, has spent part of eight seasons in the major leagues. He was a first round pick by the Minnesota Twins in 2004. Rochester rostered Plouffe in seven different seasons, and he hit 48 home runs for the Red Wings. He signed with the Philadelphia Phillies in late April and has been with Lehigh Valley since then.
In his first plate appearance Saturday, Plouffe worked the count to 3-2 against Red Wings' starter Aaron Slegers before taking a pitch just outside to walk. His second time up did the biggest damage, but part of that was due to an unlucky call against Slegers.
Dean Anna batted with two outs in the third for the IronPigs, and on 2-2, he took a pitch. It looked to be on the plate. Pitch tracking showed it to be on the plate. It was called a ball and Anna walked on the next pitch.
Pitch number six was thrown by Slegers with two outs to Dean Anna, before any runs had scored this frame. He eventually walked Anna and gives up three runs in the third on the Plouffe homer. @PickinSplinters pic.twitter.com/ZESDavjo5h

— Billy Heyen (@Wheyen3) June 30, 2018
Then Collin Cowgill hit a dribbler for an infield hit. That's when Plouffe stepped in, worked the count in his favor to 2-0, and got a fastball middle-in. He didn't miss it, turning on it 108 miles per hour off the bat on a line over the left field fence.
"He's a guy that's a veteran ballplayer that's been around and has experience," Rochester manager Joel Skinner said of Plouffe. "From a standpoint of, has an idea. You don't get that much major league time without having an idea of what you're doing."
Rochester had held the lead prior to the Plouffe homer, because Chris Carter lofted a ball out to left field for a solo shot in the second. But Plouffe's blast gave Lehigh Valley the run total it needed.
Plouffe's third time up brought another walk, and he eventually came in to score on a Danny Espinosa sacrifice fly. That was the fourth run Slegers allowed on a night when the 6-foot-10 righty struck out eight guys but faced bad luck in regards to hit sequencing. In four of his six innings, he allowed no hits. But in the other two, he allowed four hits and four runs, with Plouffe contributing three of those runs batted in and scoring the fourth run.
"Typically I don't like facing tall pitchers," Plouffe said, "but I was seeing the ball pretty good today."
Gabriel Moya, a lefty reliever, faced Plouffe's hot bat in the eighth. The Rochester bullpen had retired 19 straight batters across multiple games. But Plouffe got a pitch right down the middle and hit it over Zack Granite in left for a double.
It was just one night in a familiar Frontier Field stomping grounds for Plouffe. Now in his 15th professional season, he said he's learned he can't control who goes up to the show or who stays down in the minors. Two extra-base hits won't change much. It may take an injury or a lucky break for Plouffe to get another shot at the big league level.
Right now, Plouffe said all he wants to do is "play baseball."
"I don't really have any expectations," Plouffe said. "I would love to get back to the big leagues. I feel like I could still contribute at that level. But I've been around long enough to know that's out of my control. All I can control is how I do here, what my attitude is here. Just trying to come, be a positive influence, have fun."