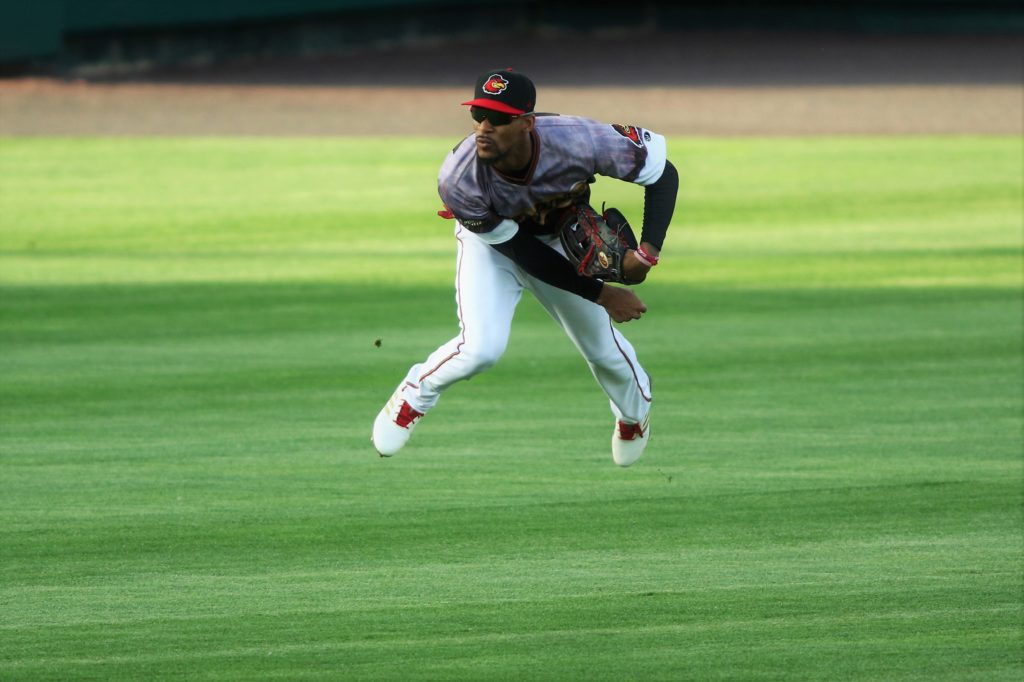 By KEVIN OKLOBZIJA
Ask anyone who has played Texas Hold 'Em: they've all had a hand that couldn't lose — and they lost.
Bad beats, they're called. You're dealt pocket kings, two queens show up on the flop and a king comes out on the river. The full house has serious power.
Until the player sitting across the table flips the other two queens.
Sometimes the odds are totally stacked in your favor, yet because it's not 100 percent a sure thing, you lose.
That's kind of what happened to Zack Granite and the Rochester Red Wings on Friday night in their 2-1, 10-inning loss to the Lehigh Valley IronPigs.
Granite gambled that the IronPigs couldn't make the perfect play in the bottom of the 10th and ended up being wrong — and out.
Granite was the special extra-inning runner to start the 10th at second base. Leadoff hitter Nick Gordon bunted in front of the plate and catcher Nick Rickles was forced to come out and play it, firing to first for the out.
Granite saw that Rickles was maybe 15 feet in front of the plate and took a chance that the IronPigs couldn't make the perfect play. They did, with Rickles taking the throw back from first baseman Joey Meneses and then lunging to get the tag down.
Game over, because Lehigh Valley used a wild pitch and fly out to center to score its special extra inning runner in the top of the inning.
"I saw the catcher and pitcher kind of out of position and I just kept going," Granite said. "Honestly, that's the type of player I am. I'm going to do it again."
In this instance, however, he said it was the wrong decision.
"I have to be smarter," he said. "One out, on third base … . I was out so it was wrong."
Wings manager Joel Skinner didn't criticize Granite for being aggressive. "It didn't work out but you like to see your players play with no fear and take ownership of a situation.
"It was a very nice play on both sides."
How this game ever got to extra innings tied 1-1 is truly a story of improbable happenings. The strike zone wasn't easy for Wings starter Stephen Gonsalves to hit. He walked the game's first two batters, and three in the innings, but somehow escaped without giving up a run.
A single, walk and two more singles produced a run for the IronPigs in the second but center fielder Byron Buxton bailed out Gonsalves by throwing out Adron Chambers at the plate to end the inning.
"The big play of the game was Buxton's throw," Skinner said the play on Mitch Walding's single to center. "It got us back in the dugout."
That two-out single by Walding was the last IronPigs hit of the game. Gonsalves, Tyler Duffey (three innings) and Jake Reed (two innings) were in total control from the third through 10th.
The winning run, however, scored after catcher Cameron Rupp couldn't block Reed's 0-2 pitch in the dirt to Rickles. That allowed Danny Espinosa to score on Chambers' fly out to center.
When the run scored, Rupp pounded the ball into his mitt and then spiked it into the ground as he threw it to the dugout. He clearly thought he needed to block the pitch.
"As a catcher, from his standpoint, he wants to make every play," Skinner said. "An 80-something mph slider in the dirt to his right, that's why there's a stat for wild pitches. If the play was easy, there wouldn't be a stat for it."
The Wings have two players on MLB rehab from the Twins, Buxton and shortstop Jorge Polanco. But when extra innings struck, Skinner took them out. There's an unwritten rule that players down on rehab can't play more than nine innings.
Friday's game took 2 hours and 42 minutes to play. That was 10 innings. Had the game gone 4 hours and 10 minutes but still been in the ninth inning, Buxton and Polanco would have been allowed to keep playing. Makes perfect sense, doesn't it?
Notes: Willians Astudillo, the Wings most productive hitter, was promoted to the parent Minnesota Twins. Astudillo's minor-league career began in 2009, and this is the first time he has been on a 25-man Major League roster.
The Twins needed Astudillo after Taylor Motter was placed on the 7-day disabled list because of concussion-like symptoms.
To make room on the 40-man roster, pitcher Felix Jorge was designated for assignment.
Astudillo, 26, was hitting .290 with a .321 on-base percentage and .809 OPS. He leads the team in extra base hits (20) and doubles (12) and is second in home runs (7) and RBI (25).