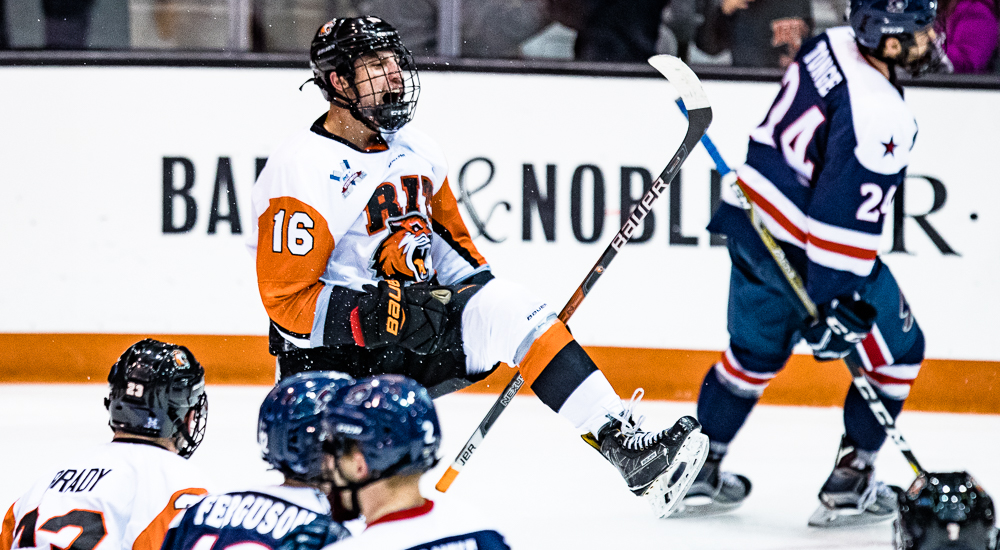 Courtesy of RITAthletics.com
ROCHESTER, NY – RIT men's hockey standouts Erik Brown (Keene, Ontario/Kemptville 73's) and Adam Brubacher (Elmira, Ontario/Powell River Kings), along with assistant coach Dave Insalaco will attend NHL Development Camps. Both Brown and Brubacher will suit up at the New York Islanders camp from June 26-30. In addition, Brown will head to Calgary Flames camp next week. Insalaco will serve as a guest coach with the defending Stanley Cup Champion Washington Capitals, June 26-30.
Brown, a senior forward, will serve as a team captain for the Tigers in 2018-19. A 2018 All-Atlantic Hockey first team selection, Brown enjoyed an incredible junior season for the Tigers in 2017-18, setting a Division I program record with 29 goals, while adding 13 assists for a team-best 42 points in 37 games. He finished tied for second nationally in goals and scored at least one goal in 21 games, which led the country. Brown will enter his senior season third all-time in RIT's Division I era with 52 career goals with 34 assists and 86 points in 111 career games. He also has 16 career power-play goals and eight game-winners.
Brubacher, who enters his junior season in 2018-19, enjoyed a strong year in 2017-18 for the Tigers, tallying career-high totals of nine goals and 24 points in 37 games. The 6-foot-4 defenseman was second on the team with five power-play goals, tied for the team lead with 15 power-play points and led all Tigers by blocking 67 shots. In two seasons, Brubacher has 15 goals and 32 assists for 47 points in 74 games.
Insalaco, a native of Rochester, enters his 11th season with the Tigers in 2018-19. He will serve as a guest coach with the Capitals. The Tigers have won three Atlantic Hockey Championships and made three NCAA Tournament appearances during his tenure at the university.