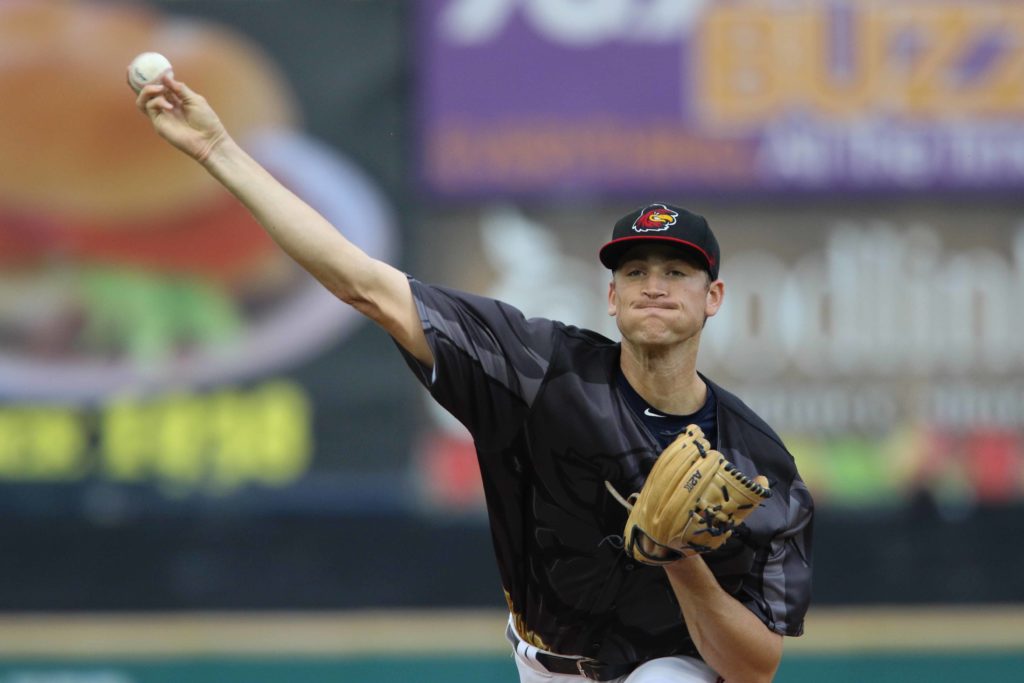 By BILLY HEYEN
ROCHESTER, N.Y. — Scranton/Wilkes-Barre's Tyler Austin and Brandon Drury have both spent time with the New York Yankees this season. They're major league-level hitters stuck in Triple-A because of a numbers crunch. In the sixth inning Saturday, they showed their hitting abilities.
Rochester's Aaron Slegers had thrown five shutout innings to begin the ball game and was staked to a one-run lead. But with one out in the sixth, Austin hit a ball 105 miles per hour to left center for a double. Then Slegers and Drury worked to a full-count before the SWB designated hitter crushed one an estimated 403 feet to left center for a homer. The Railriders had a lead they wouldn't relinquish.
"That was a battle of an at bat with Drury," Slegers said. "And then slider just got a little bit too much of the plate."
That was more or less the story of the Red Wings' 4-2 loss on Friday night at Frontier Field. Coming off a four-game win streak, one bad pitch from Slegers did Rochester in. The Railriders delivered runs in the next two frames, as well, to wrap it up. Strikeouts at the plate prevented the Red Wings from coming back, and Slegers was a tough-luck loser.
"A starting pitcher's job is to give the team a chance to win, and he did everything he possibly could there," Rochester manager Joel Skinner said. "He made a pitch that I'm sure he'd want back. Give them credit, they put a nice a swing on it. Again, he gave us more than an ample opportunity to win that ballgame."
Slegers faced the minimum through three innings. He set the first eight batters down before L.J. Mazzilli reached on an infield single with two outs in the third, but then Mazzilli was cut down stealing by Cameron Rupp to end that inning.
After five, Slegers had scattered four hits. Two came in the fifth for SWB, but the Wings had the lead at that point after the 6-foot-10 righthander escaped that jam.
"You really like when the hitters seem to be on their heels a little bit," Slegers said of what was working early. "You're attacking them. Really that's all I can do, and I'm happy with how that went."
Rochester had taken the lead by putting the ball in play. Zack Granite bunted for a hit to lead off the third, and Nick Gordon singled into left. Chris Carter hit what could have been a double play ball to end the inning, but Mazzilli threw the turn wide, and Granite came in to score. While making contact helped the Wings get a run, lack of it would haunt them later on.
After Slegers had surrendered the lead in the sixth, he came back out for the seventh and struck out Bruce Caldwell on a high fastball. But then Ronald Torreyes reached out and blooped one into the outfield for a hit, which Wilkin Castillo followed with a hit of his own. When Slegers hit Mazzilli on the first pitch, his night was done and Luke Bard entered in a bases-loaded spot.
"Threw a good knee-high fastball to Castillo, not upset with that pitch," Slegers said. "And then obviously when you hit a guy, that gets away."
Bard limited the damage to one run, a sacrifice fly to center by Tyler Wade. But that run gave the Railriders a 3-1 lead, more than Rochester could muster.
Aside from a Nick Gordon single, part of a 3-for-4 night, which Willians Astudillo followed with a run-scoring double in the eighth, the Red Wings looked futile against the Railriders' bullpen. Raynel Espinal struck out the first five men he faced across the sixth and the seventh. Giovany Gallegos punched out two in the eighth. And Cody Carroll struck out two in the ninth, giving SWB's bullpen nine strikeouts across four innings. That made a Rochester comeback next to impossible.
"They came in and they threw the ball and made pitches, and we weren't able to put the ball in play much," Skinner said. "We were able to score the one run in the eighth, but then they held us down."
Scranton/Wilkes-Barre finished Saturday's ballgame with three errors. Rochester had eight hits to the Railriders' 10. Slegers had begun the game with five shutout innings.
It didn't matter, though, because the Railriders sequenced their hits, while Rochester struck out time and again as the game wound down. All of the SWB batters got hit, while four Red Wings went hitless. As Skinner said, Slegers did enough to get his team the win. The bats let him down.
"All games are tough to lose," Skinner said. "It's a situation where we had a one-run lead. Again, to ask our guys to go out there and be perfect is a lot. Again, it was a tight game and we came up short on the score."