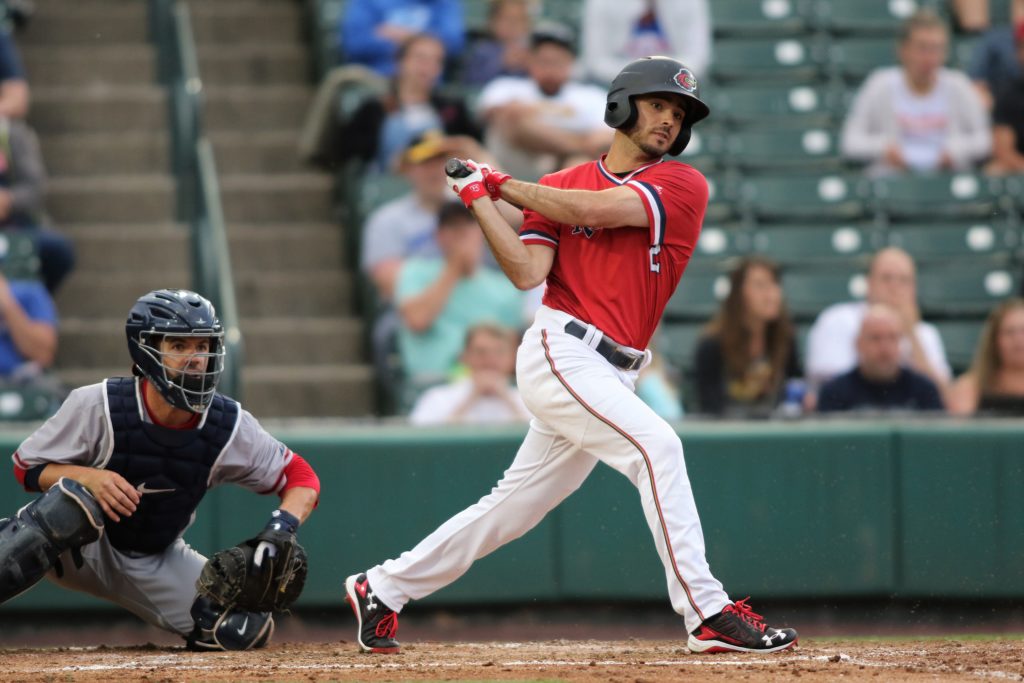 By KEVIN OKLOBZIJA
When you string three capital letters together, followed by a number, you'd better be talking about a television network and not baseball statistics.
FSN1 is just fine. RBI1, not so much.
Unless, of course, that first RBI of the season provides a walk-0ff, extra-inning victory as it did on Thursday night for the Rochester Red Wings.
Zack Granite's line-drive single up the middle drove home pinch-runner Leonardo Reginatto with the winning run in the bottom of the 10th as the Wings (aka the Plates) defeated the Syracuse Chiefs (aka the Salt Potatoes) 2-1 at Frontier Field.
"Finally — it was a big monkey on my back," Granite said after the Wings won for the third straight time by sweeping the series from the Chiefs. "I was thinking about it a lot."
Indeed, when you're coming off an International League All-Star season where you hit .338 and earned your first promotion to the parent Minnesota Twins, the early failures to produce become haunting after two months.
"It's a little embarrassing, you know, 40 some games or whatever I've played (48 games) without an RBI," Granite admitted.
But the April and May batting woes may finally be behind him. Over the past seven games, the speedy centerfielder has gone 8-for-21 (.381) and raised his average from .181 to .205.
Granite entered as a defensive replacement to start the 10th, replacing Byron Buxton in center. Because Buxton has just started a rehabilitation assignment from a broken toe, Wings manager Joel Skinner wasn't going to play him past nine innings.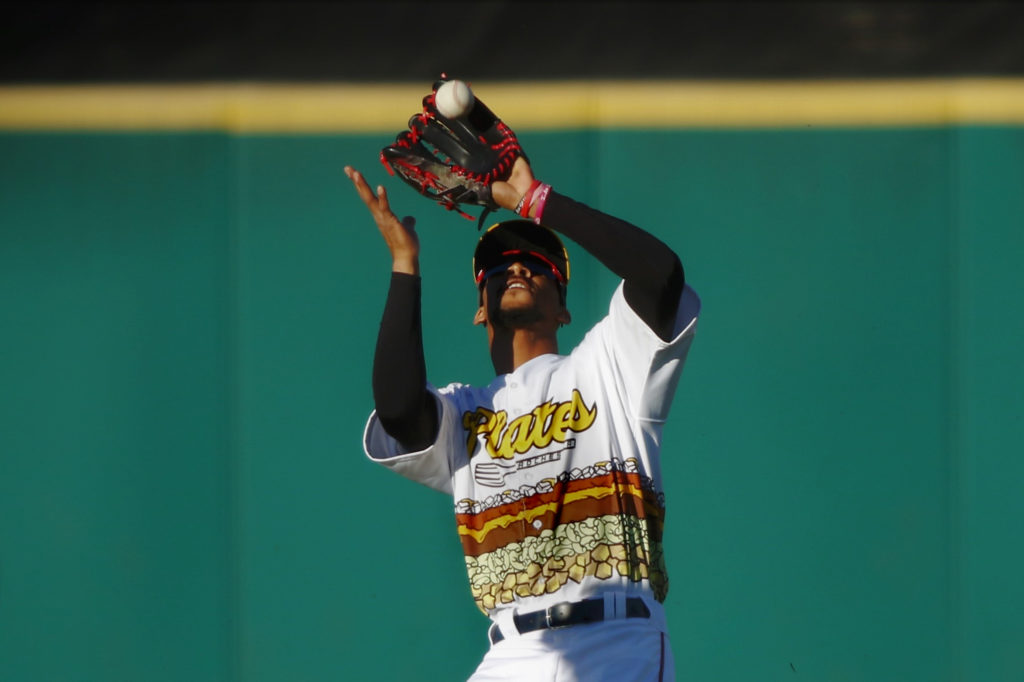 VIEW MORE JOE TERRITO PHOTOS HERE. 
Under minor league baseball's new extra-inning rule with a runner starting at second base, the Chiefs couldn't score against Nick Anderson but the Wings took advantage against Josh Edgin.
Reginatto pinch-ran at second and Gregorio Petit bunted him to third. The Wings gave thought to a safety squeeze but the Chiefs were ready, so Granite swung away and, on a 2-2 pitch, lined the winning hit to center.
"I was pretty pumped," Granite said. "It feels great and we got a win, that's what matters."
The Wings improved to 34-35 and, for the first time, won at home wearing the (insert your own adjective) Plates uniforms. They were o-3 this year in Thursday home games and lost the inaugural Plates game in August of 2017.
Syracuse played the game as the Salt Potatoes in this clash of the famous hometown foods.
"What'd we win, like a wooden fork or something?" Granite asked.
"What'd we win? A wooden fork or something" – @zgranite

???????????? pic.twitter.com/qAikaunWgR

— Rochester Plates (@RocRedWings) June 22, 2018
Actually by finally winning in the Plates get-up, the Wings may force Skinner to visit Nick Tahou's Hots, a place he's never been.
"Now I guess I have to get a plate," he joked afterward.
The game had been a pitcher's duel between starters Zack Littell of the Wings and Austin Voth of the Chiefs. The Wings only run came home in the seventh on a two-out, bases-loaded ground out by Kennys Vargas.
But the run scored only after first base umpire Blake Camahan and plate ump Brennan Miller overruled Shane Livensparger's incorrect out call at second base. Livensparger ruled second bseman Adrian Sanchez tagged Willians Astudillo, running from first to second, before throwing Vargas out at first.
In reality, Sanchez reached to tag Astudillo with his bare hand but the ball was in the glove, meaning no out can be recorded. And it appeared via replay that Sanchez never even touched Astudillo with either hand.
Astudillo and Skinner immediately gathered around Livensparger to argue, and he agreed to ask his crew for help.
"We asked them to get together with the crew and get the play way we thought it went," Skinner said.
Littell pitched 6 2/3 scoreless innings, allowing just four hits. He walked one, the game's first hitter, and struck out six.
That leadoff walk, followed by his own throwing error, left Littell in a first-and-third, no-out jam in the first. He wiggled out of trouble, however, as the next three batters flew out to Buxton.
"I just decided I was going to attack and if they're going to beat me, they were going to have to hit me," Littell said.
He got help in the fifth when right fielder Jake Cave threw out Irving Falu for the third out when the Chiefs designated hitter tried to score from second on a single.
The homestand continues with three against Scranton/Wilkes-Barre. The Wings had lost nine straight at Frontier Field before the sweep of the Chiefs.
"We've been playing terrible at home, we know that, we don't feel good when we lose here," Granite said.