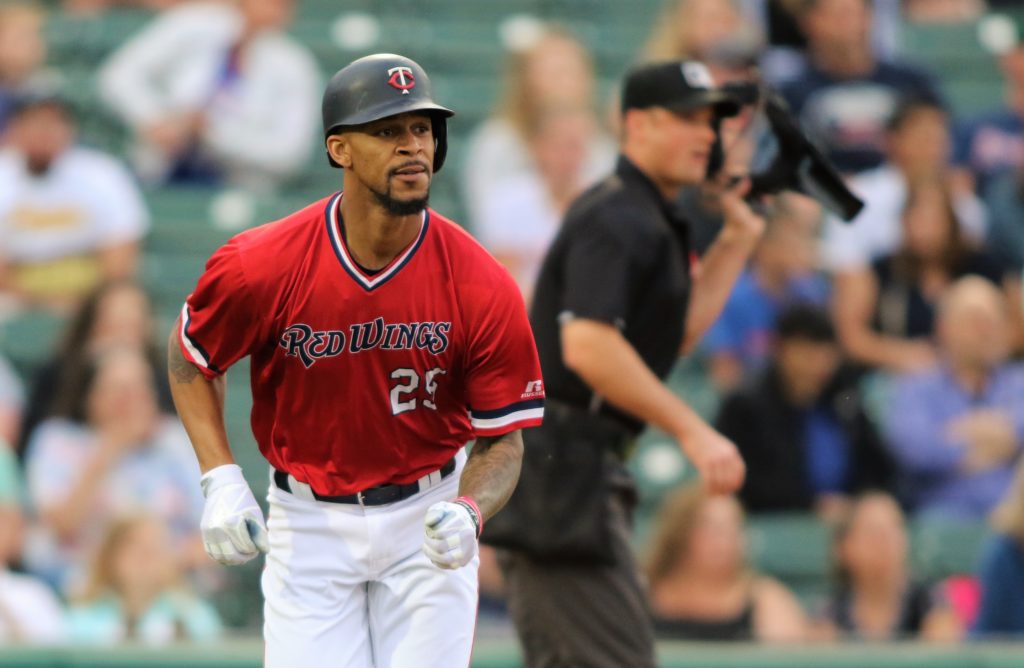 By KEVIN OKLOBZIJA
First things first: Even though Byron Buxton has an uncanny propensity for slamming into stationary objects, he has not asked groundskeeper Gene Buonomo or any member of the Frontier Field staff to add extra padding to the stadium's outfield walls.
"Don't worry about the fences, they're my best friend, as you can tell," Buxton said with a big smile on Tuesday, when he began a rehabilitation stint with the Rochester Red Wings. "They're my best friend — until I hit 'em."
Indeed, Buxton's highlight reel of Gold Glove catches and Web Gems involves more than a few full-speed collisions with outfield walls at Target Field and around Major League Baseball.
And there was even one thud at Frontier Field on Aug. 16 2015, before he became a regular in the Minnesota Twins lineup. Buxton made a terrific catch on the run but then slammed into the final "2" on the Morrie Silver 8,222 placard in left center.
"Felt like a linebacker caught me," he said after that game three seasons ago.
His no-fear approach to tracking down fly balls and line drives is one reason he won a Gold Glove and the American League's Rawlings Platinum Gold Glove as the best defensive player, regardless of position.
Ironically it was not any body-meet-wall event that led to Buxton's stint on the disabled list and this subsequent rehab stint with the Red Wings.
Instead it was a broken big toe on his left foot which has kept him out since May 30, and had greatly limited his effectiveness three previous three weeks as he tried to play through the injury.
"I've been out for a long time," Buxton said. "It feels good to get back out here and play baseball."
And if nothing else, he has a new appreciation for the importance of his big toe.
VIEW MORE JOE TERRITO PHOTOS HERE. 
"I don't really know too much about toes," Buxton said. "It's one of the smallest things you think you don't need, and then you realize it's one of the most important things you need; to push off, running wise, stealing bases, making cuts.
"That was the frustrating thing: one of the smallest things in my body could keep me out so long."
He finally stepped back into the batter's box on Tuesday night, batting leadoff as the Wings designated hitter. He hit the fourth pitch he saw right on the nose — the exit velocity was 105 mph — but right at second baseman Adrian Sanchez. He then flew to right in the third and struck out in the fourth and seventh to end an 0-for-4 night.
Unlike most Major League rehab stints, there is no timetable for Buxton's return to Minnesota. When Miguel Sano came to Rochester in late May, it was known he was only staying for four or five games. When Joe Mauer dropped by on rehab last Tuesday, it was known he'd be gone in three days.
But the Twins haven't put an end date on Buxton's rehab assignment. Baseball's collective bargaining agreement gives them the right to keep him here 30 days. It's doubtful he will stay that long, but it seems pretty clear he'll be wearing Wings jersey No. 25 for more than a week.
The Twins are not so much worried about his toe as they are his bat. They need him to be the hitter he was from July in October of last season, not the one he was the first part of 2017, or the start of this season.
In 28 games with the Twins this spring, he hit just .158/.183/.200 with just four extra-base hits (all doubles) and four RBI. That he battled migraines for the first 11 games, and then tried to play with his broken toe in the other 17, likely contributed to his ailing numbers.
Still, the Twins didn't like what they saw in his swing. Manager Paul Molitor told Twin Cities media outlets that Buxton had been failing to maintain proper balance. The 24-year-old center fielder spent recent days working on his swing with Twins hitting coach James Rowson.
He'll apply the changes they made with the Wings.
"I'll take my at-bats as planned," Buxton said. "I'll go up there and try not to be too aggressive not do things that aren't myself. I want to stay smooth, stay quiet, stay calm."
But mainly he wants to stay healthy.