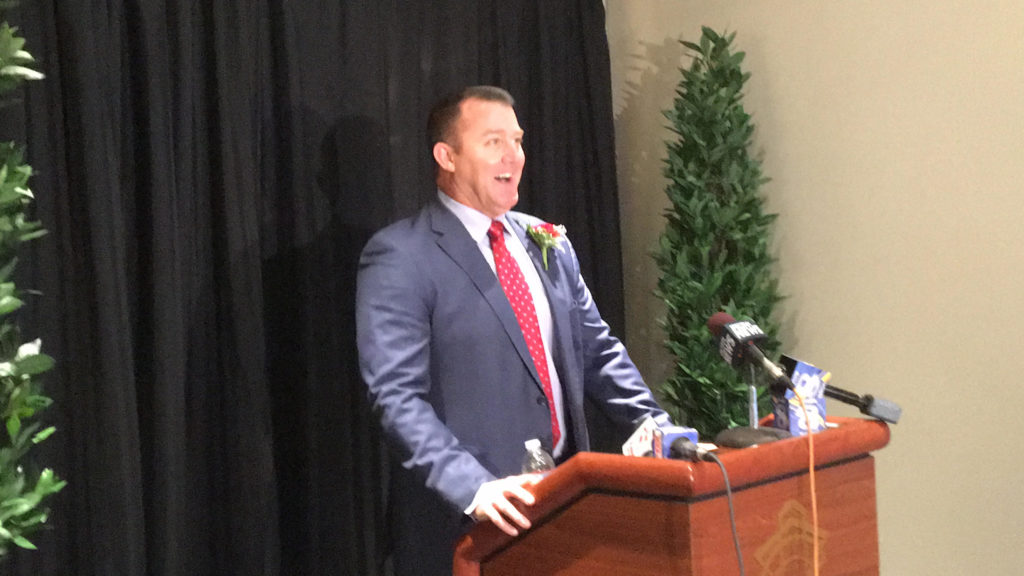 By BILLY HEYEN
ROCHESTER, N.Y. – Soon-to-be inducted Baseball Hall of Famer Jim Thome is in Rochester to receive the Coca-Cola Sports Personality of the Year Award at the 69th annual Day of Champions Children's Charity dinner. He spoke to the media at the Rochester Riverside Convention Center in a press conference on Monday afternoon.
Thome hit 612 home runs in his major league career and played for six teams, with the majority of his career spent as a Cleveland Indian. In his 15 minute press conference Monday, he touched on a variety of topics, from baseball to Cleveland and LeBron to Rochester and New York's baseball history and more.
Here are takeaways from Thome's presser.
Back to Rochester
According to an event spokesperson, Thome played in Rochester during the 1993 season as a member of the Triple-A Charlotte Knights. Thome was eventually named International League MVP that year as he hit .332 with 25 home runs and 102 RBI before being a late summer callup to Cleveland. The Knights won the Governors' Cup that season, and Thome received his ring even though he was in Cleveland by the time the title was won.
Thome also felt a connection to Rochester as a former Minnesota Twin, the major league affiliate of the Red Wings. He played in 179 games across 2010 and 2011 for Minnesota.
"I'm happy to be back today, and it's a wonderful sports town," Thome said.
Old school vs. New school
Thome spends time on MLB Network three or four days every month, he said. There, he often goes down to their Studio 42 to give demonstrations on the mechanics of the game. Much of the video he looks at of current players features the launch-angle primed swings that have become popular in the Statcast era. But Thome hearkens back to more of an old-school swing.
"I'm more of a kind of traditional old-school guy as far as a level swing," Thome said. "Which I believe that the launch angle comes after contact."
Much of his Hall of Fame-level hitting mechanics came after he reached Cleveland and came under the tutelage of longtime MLB coach and manager Charlie Manuel. He came up with a straight-up, very tense batting stance. But Manuel had Thome open up his stance and focus on what Hall of Famer Ted Williams used to focus on: hands and hips.
The goal was to find rhythm in Thome's swing. Comparisons were made to The Natural's Roy Hobbs in how Thome held the bat out, he said. But the tweaks Manuel and co. made turned Thome into a hitter with a career slash-line of .276/.402/.554.
"I think that was kind of the key was to use your hips and hands and then translate it into a game," Thome said. "And it took a couple, a couple weeks to really, truly get it. But once it all locked in I felt great with it."
Cooperstown
On July 29 in Cooperstown, Jim Thome will be inducted into the National Baseball Hall of Fame. He'll be joined in the induction ceremonies by other new members Chipper Jones, Vladimir Guerrero and Trevor Hoffman, along with Modern Baseball Era Committee inductees Alan Trammell and Jack Morris. The thought of that day never crept into Thome's mind when he played.
"You don't ever really think about the Hall of Fame when you're playing," Thome said. "You're just grinding everyday trying to help your team win and trying to get better."
Thome is the 13th Hall of Fame inductee to enter with a Cleveland hat on his plaque, with the most recent having been Bob Lemon, who was inducted in 1976. Thome was just a 13th round pick in the 1989 draft out of Illinois Central College. But he went on to a 22-year career in which he hit an MLB-record 13 walk-off homers, homered in 38 stadiums and took 403 different pitchers yard, according to mlb.com.
That all results in a trip to baseball's most sacred place.
"That place is truly magical," Thome said. "This kind of whole area, such big baseball fans here. I think it all kind of translates to Cooperstown and just how cool it is in this area. And it's gonna be so special."
He's had his speech done for a month now. Having a wife who is an author helped, he said. With Thome having played for six teams, he said it was a difficult process to break it all down into his speech.
"But it's such a great process to break it down and really truly think about all those people that helped you along the way and played an integral part in your career," Thome said.
Modern stars
No one player came to the tip of Thome's tongue when he was asked if a current player reminds him of himself. But plenty came to his mind when asked what stars he admires in today's game: Bryce Harper, Mike Trout, Jose Altuve, Alex Bregman, Corey Kluber, Francisco Lindor and Max Scherzer were the players he named.
He also touched on the new era that the New York Yankees have built with young talent, known to some as the "Baby Bombers." He referenced the two big bats in the middle of the order – Aaron Judge and Giancarlo Stanton – as being able to really swing it, but before he could finish the sentence he was already amending that to three or four big bats.
Thome emphasized multiple times that he enjoys what the modern game has grown into.
"Everybody's trying to figure out what's the best way to help offense or help defense or help your pitching and align guys here," Thome said. "You look over there's six guys over on the right side sometimes. It's unique to see how the game is flowing, and the game has truly, truly evolved wonderfully."
Cleveland and LeBron
Thome looked back on his time in Cleveland in the 1990s with fondness, recalling specifically his two trips to the World Series. He was around when the Indians sold out 455 straight games. He sees a revitilization in the city again in recent times.
"Now you look at from what they're doing, the Dolans are doing great in Cleveland as well," Thome sad. "They fixed that ballpark up, it's truly a wonderful place to be. The city is great. Going to the World Series against the Cubs, I think LeBron coming back … LeBron coming back I think the city has just been incredible and to watch it grow and continue to grow, and to have been in that organization, it's pretty awesome."
Then Thome was asked about where he thinks LeBron should go. He laughed, saying it wasn't his decision to make and that it would be an interesting process to follow. But then the point was brought up that Thome played for six clubs and must be able to relate to LeBron, or other modern athletes', decisions to move around.
"As a player you want to win a championship, that's everybody's dream," Thome said. "And each dynamic is different, you know. I think the one thing I admire about LeBron is that he's a great ambassador to basketball. He's been a great ambassador to the Cleveland area. His family is wonderful, gives back, it'll be interesting to see how it plays out."
Dreams and family
As his press conference wound down, Thome was asked about dreams and about watching his son play ball. Both responses concluded the presser on a powerful note.
Thome's big picture message: "Believe in your dreams. Your dreams can come true. For young kids, take it one day at a time. Don't get ahead of yourself. Trust the process. Trust going to school. Trust your parents. Trust your brothers, your family. Trust everything that is involved in how you grow as a person. And believe in yourself. Truly you can live and make your dreams come true. And don't believe the hype, whether you're going good or whether you're going bad. Because, as we all know in baseball, you can go to both sides of both ways."
Thome on his family: "He's only 10 but it's a pretty fun process. You know, to watch your son play is  really, really special at the end of the day. When you go through and you're blessed to play in the big leagues for a long time and then you see your son starting, the 9, 10, 11 year old age is such a great age because it's so pure. They just want to have fun and play the game. There's many times that he doesn't even ask how he did. Just hey dad, did we win or lose? They just love playing together and being on a team, which is what it's all about.
He's a lefthanded hitter, righthanded thrower. It's fun to watch him. And to watch my daughter sing is truly incredible. She sang the national anthem in Philly last week. My daughter goes to a performing arts school there in Chicago and it's amazing to watch her sing so I'm very proud of both of them. They're wonderful kids. I've got a great wife too that kind of holds the fort down when I'm gone."