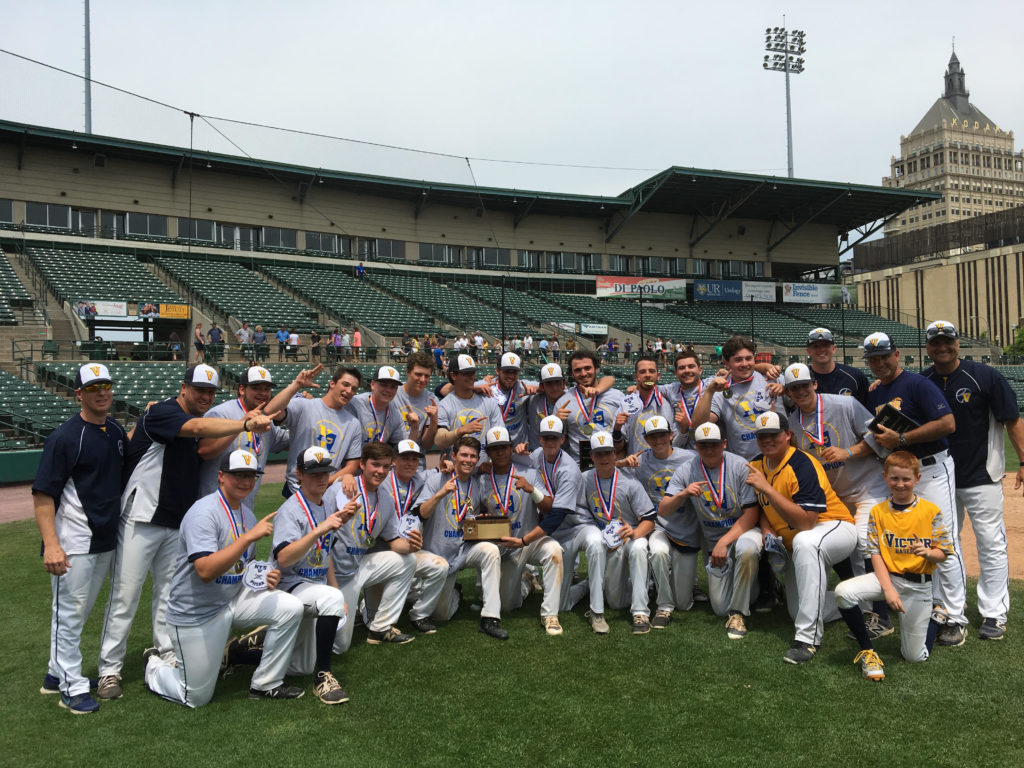 By BILLY HEYEN
ROCHESTER, N.Y. — Victor head coach Sean Rucker said he gave his three hitter Chris Varone the red light on 3-0. Varone said he had the green light for the second time, after a 3-0 base hit he had earlier in the ball game.
"He did not," Rucker said. "He had the green light his first hit on 3-0. That one he didn't."
"He gave me a green light again," Varone said. "It was a little outside, I was like all right I can't do anything with this pitch. Called it a ball, we celebrated."
It wasn't just any 3-0 ball four. The bases were loaded. The game was tied. It was the bottom of the seventh and it was the Section V Class AA title game. The walk was a walk-off.
Celebrations ensued, first at home plate then around Varone at first base. Victor, after being knocked out of the sectionals last season by McQuaid in the semis, knocked the Knights off 3-2 at Frontier Field on Saturday.
Chris Varone just walked on four pitches to win the sectional title for @vshsbaseball over McQuaid, 3-2. @PickinSplinters pic.twitter.com/VZAotOwS6z

— Billy Heyen (@Wheyen3) May 26, 2018
Varone went 2-for-3 with his game-winning walk. Andrew Westbrook pitched five innings with just two earned runs against to keep the Blue Devils in the game. And Victor kept its season alive for at least another week, until next week's Far West Regional — essentially the New York state quarterfinal — right back at Frontier Field.
"There's no better feeling," Westbrook said. "Especially after we lose to them last year, coming back and beating them in this setting, can't beat it."
McQuaid's starter, Erik Johnson, shutout Victor for four innings. Westbrook gave up a first inning run. That Knights' run was manufactured much as they had on Thursday in their semifinal win. Noah Campanelli knocked a single into right, was moved around by a walk and a hit by pitch, then scored on a groundout.
So for the first four innings, it was the Knights in the driver's seat.The Blue Devils felt like a comeback was coming, though.
"I told the boys, we had the hammer," Rucker said. "We used it here and it took every last out and every last pitch, but we got it done."
In the fifth, Owen Delforte, Victor's eight hitter, came to the plate with two runners on. His second chance at heroics that came as a lead-in to Varone's walk-off wouldn't have been possible without what he did in the fifth. He fell behind 0-1. He fouled off a pitch, 0-2. Then he lined a ball to right center field, just over a leaping centerfielder and down for a double. A run scored, Delforte cruised into second clapping his hands together and the game was tied up at 1.
Owen Delforte just doubled in the tying run. 1-1, Victor has second and third with one out for its nine hole. @PickinSplinters pic.twitter.com/4vJTIv4KUX

— Billy Heyen (@Wheyen3) May 26, 2018
The Knights took the lead right back in the top of the sixth. That lead wouldn't hold long. A single down the third-base line by Tommy Ryan started the bottom half. Then Varone got jammed and blooped a ball just over Johnson on the mound and into no-man's land. He beat it out. The next play featured a force out but then a throwing error and Victor was all-square again.
Even with McQuaid's order at the top to start the seventh, Victor reliever Brandon Meeks shut down the Knights one-two-three.
It would come down to the seven, eight and nine hitters in the Blue Devils lineup.
"Our whole lineup can hit, one through nine," Varone said postgame, echoing his teammate Westbrook as well. "Every single guy can get on base, every single guy can hit."
Nate Hampson fell behind 0-2 before taking some very tight pitches to work back and walk. Delforte pushed a bunt past the right side of the mound, past Johnson, and beat it out for a hit to finish 2-for-3.
A sac attempt gets by The mound for a hit. Walk off run on second no outs. @PickinSplinters pic.twitter.com/0fsGRXZk4g

— Billy Heyen (@Wheyen3) May 26, 2018
Sam DiGiacomo followed with a bunt down the third-base line and Johnson just held the ball. The scene was set for the top of Victor's order.
Ryan O'Mara came in for an impossible spot: bases loaded, no outs, winning run on third. But he retired the first two batters on a shallow flyout and a strikeout. That's when Varone stepped in.
Varone was wearing what at the beginning of the season was a brand new yellow jersey, Rucker said. But championships for Victor's baseball program are nothing new. Rucker, in his 23rd year as head coach of the Blue Devils, has turned them into a perennial power.
"I kinda liken this program to a yellow school bus," Rucker said, "kinda like our new jerseys this year. We just are consistent, we show up everyday, we do things the right way, I always have the big picture in mind as far as where we're going, as far as destination and we got there today."
Victor pinch-runner TJ Long was 90 feet from his destination, home plate, where Varone stood. When Varone took four pitches, all out of the strike zone, his destination became first base. Long reached his. Victor had reached Rucker's destination, too.
Varone said that you always imagine a scenario like that, except that "you're definitely thinking of putting a big hit together." He didn't mind how it felt seeing his teammates burst out of the dugout to celebrate after he laid off ball four, though.
"It's the greatest feeling ever," Varone said. "Got the chills, everything, it was amazing. Got mobbed right away. It was awesome, nothing like it."