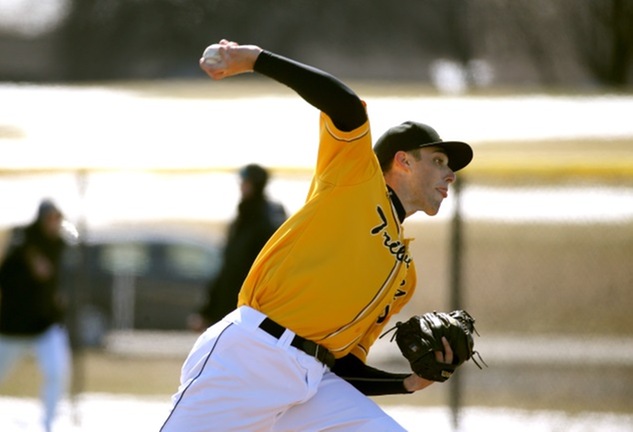 By PAUL GOTHAM
ENID, OK — Top-seeded LSU-Eunice (54-6) and No. 2 seed Parkland, Ill (48-14-1) earned first-round byes in the 2018 NJCAA DII World Series.
Neither of the top seeds hold the title of the hottest team in the nation. That belongs to the Monroe Community College Tribunes.
Winners of 18 straight, Monroe opens the Series against Brunswick Community College (29-22) of North Carolina, Saturday afternoon.
A 4-3 extra-inning loss in the second game of a doubleheader dropped Monroe to 12-18 on April 21st. The Tribunes had lost four straight and eight of nine at that point.
"I attribute it to growth and experience," head coach Dave Brust said recently. "Their maturation process was during the year as it should be. You usually have that happen over time. These guys had to grow up fast."
The Tribs bring a 30-18 record with them to David Allen Memorial Park including sweeps of the Region 3 and East District Championships.


Similar to UConn-Avery Point which MCC beat twice in the districts, Brunswick is a team which relies on big innings. With seven home runs, Hunter Asburn leads a Brunswick squad which has clubbed 46 home runs this season. The Dolphins have a .511 slugging percentage.
Scott McKeon leads Brunswick with a batting average of .408. Trent Joiner is 5-1. The left-hander has struck out 88 in 58.2 innings of work. Bryan Gillian is 5-0 with a 3.67 ERA.
Hitting .426 Phil Ferranti leads MCC. The freshman designated hitter has driven in 62 runs. Cas Sobaszek has an average of .423 and an on-base percentage of .526.
MCC's Eric O'Brien is 5-3 on the season including a win over UConn-Avery Point in game 2 of the East District Championship. Matt Petrossi is 6-0, and Stuart Martin has three saves in Monroe's last five wins.
The winner of the Monroe vs. Brunswick contest will play LSU-Eunice Sunday night.
Monroe's 18 straight wins is the best in program history since a 21-game streak in 2005 (this streak was originally reported as 20 straight, but has since been corrected). The longest streak in program history is 29 in 1989.
Monroe will be making its ninth World Series appearance in program history and second in three years under Brust. The Tribunes have reached the Series five times since 2007. MCC is looking for its first WS win since 2008 when the Tribs finished No. 3 in the nation.
A 5 PM EST first pitch is scheduled Saturday at David Allen Memorial Park.