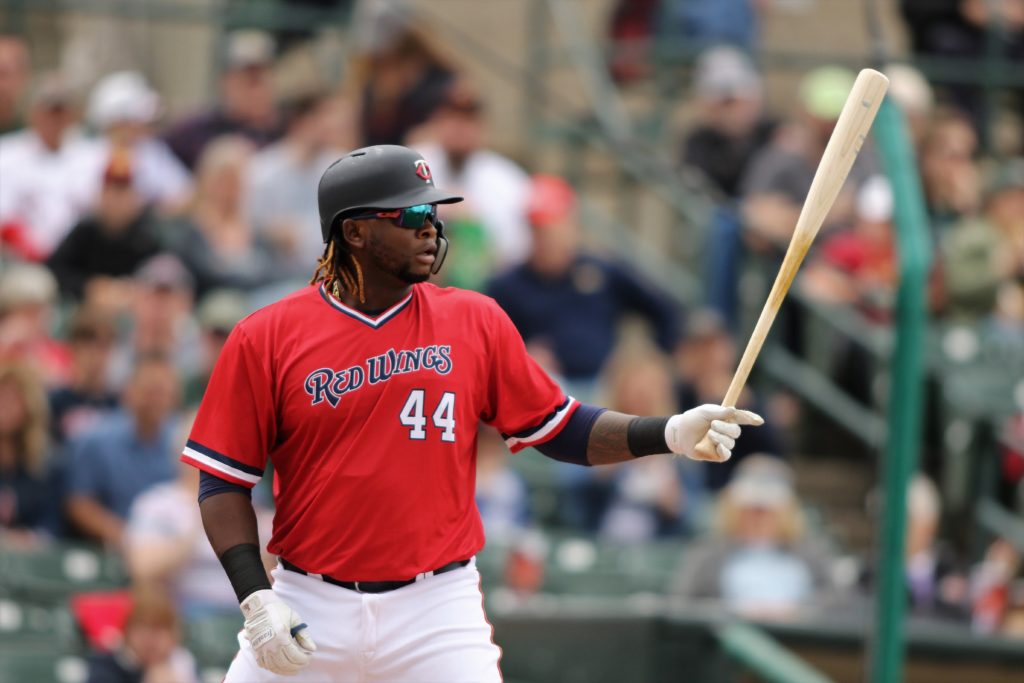 By KEVIN OKLOBZIJA
Barring any setback, Miguel Sano's rehabilitation stint with the Rochester Red Wings will end while they are in Allentown, Pa., this week.
The Minnesota Twins' slugging third baseman played five innings for the Red Wings on Sunday — this time at third after serving as the designated hitter on Saturday — and said his rehab is right on schedule.
"I'm 100 percent right now," Sano said after the Wings again blanked the Pawtucket Red Sox, this time 3-0 behind seven five-hit innings by Aaron Slegers.
Contrary to the critics, Sano contends his initials aren't D.L., either. Yes, he has spent more than his fair share of time on the disabled list. He missed a month in 2016 due to a strained left hamstring, coming to Rochester on an eight-game rehab stint that summer. Last season he played just three games over the final month and a half because of stress reaction in his left shin. He subsequently underwent off-season surgery.
This spring his hamstring flared again in late April, leading to his current DL status.
VIEW MORE JOE TERRITO PHOTOS HERE
"Injury is more common with players who play hard," he said. "If I have a chance, I run hard. I never get afraid to get an injury.
"People that never get injured are the people that never played the game (hard)."
Sano didn't have any major contributions to the Wings victory, except in finding reassurance that he's on the way back to the Twins lineup. He went 0-for-2 with a strikeout in the third and a walk in the fifth. On Saturday in the start of his rehab assignment he went 0-for-2 with a pair of walks.
"I didn't try to do too much, I just try to put the ball in the play," said Sano, who went on the disabled list on May 1, retroactive to April 28, because of a strained left hamstring.
He said the primary objective with the Wings is to regain his timing in the batter's box. He hadn't played since April 27 against the Cincinnati Reds.
"I will play two more games and then go back to Minnesota," he said.
Slegers was terrific again, striking out five and walking no one. In six of his eight starts he has allowed one or fewer runs. He lowered his ERA to 1.97 while tying for the International League lead in wins (5-1).
Tyler Duffey pitched the final two innings as the Wings pitching staff notched shutout No. 5 of the season. The pitchers also have limited to opponents to just one run nine times. So in 37 games (21-16), the Wings have allowed one run or fewer 14 times.
In the three weekend games the PawSox scored just one run, losing 2-0 on Friday, 2-1 on Saturday and 3-0 on Sunday.
"You have to give our pitchers a lot of credit," said Wings manager Joel Skinner, whose club has won 11 of the past 14 games.
The hitters, meanwhile, scored when necessary. A walk to Willians Astudillo, his steal of second base (he's 3-for-4 when stealing) and a Nick Buss double to the gap in left center provided a run in the fourth. Kennys Vargas singled home Zack Granite in the fifth after the center fielder led off with a walk and stole second, then Buss homered into the Wings bullpen in the eighth.