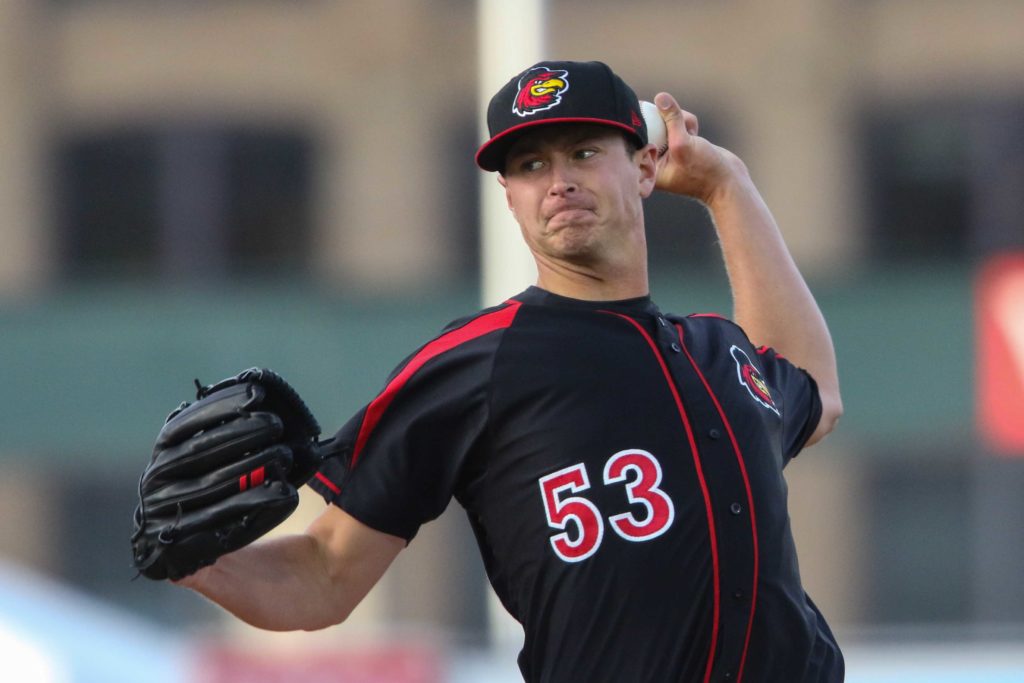 By CHUCKIE MAGGIO
He wasn't the main attraction on Friday night, overshadowed in the headlines by a visiting player who could be just a week or two away from rejoining one of the most popular teams in Major League Baseball.
Rochester Red Wings pitcher Stephen Gonsalves didn't get the memo that it was supposed to be Dustin Pedroia's night.
Gonsalves struck out 11 in 5.1 innings, including a first-inning punch out of the 2008 American League MVP, while allowing just four hits. He did walk Pedroia twice, accounting for two of the four walks he issued, but did not allow a run in the 2-0 victory.
In four starts since being called up from Double-A Chattanooga, Gonsalves is 3-1 with a 2.99 ERA and 27 strikeouts. Friday's outing was a positive development after allowing six runs and not making it out of the second inning at Scranton-Wilkes Barre on May 11.
Pawtucket loaded the bases with two outs in the top of the third and fifth innings, but Gonsalves struck out Rusney Castillo each time to escape trouble. The tightrope act earned the 23-year-old San Diego native his second shutout of the year against the Sox after previously defeating them with 7.2 frames of one-hit ball on May 1.
"My curveball and slider worked for me real good," Gonsalves remarked. "Fastball came in early; I kind of lost it towards the end. But normally my go-to's been my changeup and that's what happened last time I faced these guys. Didn't have it today but I think I kind of caught them off guard having my curveball."
"He threw the ball well," Red Wings manager Joel Skinner said. "There were a lot of strikeouts tonight on both sides. It's just a situation where he kept pumping it in there and kept them off-balance. His pitch count got a little high (94), but like every starting pitcher, he gave us a chance to win today."
Watch Stephen Gonsalves strike out the 2008 American League MVP, Dustin Pedroia on a fastball. pic.twitter.com/lIzUw0tEKz

— Morrie Silver (@MorrieSilver8) May 19, 2018
The run support wasn't frequent, but a Jake Cave single in the third to score Granite and Willians Astudillo two-out solo home run in the fourth that wrapped around the left field foul pole accomplished enough for a seventh win in the last 10 games.
Red Wings two-hitter Ryan LaMarre collected three more hits and has a .478 Triple-A batting average in six games. The team recorded nine hits but went just 1-for-4 with runners in scoring position and left eight runners on base overall.
The Red Sox were worse in the clutch, a woeful 0-for-10 with runners in scoring position. After Gonsalves departed, Pawtucket failed to record a hit over the last 3.2 innings; Alan Busenitz allowed just one baserunner in the six batters he faced and John Curtiss earned a six-out save.
Pedroia didn't put the ball in play, finishing the night 0-for-2 with two strikeouts and two walks. Eleven strikeouts may never have seemed so quiet, but Gonsalves reacted fondly to facing the four-time All-Star, who is nearing a return to the major leagues after October knee surgery.
"It was a cool experience; I had the juices flowing a little bit early and he really had some good takes in the later at-bats and drew two walks," Gonsalves recalled. "It was cool to face him and kind of check him off my list."
For Skinner, the appearance had no impact on managing the game.
"That's their side of the field. We deal with that too; we had May pitch two days ago," he said. "But it's just part of the roster situation that gives these guys a chance to come down from the major leagues and get some reps. It's good for the fans when guys like that come down here; they get to see them in person. But other than that, no."