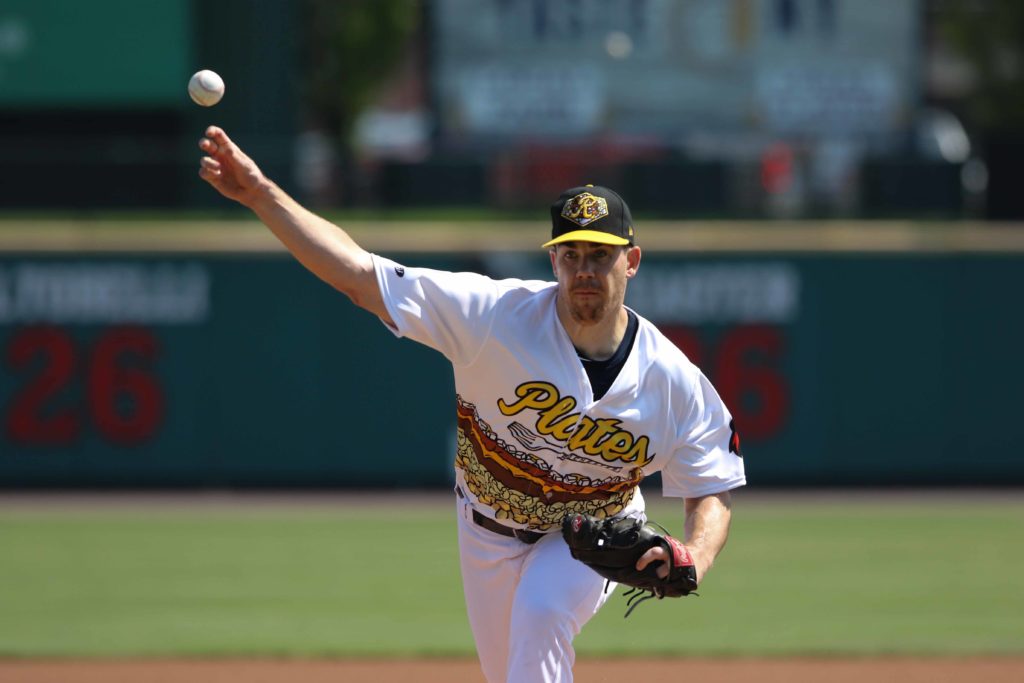 By CHUCKIE MAGGIO
In his first action against a high-level lineup since having Tommy John surgery in March 2017, Trevor May looked like a major league pitcher again.
May took the hill for the Rochester Red Wings against the Syracuse Chiefs on Thursday morning and was the hard-luck losing pitcher in just his second appearance of the year; he pitched three innings for Single-A Fort Myers last Saturday.
The 28-year-old, working with a 60-pitch limit set by the Minnesota Twins, went four innings, allowing one run and three hits while striking out five batters and issuing two walks.
Minnesota's current plan is for May to start two more games for Rochester before returning to the big-league club. Despite being charged with the loss after the eventual 4-2 final, he did nothing to dissuade that timetable.
"Felt good to be back out on a mound with fans and a game that kind of meant something," May said. "It was a good first step. Physically I feel really good with where I'm at and how it went… overall, I think it was a step in the right direction."
May, who owns a 13-17 major league record in 102 appearances, said he's working with "about five and a half pitches right now." He acknowledged that the sinker, or two-seam, was located much better than Saturday's appearance, while the slider was a "little bit better." He felt his curveball, which he tore his Ulnar Collateral Ligament (UCL) throwing, was located well but isn't one of his strikeout pitches yet.
"He's been throwing the ball in Florida, so this was just one more step in his program to build up his pitch count… it's all part of the process, his program on returning to pitch," manager Joel Skinner said. "It was good from that standpoint."
Ultimately, May was encouraged by his ability to pitch without feeling any physical effects of the surgery.
"It's just remembering that you've gotta go out there and compete, something that you kind of lose a little bit," he said. "Especially when your schedule changes, you're not at the field like you usually are, it's not the grind the same way. You're in and out getting rehab, not usually with the team; I was in Florida for a long time. Getting back in the swing of being a competitor and wanting to win, getting back and being a baseball player again is probably the hardest part. And I think I've known that since the beginning… it's all becoming natural again."
Completing four innings in 60 pitches on the dot was a mark of efficiency, but May said he didn't even remember that the limit was that low. After a 60-pitch maximum last Saturday, he thought the number was 75 and was prepared for the fifth inning before being informed his day was over.
"I threw 60 last time so I didn't know we were doing it twice, for whatever reason; I think they told me that before. So I came in and I was all ready for the fifth inning and that helped, to be honest. It's not really in your head too much; when you get higher (in pitches) it just feels the same as having no real pitch count.
"So same thing, just trying to compete and throw the ball where you want it."
---
Chiefs outfielder Hunter Jones led the lineup from the ninth spot with a three-hit, two-run day, while center fielder Rafael Bautista went 2-for-4 with an RBI. Bautista left the game in the seventh inning after he collided with Jones on a fly ball by Brock Stassi and exited the field on a stretcher.
Phillips Valdez earned the win for Syracuse after surrendering just two hits in five innings pitched.