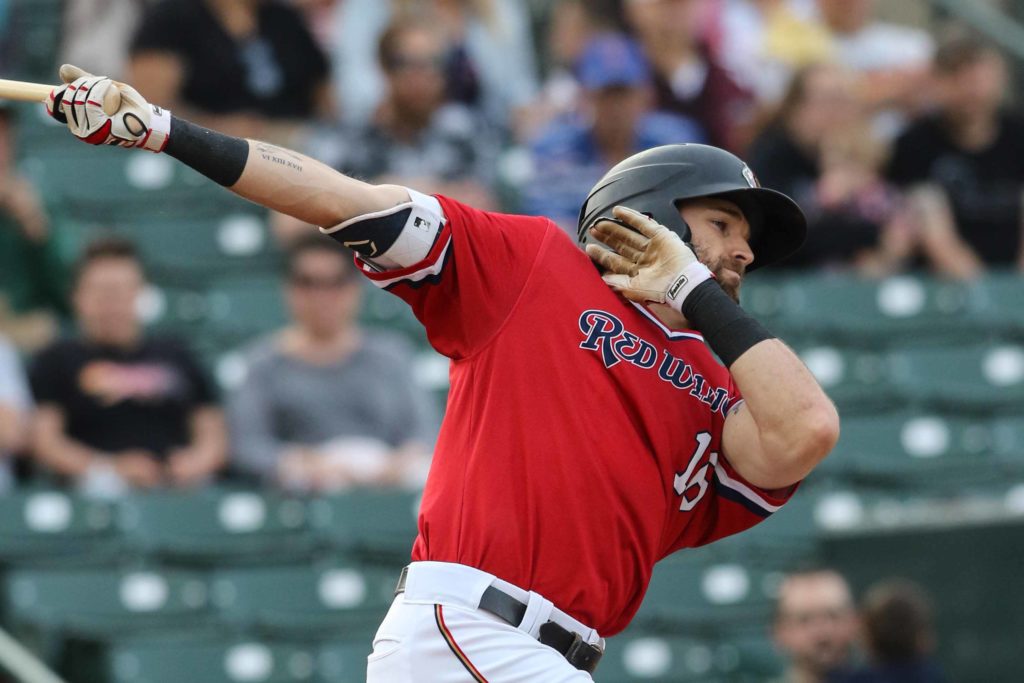 By CHUCKIE MAGGIO
The stat, relayed by the Syracuse Chiefs public relations department, was almost unheard of for an above-.500 baseball team.
The Chiefs entered Wednesday night's game in Rochester having been outscored 21-0 in the first inning since May 3. Their record in those games was a dubious 4-7.
There was no reversal of fortunes on Wednesday. The Wings tallied five more runs on that total and sent Syracuse to another defeat, 6-4, in front of 3,932 fans at Frontier Field. Chiefs starter Tommy Milone threw 40 pitches, facing eight batters, and recorded just one out. For the former Red Wing, it was an undignified return.
After RBI from Jake Cave (two on a triple), Nick Buss (two on a double) and Leonardo Reginatto and a stray double by Cave in the second, Rochester went hitless for five straight innings before Willians Astudillo's pinch-hit single scored Brock Stassi for an insurance run.
"We scored enough," manager Joel Skinner commented. "The run in the eighth was big, too, because (Syracuse) did a good job of coming back and making a game of it. It was a well-rounded first inning, obviously, making their pitcher work a little bit and getting a couple big hits."
Starting pitcher Dietrich Enns celebrated his 27th birthday with his second win of the season. Enns allowed just one earned runs on five hits in five innings, with four strikeouts. The Frankfort, Ill. native has won two of his last three starts and has surrendered just eight earned runs in his last four.
Enns with the ????!

MID 4: 5-1 #GoodGuys pic.twitter.com/2hlusCTTBK

— Rochester Red Wings (@RocRedWings) May 17, 2018
D.J. Baxendale took over for Enns and allowed two earned runs on two hits and a walk in the sixth inning. Luke Bard walked two batters and allowed a hit in his two innings, but did not allow a run. The shaky middle relief was a footnote in the ninth, when Nick Anderson earned his first Triple-A save with a one-two-three frame.
Rochester's start, not its finish, mattered more as it improved to 18-15.
"Every game you go into, you want to score first, you want to score early. It's just about executing doing it," Cave said. "And when you've got (Zack) Granite leading off with a walk, whenever the first batter of the game walks, that's always big for the team, gets a little momentum going. Then we've got a runner on, he can steal a base and make things happen. (Ryan) LaMarre gets hits like crazy, as we know. It's just good to have guys on base early because you can probably put runs up early.
"It's fun knowing I've got guys in front of me and behind me who can really drive the baseball and can do great things."
The Wings were outhit 8-5, outhomered 2-0 and committed two errors to Syracuse's one. It was far from a perfect night of baseball, but they now carry a modest three-game win streak and have the opportunity for the sweep on Thursday morning.
"The last two days, we've created opportunities for ourselves by creating some baserunners and getting base hits," Skinner said. "That part of it is good to see."