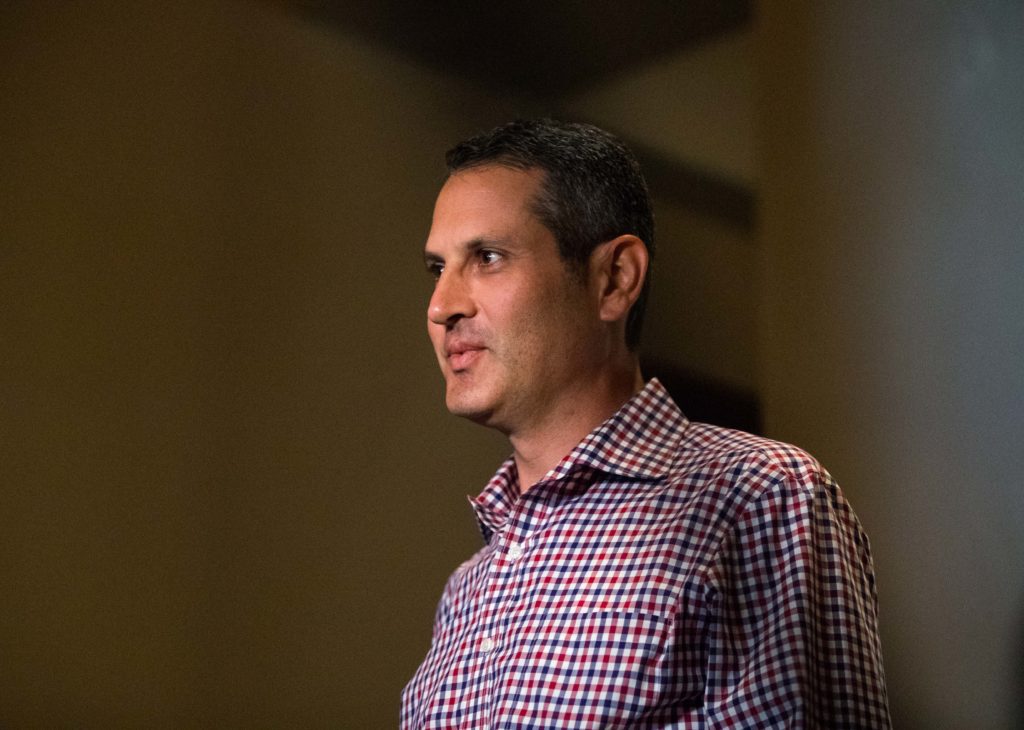 By KEVIN OKLOBZIJA
It's an even-numbered year, so that means one thing for the Rochester Red Wings:
Their affiliation agreement with the Minnesota Twins, the parent team since 2003, will be up for renewal.
The Twins say they want to stay. Thad Levine, senior vice president and general manager since November 2016, made his first visit to Frontier Field on Tuesday to watch his prospects and get to know the decisions-makers within Rochester Community Baseball, CEO Naomi Silver, chairman of the board Gary Larder and general manager Dan Mason.
"We're all in on keeping the Red Wings," Levine said. He noted the affiliation history — the St. Louis Cardinals from 1929-1960, the Baltimore Orioles from 1961-2002, and now the Twins — and said they have no intention of allowing someone else to become the fourth parent.
Interestingly, however, the Wings could at least want to check the affiliation car lot. The Washington Nationals must leave Syracuse after the season; they don't have a choice. The New York Mets bought the Syracuse franchise last year and will move their Triple-A operations from Las Vegas to Onondaga County for the 2019 season. The Nationals stayed this season due to contractual obligations.
Over the years, the Red Wings have been fiercely loyal, as their affiliation history proves. It took five consecutive losing seasons under the Orioles — including the 55-win campaign of 2002 — and the realization that the Baltimore farm system was a disaster before they finally cut ties.
Since coming to Rochester, the Twins have been an very good partner over 15 years: 10 winning Triple-A seasons, one season of .500 ball, and four losing years. The Wings have won at least 77 games in each of the past five years, and at least 80 the past two.
The Governors' Cup never made a visit to Frontier Field, but winning baseball has been a staple. The Wings were 16-15 heading into Tuesday's game against Syracuse (18-16).
The last time the affiliation was up for negotiation, in 2016, the Mets were available. The Wings rightly had no interest. The Mets farm system was a mess and their inability to take care of their Triple-A affiliate made them persona non grata in the International League. How else do you think they ended up in Las Vegas.
The Nationals at least give Silver a reason to kick the tires. This isn't meant to alarm or suggest, merely point out an option.
The Nationals define stability. They haven't had an affiliation change throughout their organization since 2011 (when the Auburn Doubledays replaced the Vermont Lake Monsters as the short-season Class A affiliate). Their Triple-A operation has been in Syracuse since 2009, and the Double-A affiliation with the Harrisburg Senators extends to 1991 when the MLB team was the Montreal Expos.
The Twins have been in advanced Class-A Fort Myers since 1993 but changed Double-A ships from New Britain to Chattanooga in 2015 and Class-A ships from Beloit to Cedar Rapids in 2013.
There are also some Rochester ties in the Nationals front office. One of the principal owners of the Nationals, Robert Tanenbaum, is a Rochester native. His wife, Marla, another principal owner, is the daughter of managing principal owner Ted Lerner.
Washington obviously would like to keep their Triple-A operations close to the Northeast or Mid-Atlantic. Those areas are home to their entire development operation (Syracuse, Harrisburg, Hagerstown, Potomic and Aubrn) with the exception of Florida-based rookie league Gulf Coast Nationals.
The odds of an affiliation change are slim, but there's at least a slim chance.
Levine on player development:
Previous regimes in Minnesota rushed Carlos Gomez and Aaron Hicks to Minneapolis, and it stunted the development of both outfielders. It could be argued that they also rushed Byron Buxton.
But the Twins also were patient with super pitching prospect Jose Berrios.
"I think best-laid plans allow for you to try to 'finish off' a player at the minor-league level (but) I think best-laid plans are so rarely brought to fruition," Levine said. "I think you're forced to bring a guy up more often than you're allowed to bring them up when they're really matriculated to the big leagues."
Starting pitcher Fernando Romero is a prime example right now. Because of injuries, the Twins needed a starter. Before last season, Romero had never pitched above Class A. But after appearing in his first four career Triple-A games in April with the Red Wings, Romero was starting for the Twins against the Toronto Blue Jays on May 2. He pitched 5 2/3 shutout innings.
In three MLB starts, he is 2-0 with a 0.54 ERA, 20 strikeouts, 11 hits and nine walks in 16 2/3 innings.
"Could he have stayed in the minor leagues longer? Absolutely," Levine said. "Has he given us a huge shot in the arm as a team since he's come up? He certainly has. In the short-term he has acquitted himself extremely well."
On Berrios and Buxton:
"They really by and large didn't face a lot of adversity in the minor leagues. They come to the big leagues and they kind of get punched in the mouth and you have to see how they're going to respond up there. Ideally you'd like to see that level of failure, adversity, growth, development and accountability from those adverse moments in the minor leagues."
On top prospect Nick Gordon:
The 22-year-old shortstop is hitting .350 with a .918 OPS with Double-A Chattanooga. He is second in the Southern League in hits (48), second in total bases (72) and fourth in batting average. Gordon was the Twins first-round pick (5th overall) in 2014.
Levine said he expects Gordon to play in Rochester at some point this season, but he hasn't had enough Double-A at-bats yet.
"In terms of development, we have a plan going out of spring training to really give guys a chance to have momentum going into the season," Levine said. "His bat is borderline Major League ready right now, he showed us that in spring training. It's the defensive side of the game that we'll continue to challenge him to develop on, it's the base-running side of the game."