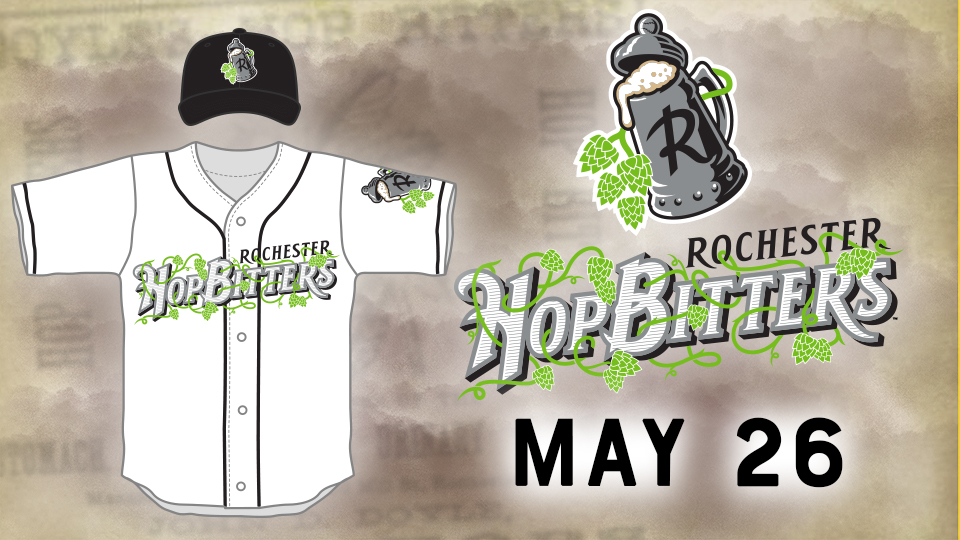 Courtesy of RedWingsBaseball.com
ROCHESTER, NY – The Red Wings became the Red Wings in 1929, but professional baseball in Rochester spans all the way back to 1877. Over the next few years the Red Wings will pay tribute to those clubs who called Rochester home.
On Saturday, May 26, the Wings will take the field as the Rochester Hop Bitters, who played in the National Association in 1879 and 1880. The night will be a celebration of 19th century baseball, while the uniforms will put a modern spin on the 140-year-old name. The 2018 Hop Bitters logo pays homage to the great tradition of brewing in the Rochester area as the Genesee Brewery celebrates its 140th anniversary this year as well as the renaissance of craft beer production in the Rochester area. 
How did the Hop Bitters come to be? WATCH.
Hop Bitters merchandise will be available at the Red Wings Team Store for the first time on May 26 when the gates open at 6 p.m. There will be a limited number of caps (fitted and adjustable), t-shirts, jerseys, and pint glasses available and once they are sold out the merchandise will be retired for the season.
The first 1,000 adults (21 & over) on May 26 will receive a Hop Bitters pint glass courtesy of The Cooper Cheese Brand.
A specially crafted Hop Bitters Brew made by the Genesee Brewery will be served for the first and only time on May 26. It will be available in limited quantities at the Genesee Brewery portable stand on the first base concourse across from the Red Wings Hall of Fame.
Fans can expect an old-time feel to Frontier Field on May 26. Instead of using a public address system, batting introductions and in-between inning announcements will be made from on top of the dugouts, there will be on-field 19th century base ball (yes, back then baseball was two words) demonstrations from members of the local Rochester Live Oak and, as was accustomed back then, fans will be asked that all foul balls be returned to the dugout (prizes will be awarded to all fans who'd like to play along). 
The game-issued, autographed jerseys will be auctioned off to benefit the Red Wings Community Foundation. Fans interested in bidding should download Live Source in the App Store or Google Play. For more bidding instructions CLICK HERE.