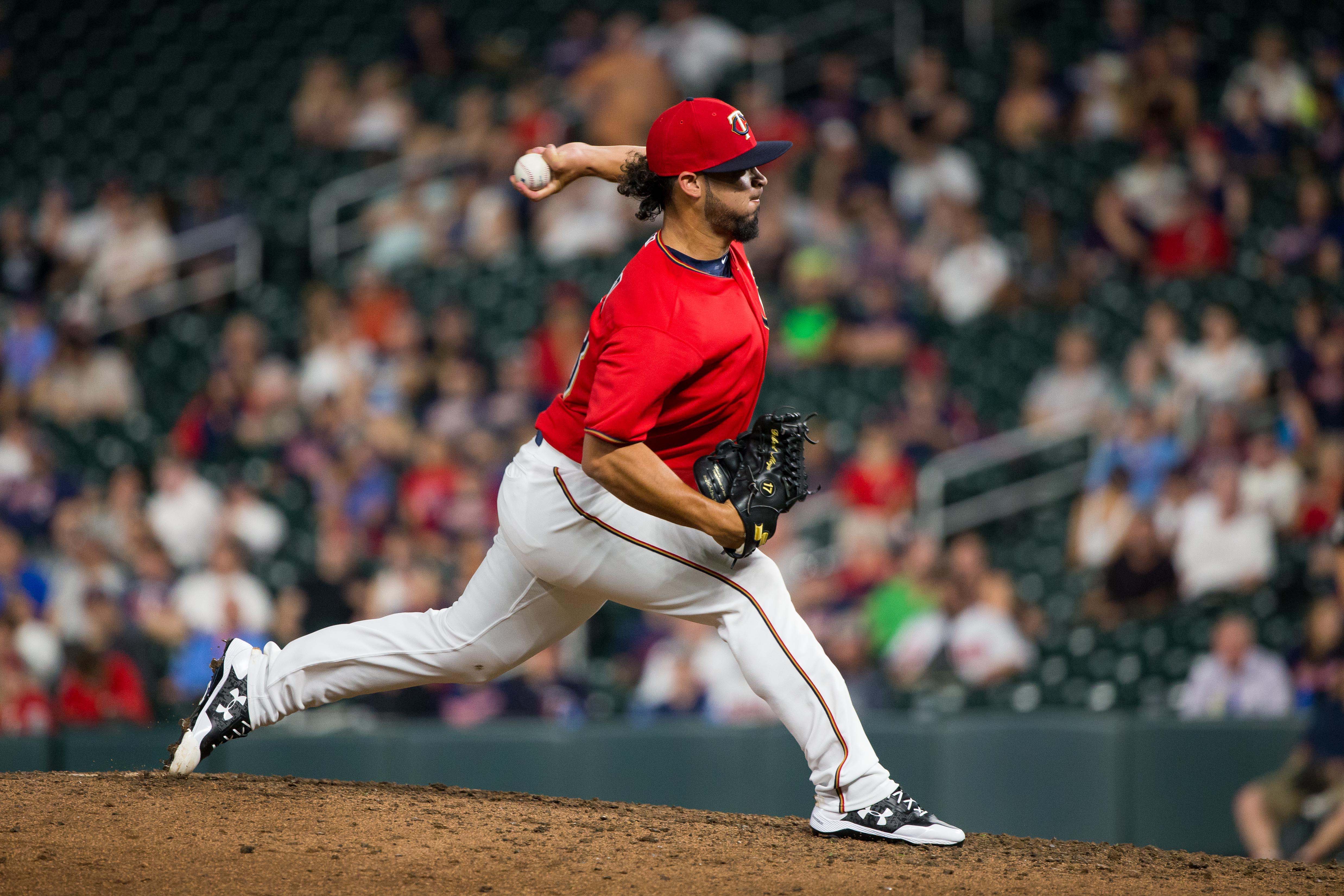 BY PAUL GOTHAM
ROCHESTER, N.Y. — As far as footnotes go, Gabriel Moya's effort Thursday night is worthy of at least some bold print.
Coming out of the Red Wings bullpen with a run in and one out in the seventh, the 6-foot left-hander used just 25 pitches to get through an inning and two-thirds.
"He did a good job," Red Wing manager Joel Skinner said. "They had some lefthanders for him to attack, and he threw the ball well. That's what he needs to do. That's part of his program to come in and be aggressive against left-handers."
Moya went full count to the first batter he faced and fanned Dean Anna, Lehigh Valley's left-handed two-hole hitter. He ended the inning getting a routine fly ball and started the eighth setting down former Red Wing Trevor Plouffe on strikes.
"It was a mix of everything," battery mate Bobby Wilson said. "All four of his pitches. He got a 3-2 strike out on a change-up. Elevated a heater to get a punch out as well. He's been pretty good about attacking the zone, using all of his pitches to lefty and righty."
The appearance was third this year for the Venezuela native as a part of the home nine. He opened the season with the Minnesota Twins where he made five appearances, allowing six runs on three home runs over five innings of work.
Thursday night, opposing hitters struggled to make barrel contact against him as Moya ended the eighth on a pair of weak infield pop ups.
"He threw the ball well had good glove-side command with his fastball, elevated well," Wilson added. "Obviously the 3-2 change-up is a big pitch for him, lefty on lefty. He's been working on his breaking ball more, so he's been executing those as well."
Moya allowed a run on four hits, struck out three and walked two over two innings of work against Gwinnett on April 25th.  Three days later, he worked a scoreless frame at Syracuse with a punch out, a walk and a hit.
Against the IronPigs, the 23-year old in his seventh professional season dictated to opposing hitters.
"I feel good about working my slider," he said after the game. "That's what I was throwing very good. My fastball is better. The fastball command is there. It's very good today.
Signed as an drafted free agent by the Arizona Diamondbacks in 2012, the Twins acquired Moya in the trade for John Ryan Murphy in July of 2017. He made his MLB debut last September and registered a save against Detroit on October 1st.
He made the Opening Day roster for the first time in his career this season before being optioned to Rochester on April 22nd.
"The mix is there," Skinner added. "The change of speeds is there. He's an aggressive kid. He gets after it, and you can tell that by just the way he carries himself."
Aaron Slegers started and took the loss in the 5-2 defeat. The scoreboard at Frontier Field read zero in the errors column. That doesn't mean there wasn't some poor play. A pair of fly balls fell in the sixth resulting in a Lehigh Valley run. Both were lost in lights. Both should have been outs.
"We've had that a couple times this year," Skinner noted. "That time of night where pop ups get hit in twilight. It's not an easy play. They make it for the most part most of the time, but tonight we just weren't able to.
"When you see a ball go up, you're thinking an out. All of sudden guys are waving their hands up and you know they don't see it. It's a little bit of a helpless feeling that's for sure."
Mix in a trio of runners eliminated on the basepaths and Rochester fell to 10-12 on the season.
The loss was the first for Slegers in 17 starts at the minor league. The 6-foot-10 right-hander fell to Syracuse on June 8th of last year for his most recent setback. Slegers finished 15-4 in 2017. He was 2-0 in 2018 coming into Thursday's contest.
Rochester took advantage of three wild pitches, a walk and a hit batsman to score two in the fifth. Wilson and James Ramsey ended up crossing the plate.
The same two teams meet for the second of a four-game set Friday night. A 7:05 first pitch is scheduled.