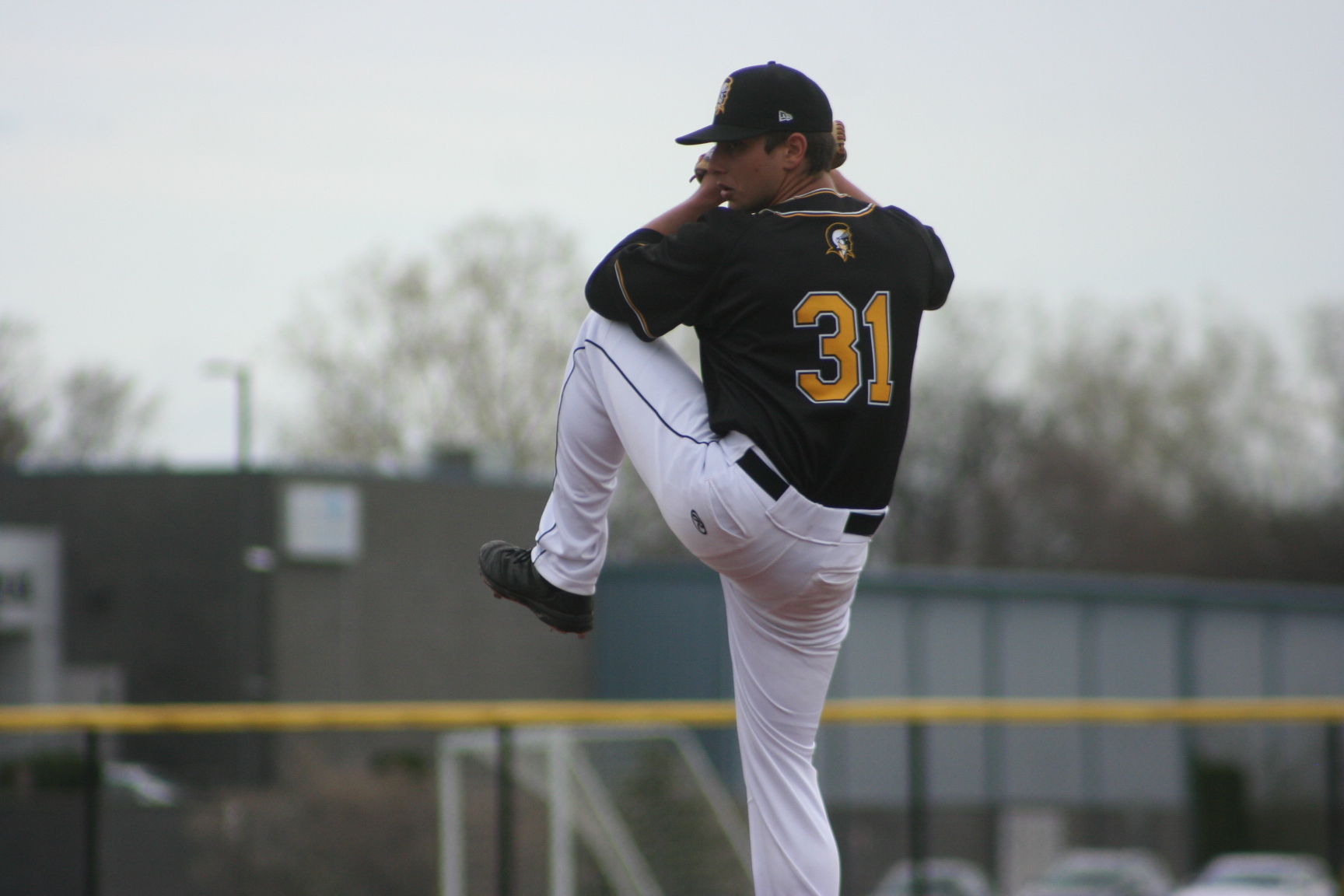 By PAUL GOTHAM
ROCHESTER, N.Y. — Matt Petrossi (Fairport) received run support. Tim Brown (Brighton) didn't fare as well. Neither required much.
The Monroe Community College starters picked up a win apiece as MCC swept Finger Lakes Community College (16-1/3-1) at Tribune Field Thursday.
Petrossi allowed a one-out single in the first inning, and retired the next 10 batters he faced. The redshirt freshman faced the minimum over four innings and needed just 53 pitches (36 for strikes) to get through five frames. He fanned four without a walk and improved to 4-0 on the season.
"He did not miss a beat," Monroe coach Dave Brust said of Petrossi. "Throwing strikes. Pitching ahead. He's got movement with his fastball. His breaking ball right now is excellent. If he's pitching ahead and you know his breaking ball is coming, it's tough to deal with as a hitter. It has late break and he throws it for strikes."
Brown surrendered a run on three hits in the first inning of the nightcap then settled in to allow just two hits over the next five innings for his fifth win without a defeat.
"That is classic Tim Brown," Brust commented. "He always struggles out of the first inning. He's just one of those guys. It's not like we don't try to get him to throw his first inning in the bullpen. It's just how he competes. He has to get a little dirty and then he takes off.
"He has a feel for how to get guys out. It's not something you necessarily develop. He just has it."
Phil Ferranti (Webster Schroeder) plated Justin Bunting (Greece Athena) and Cas Sobaszek (Rush-Henrietta) with a two-out single in the sixth, and the Tribunes went on to win their 11th straight game.
The Tribunes designated hitter turned on a 2-1 cutter on the outer half of the plate from FLCC reliever Dylan Creasey (Kenmore East) and snapped a one-all tie.
"I was just trying to get the runs in," Ferranti said. "An RBI situation, so I was looking for something out over the plate. I took a couple before I got a pitch to drive. Just went with it."
"Our lineup has evolved over time and we try to set up Phil up to be in that situation," Brust noted. "It's happenstance that it was him, but how we like to say 'that's how we drew it up.'
"If you get him (Ferranti) out in an RBI situation, then you tip your cap to the other team. In this case, Phil cashed in."
Ferranti gave Monroe its first lead of the nightcap with just their second hit of the game.
"As soon as I saw it up in the zone, I just took a hack at it and hoped for the best."
The opener lacked any suspense.
The Black and Gold sent 14 to the plate in the second inning.
Ferranti led the stanza with a double. Sam Loew (Binghamton) followed suit with a two-bagger of his own. Both came around to score when Logan Martella-Tasick (Penfield) reached on an error.  Anthony May (C.W. Baker/Baldwinsville) and Brennen Smith (Webster Thomas) delivered RBI singles before Ferranti and Loew capped the barrage with a two-run base hit and run-scoring single.
When the merry go round stopped, MCC led 10-0.
"We did a good job in the first game of attacking pitches early in the count," Ferranti said. "In the second game we were kinda lackadaisical. We still had good at bats, but we just couldn't find holes. We found a way to win when we needed it."
Smith doubled in a run and came around to score in the third.
Andrew Czubaj (John F. Kennedy/Buffalo) cleared the bases with a double in a four-run fourth.
Smith finished 3-for-4 with two doubles, two RBI and two runs scored in the opener. Ferranti went 3-for-3 with a double, two RBI and two runs scored. Bunting collected a hit, two walks and two runs scored. Low was 2-for-3 with a double, a walk and two RBI. May had two hits, two RBI and scored two runs.
Monroe (23-18) travels to play at Ithaca College JV on Saturday.