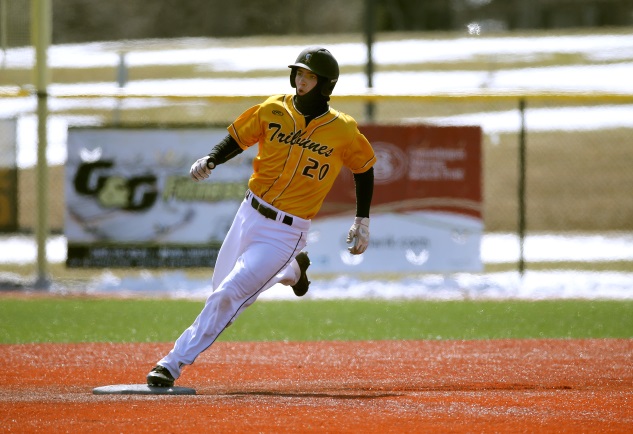 By PAUL GOTHAM
ROCHESTER, N.Y. — On Tuesday, the bullpen rested.
Eric O'Brien (Douglas Freeman/Richmond, VA) and Stuart Martin (John F. Ross/Eden Mills, ON) turned in complete-game performances, and the Monroe Community College baseball team swept SUNY Broome (14-0/10-2) in NJCAA action at Tribune Field.
O'Brien faced four batters over the limit in a five-inning game. The right-hander struck out six and walked none for his third win of the season.
He erased a one-out single in the first getting a ground ball for a double play, and a bleeder in the third was quickly removed with a 2-3-6 pickoff. The win was his third straight and he lowered his ERA to 3.94.
Monroe's offense wasted little time getting a lead. The Tribunes pasted crooked numbers on the scoreboard in the first and second innings before sealing the game in the fourth.
MCC sent 14 to the plate in an 11-run fourth. Matt Wagner (Bishop Smith/Pembroke, ON) sparked the romp with a leadoff double. Justin Bunting (Greece Athena) put runners on the corners with a base hit to right field. Logan Martella-Tasick (Penfield) brought in a run when he reached on an error, and Cas Sobaszek (Rush-Henrietta) singled in another run.
The next four Tribs reached base before Wagner put a bookend on his effort with a two-run single.
Bunting and Wagner collected two hits apiece and scored twice in the opener. Sobaszek walked twice, drove in two and scored a pair.
Andrew Czubaj (John F. Kennedy/Buffalo) and TJ Lucey (Fairport) both crossed home plate twice and drove in a run in the game.
Hudsen Hagland (Tilton School/Charlestown, NH) singled, stole a base and scored in the first.
Martin improved to 3-2 on the season with the game two win. The right-hander struck out seven, walked one and one run on seven hits over seven innings. He retired eight straight from the third to the fifth innings before surrendering three straight hits. He minimized the damage allowing one getting the final two batters in the SUNY Broome sixth with a pair of punch outs.
Phil Ferranti (Webster Schroeder) carried the offense in game two. The freshman designated hitter finished 3-for-4 with a double, a grand slam and five RBI.
Ferranti's sixth-inning slam turned a four-run game into a rout. Wagner started the stanza with single to right. Bunting was hit by a pitch. After a double steal put runners on second and third, Sobaszek reached on a fielder's choice when Wagner drew the attention of the Broome third baseman on a ground ball.
Ferranti followed with a shot to left field. With the five RBI, he runs his team-high to 40.
Bunting singled and scored three runs in the game. Czubaj doubled, scored twice and drove in another. Jonathan Catapano (McQuaid) had a single and scored.
Anthony May (C.W. Post/Baldwinsville) drove in a run with a base hit, and Sam Loew (Binghamton) scored a run.
Monroe travels to play Utica JV on Thursday.
The Tribunes host Genesee CC on Saturday, April 28. A 1 PM first pitch is scheduled for the Saturday's DH at Tribune Field.