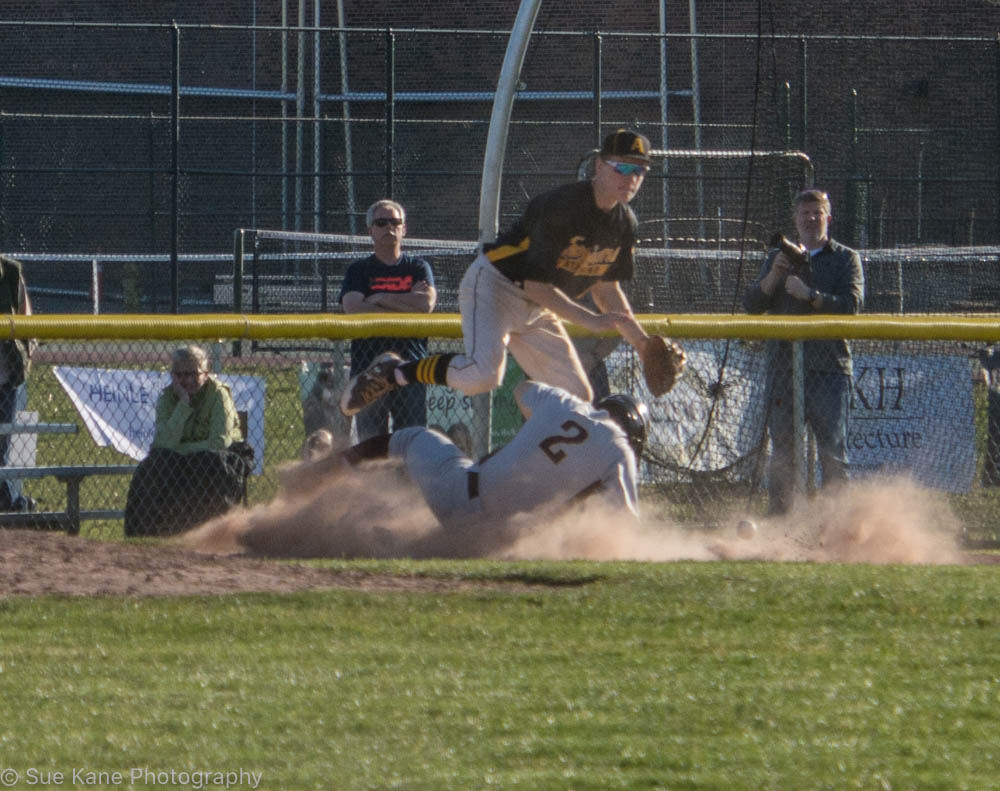 PITTSFORD-MENDON 11
GREECE ATHENA 7
Jake Ring and Jacob Wilson collected three hits apiece including one each in a four-run seventh as Mendon won its third straight and second in as many tries against the Trojans. Pinch runner Kevin Keneally scored on a wild pitch to snap a seven-all tie, and Ring brought home George Gines with a base hit to centerfield. One out later, Wilson singled and eventually scored on a Billy Dalton base hit. Ring finished 3-for-5 with two runs scored. Wilson also had three hits in five at bast with two RBI. Dalton went 3-for-4 with two RBI. Gines had two hits and a walk. Jared Petrichick was 2-for-5. Kyle Wallman finished 2-for-4 including a 3-run home run in a 6-run Mendon fifth. Dalton pitched an inning and a third in relief for the win. James Sciortino paced Athena with a triple, home run and three RBI. Mike Ruta had two hits and two RBI with a run scored. Ryan Ballard and Casey Saucke had two hits apiece.
BRIGHTON 5
WEBSTER THOMAS 0
Trent Wasserman struck out eight, walked two and allowed just one hit as Brighton (2-3) snapped a three-game skid. Wasserman retired the first eight he faced and 12 of 13 before surrendering a double to Devin Mulcahy in the fifth. He threw 78 pitches (58 for strikes) and set down eight batters on groundouts. Nico Aagesen and Andrew Zibuck both finished 2-for-4 with an RBI. Jack Falter tripled, scored a run and drove in another. Brandon LaFountain was 2-for-3 with an RBI. Nick Stodgell doubled and scored. Daniel Cook and Ryan Watson both singled and scored. Wasserman had a triple and crossed the plate.
PITTSFORD SUTHERLAND 1
CANANDAIGUA 2
One day after the same two teams combined for 30 hits and 27 runs, Michael Sculli fanned  six and allowed five hits in a complete-game effort as Canandaigua won for the fifth time in six games. Sculli's battery mate, Seth Vigneri, finished 2-for-2 including a 2-out RBI double to get the Braves on the scoreboard in the first. Conner Fisher drew a bases loaded walk later in the inning as the teams scored all of their runs in the opening stanza. Sutherland's John Gassler allowed four hits and fanned 10 over six innings of work. Davis Heyman had a double and scored the run for Pittsford. Canandaigua beat Sutherland 20-17 on Monday.
CHURCHVILLE-CHILI 10
GREECE ARCADIA 5
Joey Puglia allowed three runs on three hits over five innings for his first varsity win. He struck out eight. Amaury Samalot worked 1.2 innings for the save and added a 3-run home run. Puglia added a double and single. Ryan Demetrovic collected two hits. Arcadia's Drew Southcott had two hits. Ryan Rivera had one hit.
EDISON TECH 13
SOTA 14
Alfredo Aponte paced SOTA (3-1) going 2-for-3 with three runs scored, seven stolen bases and two RBI. Reece Correa finished 2-for-4 with a triple, two runs scored and two RBI. Aconite worked five innings for the win. Breenan Johnson notched his first save of the season.  Edison Tech's Angel Quinones scored four runs. Jacob Heredia was 4-for-5 with two runs scored and five RBI.    Edison Tech is 2-3.
NE DOUGLASS 2
MONROE 12
Rey Arizmendi struck out 10 and allowed one hit over 3.1 innings. Gregory Romero and Joaquin Farina Pimentel walked twice and scored two runs. Ernesto Perez finished 1-for-2 with two RBI and two runs scored.
FRANKLIN 1
EAST HIGH 7
Joel Alicea struck out nine and allowed four hits. Jordi Agosto and Jean Carlos Alomar scored two runs apiece. East broke open a one-all game with four runs in the fifth. Tyrone Roundtree collected three RBI for the Eagles. Frankie Santiago singled and scored in the first for Franklin which defeated East in the 2017 RCAC championship game.
MIDLAKES 8
PALMYRA-MACEDON 1
Connor Young allowed an unearned run on five hits over seven-full. Young struck out two, walked none and threw first-pitch strikes to 22 of 26 batters faced. Devin Kelly finished 3-for-3 with a double, three RBI and a run scored. Jordan Maher doubled and scored three runs. Young doing doubled and drove in two. Harrison Day was 2-for-3 with an RBI and run scored. Derrick Jones had a double and an RBI.
LeROY 6
LIVONIA 2