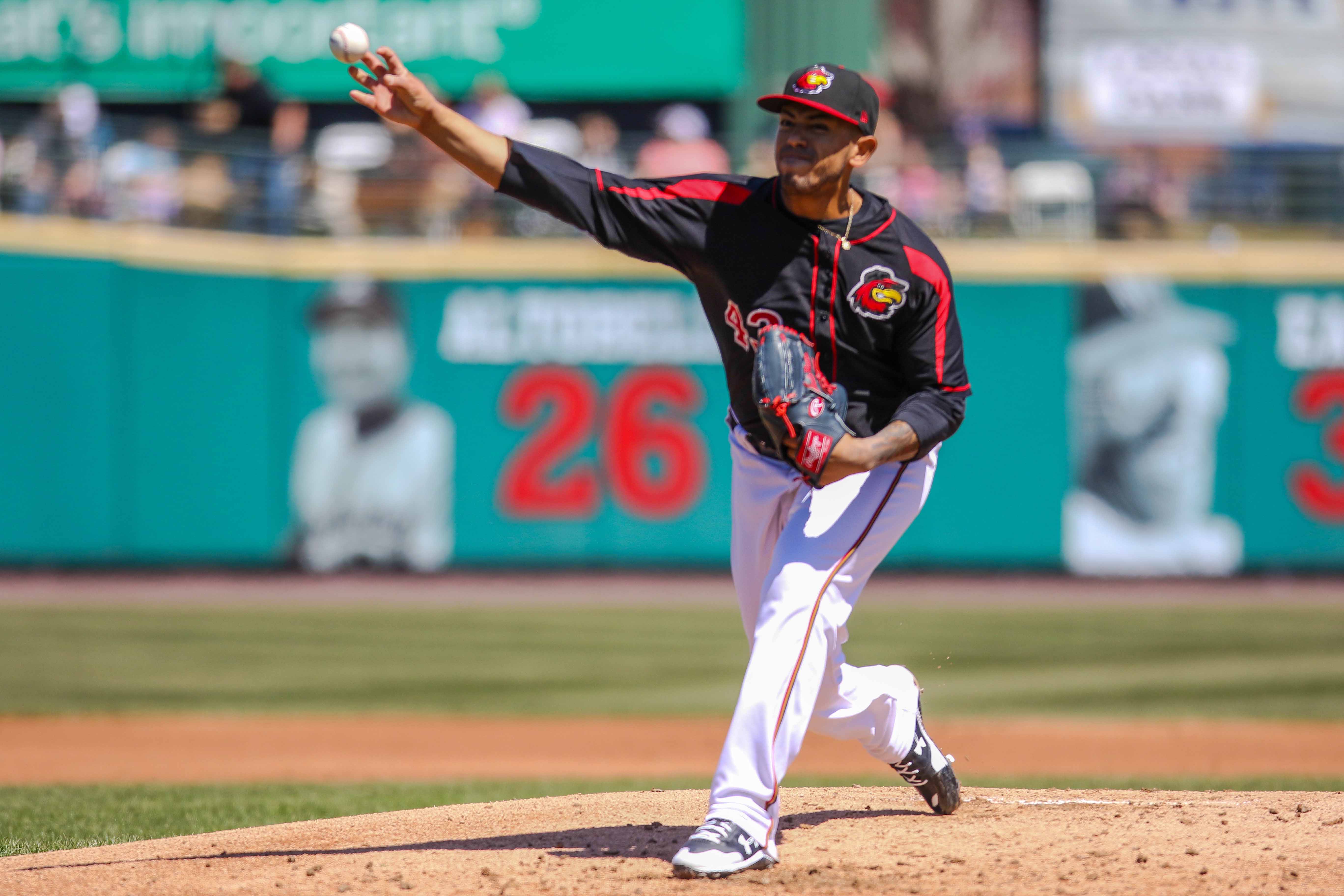 By KEVIN OKLOBZIJA
The Rochester Red Wings collected just six hits and struck out 12 times, yet manager Joel Skinner was pointing a finger of blame at himself after a 1-0 loss to the Columbus Clippers on Sunday afternoon at Frontier Field.
Skinner said he erred when he sent home far-from-speedy Willians Astudillo on a Nick Buss single to center in the eight inning, and the throw got to the plate yards ahead of the runner for a critical out.
Instead of having runners on first and third with one out and the No. 2 and 3 hitters due up, Buss was on first with two outs and the rally fizzled.
"I wish I would have known what was running through my mind," Skinner said after the Wings fell to 5-7 by losing for the fourth time in five games. "I just forced it. It was just a bad play on my part."
In Skinner's defense, the aggressive decision to send Astudillo may very well have been a byproduct of a the Wings' so-far tame offense. They rank 13th in the 14-team International League in team batting (.225). They are last in slugging percentage (.323).
So even with the heart of the order coming up, Skinner perhaps reasoned there was a better chance of an errant throw by center fielder Greg Allen than a productive at-bat.
In the ninth, the Wings again threatened again with one out, putting runners on first and second with a Brock Stassi double and Taylor Featherston hit by pitch.
But left-handed hitting James Ramsey struck out looking on a 3-2 pitch by lefty Jack Leathersich, the only batter Leathersich faced. Then Astidillo popped to short as Ben Taylor recorded a two-pitch save.
"We had some opportunities late and just came up short," Skinner said.
Pinch-hitting for Ramsey to avoid the lefty-lefty match-up was obviously possible but Skinner said, "It's April, we're going to give these guys a chance. You have to let your players hit."

That's the bad news. The good news: The Wings pitching was once again very solid. Starter Fernando Romero pitched 6 2/3 innings and allowed just two hits and two walks. He struck out 10.
Reliever Matt Magill gave up a hit and a walk while striking out four in his four-out performance and Ryne Harper pitched a 3-strikeout ninth.
In all, the Clippers struck out 17 times. There was not one half-inning where there wasn't at least one strikeout, and the Wings fifth and Columbus sixth were three-up, three-down innings with all strikeouts.
A hit parade it was not.
Romero is one of the Twins' top pitching prospects. Baseball America says he's their sixth-best prospect overall. Sunday's loss was his first Triple-A decision. He has a 1.69 ERA, 1.13 WHIP and 17 strikeouts in 16 innings. Opponents are hitting just .196 against the hard-throwing Dominican-born right-hander.
"I was attacking the zone early, getting those guys out as quick as possible," Romero said. "Everything was coming out of my hand good."
The Clippers scored their run in the fourth, produced with a leadoff double by Allen and one-out single by Yandy Diaz.
The Wings, meanwhile, didn't have a hit against Columbus starter Alexi Ogando until Ramsey led off the sixth with a single.
NOTES: Zack Granite will be evaluated by a doctor on Monday to determine what ails his right shoulder. He went on the disabled list on Saturday. Skinner said the team doesn't know whether his stay on the DL will be short-term or long-term.
Former Toronto Blue Jays slugger Jose Bautista will play against the Wings for Gwinnett. The Wings and Stripers start a four-game series with a 5 p.m. doubleheader on Monday. Gwinnett will be the home game in the nightcap because it is the makeup of a April 15 rainout in Georgia. The Atlanta Journal-Constitution is reporting Bautista will play third base in one game and will be the designated hitter in the other. He's likely to join the Atlanta Braves by the end of the month or early May.