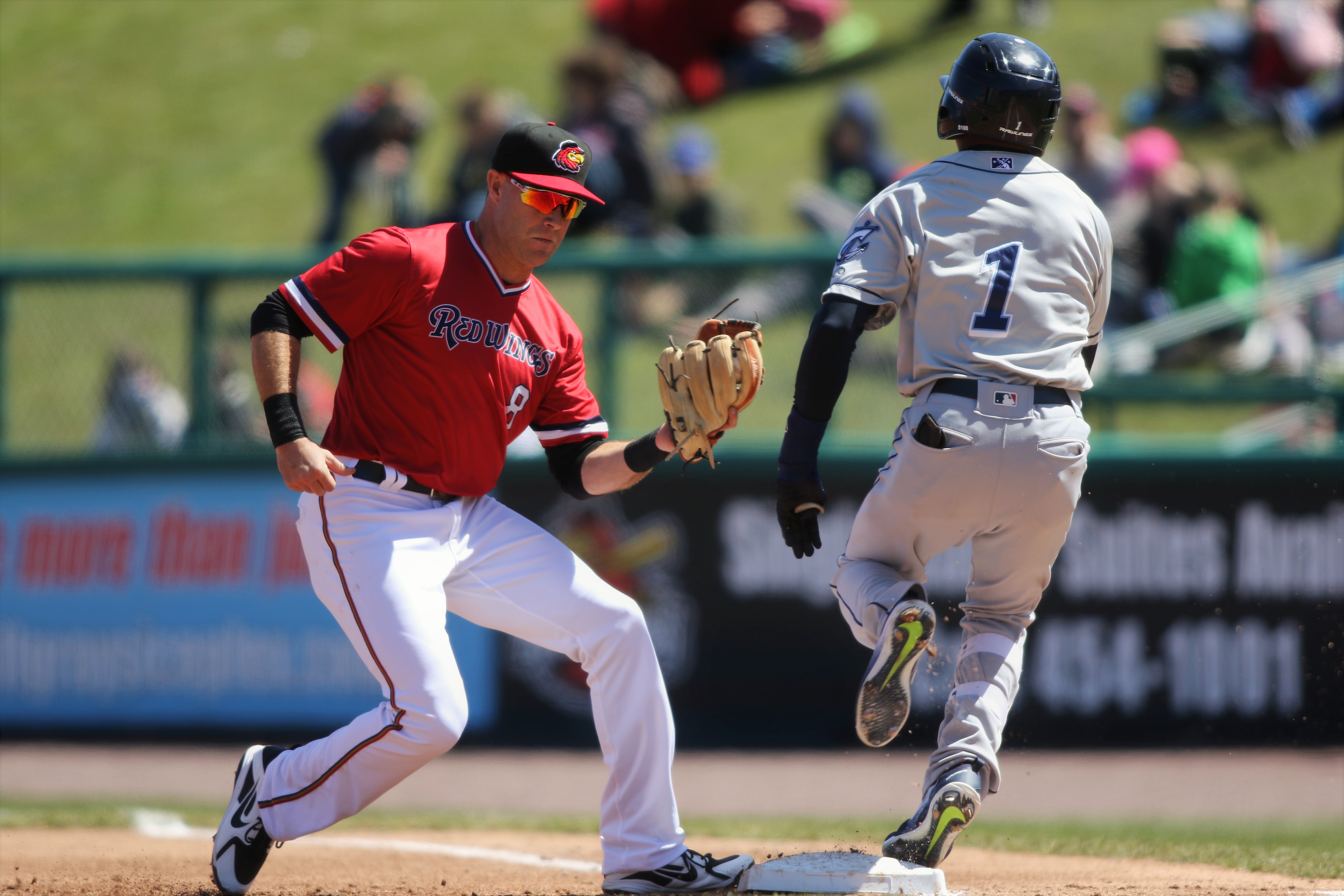 By KEVIN OKLOBZIJA
There are the can't-miss prospects in every organization, the guys that everyone knows will end up in Major League Baseball.
For the Minnesota Twins in recent years, we all knew Jose Berrios and Byron Buxton wouldn't be playing very long for the Rochester Red Wings, that their elite-level skills would take them to Minneapolis sooner rather than later.
And then there are guys like 27-year-old Nick Anderson, guys who don't have the blue-blood college baseball background or the rave scouting reviews.
Yet here Anderson is, in Triple-A with the Red Wings for the first time and looking very much like he belongs.
Yes, it's early. The next four months will be a much better measuring stick than the first two weeks. But so far, so good.
"He's got a live arm," Wings manager Joel Skinner said after a 4-3, 10-inning loss to the Columbus Clippers.
Indeed, 96 mph is a consistent number on the stadium radar when Anderson throws his fastball. In fact, Trackman's speed device at Frontier Field rarely says anything that isn't 94 to 96.
The 6-foot-5, 200-pound right-hander made his fourth appearance for the Red Wings on Saturday afternoon and didn't allow a run. He struck out three and worked out of a runner-on-second threat when he entered in the sixth inning. For the season, he has a 1.29 ERA with a 1.14 WHIP with 9 strikeouts and 3 walks (one intentional) in seven innings.
"The beginning of the season, it's a little bit slow, you're finding your groove," Anderson said.
Whether he gets into a groove of consistency will determine whether he continues to climb the development ladder and make the final step.
That he's here now is a testament to perseverance because he certainly didn't take the traditional path to the Twins. His collegiate career began at NCAA Division II St. Cloud State University in his native Minnesota and ended with NAIA Mayville State University in North Dakota.
He was drafted by the Milwaukee Brewers (32nd round) in 2012 out of Mayville but wasn't signed, so he ended up in independent ball. The Twins finally came calling in 2015, and now three years later he has risen quickly, from Class-A, to high Class-A, to Double-A, and now Triple-A.
A year ago, he started with Fort Myers in the Florida State League and ended with Chattanooga in the Southern League. His combined numbers: 1.oo earned-run average, 0.778 WHIP (walks plus hits to innings pitched) and a 4-1 record. He struck out 57 in 54 innings.
Now he's taking on guys who have been in the big leagues or will be soon.
"It's just mastering your craft, that's what all these guys are trying to do," Skinner said. "You learn you don't have to be great all the time, just let you stuff play out and being good is good enough."
Anderson isn't all about the fastball. He ended the eighth inning with a nasty "slurve" to strike out Nellie Rodriguez. It's a pitch he has worked on of late to perfect.
"Last year it came around," he said. "I found a new grip."
The key: not allowing hitters to know it's coming.
"The big thing I've been talking to Mike (McCarthy, the bullpen coach) and Stu (Cliburn, the pitching coach) is tunneling," Anderson said, "making sure that the breaking ball is coming out of my hand the same as my fastball so they can't pick it up."
Should he continue to find success, he could end up pitching for his home-state Twins.
"I've always had a belief but I know that it's a journey," he said. "You just have to stay the course and you'll get there."
NOTES: The Wings fell to 5-6 and lost for the first time in extra innings (2-1). The Clippers took advantage of the runner on second to start the 10th inning by scoring on a Brandon Barnes infield single. It's far too early to say the new rule of starting extra innings with a runner on second is good or bad. "It's something after the year to look back at the bigger sample size and see how it works out," Skinner said.