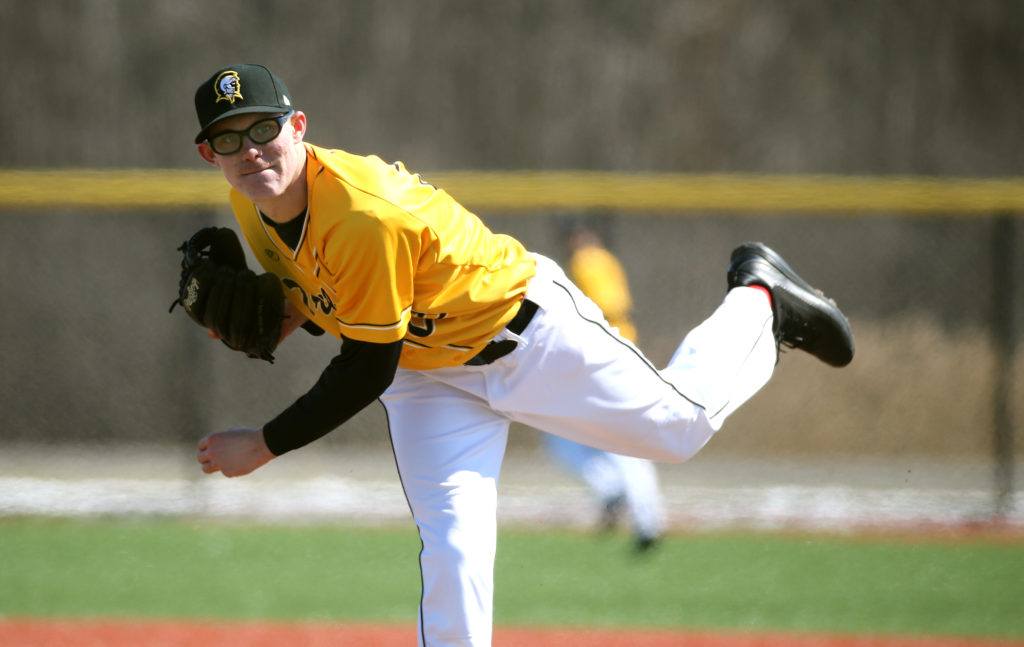 By PAUL GOTHAM
ROCHESTER, N.Y. —  Trevor Sherwood (Batavia) gave the bats a chance to get going, and Eric O'Brien (Douglas Freeman/Richmond, VA) continued the momentum as the Monroe Community College baseball team swept the Utica College JV squad (4-3/11-8) on a rainy Tuesday afternoon at Tribune Field.
Sherwood came out of the bullpen in the third inning with Monroe trailing 3-1, two on, no outs and escaped the jam without allowing a runner to cross home plate.
"That's the role he needs to be in," Monroe coach Dave Brust said. "He was very effective outside of a typical one-inning stint, being able to go multiple innings and pound the strike zone."
The 6-foot-5 left-hander struck out six and walked two without surrendering a hit over four shutout innings for his first win of the season. He retired the last six batters he faced and did not allow a ball out of the infield in his longest of nine appearances on the season. The freshman has 15 strike outs and a 2.13 ERA in 12.2 innings of work.
"That's' something we expect from him and as he continues to grow I can see him being a big difference maker this year and certainly next year," Brust added.
Jordan Bryant (Mitchell,ON/Mitchell District) struck out the side in order in the seventh for his fourth save of the season. Bryant is 2-0 in six appearances with 15 strike outs in 9.1 innings.
"He's another kid who's one of our better arms," Brust said mentioning Bryant's slider. "His velocity has been outstanding. If we have more close situations, he's the guy who we can go to.  Down the road especially into next year he's going to be another big arm for us."
Phil Ferranti (Webster Schroeder) paced a three-run fifth as the Tribunes rallied to snap a four-game skid. Ferranti's two-run single through the right side of the infield of the knotted the game at three, and Brennen Smith followed with a RBI fielder's choice for the eventual game winner.
Anthony May (C.W. Baker/Baldwinsville, N.Y.) led the frame with an infield single. Cas Sobaszek beat out his second bunt single of the game, and Jonathan Catapano (McQuaid) loaded the bases with a walk to set up Ferranti.
O'Brien allowed two runs (one earned) on six hits over six innings in the nightcap. The sophomore right-hander fanned six and walked one.
"That's what he was brought in to do," Brust noted. "He should do that. He's trying to figure out his stuff and where he is in this rotation. He's been struggling lately. We're looking for better things from him."
Monroe put crooked numbers on the scoreboard in the first and second innings to take a 7-0 advantage into the third.
Cas Sobaszek (Rush-Henrietta) walked, stole a base and scored the game's first run on a wild pitch. Ferranti doubled home May for a 2-0 lead.
The Tribunes batted around in the second and pushed five more across the plate. May drove in one with a sacrifice fly. Ferranti added another with an RBI groundout. Smith singled in a run, and TJ Lucey (Fairport) made it 7-0 with a double to left field.
Ferranti and Smith connected on back-to-back RBI triples in the sixth. Justin Bunting (Greece Athena) brought home MCC's 11th run with a sacrifice fly.
Ferranti finished 3-for-6 on the day with five RBI. The freshman leads Monroe with 30 RBI.
Smith was 3-for-6 with four RBI and two runs scored.
Sobaszek had two hits, walked twice and scored four runs. The freshman shortstop swiped three bags to lead the Tribunes who stole 10 combined for the day.
"Our biggest contributors are our freshmen," Brust stated. "The hard part for onlookers is they don't realize how young this ball club is.  I have to remind myself sometimes."
May was 3-for-4 with two walks, four runs scored and an RBI.
Catapano walked three times and scored twice.
Matt Pilarczyck (Bishop Reding Catholic/Milton, ON) was 2-for-3 with a run scored in game two.
Monroe improved to 11-10 on the season and hosts a doubleheader with Jamestown CC on Thursday. A 1 PM first pitch is slated at Tribune Field.