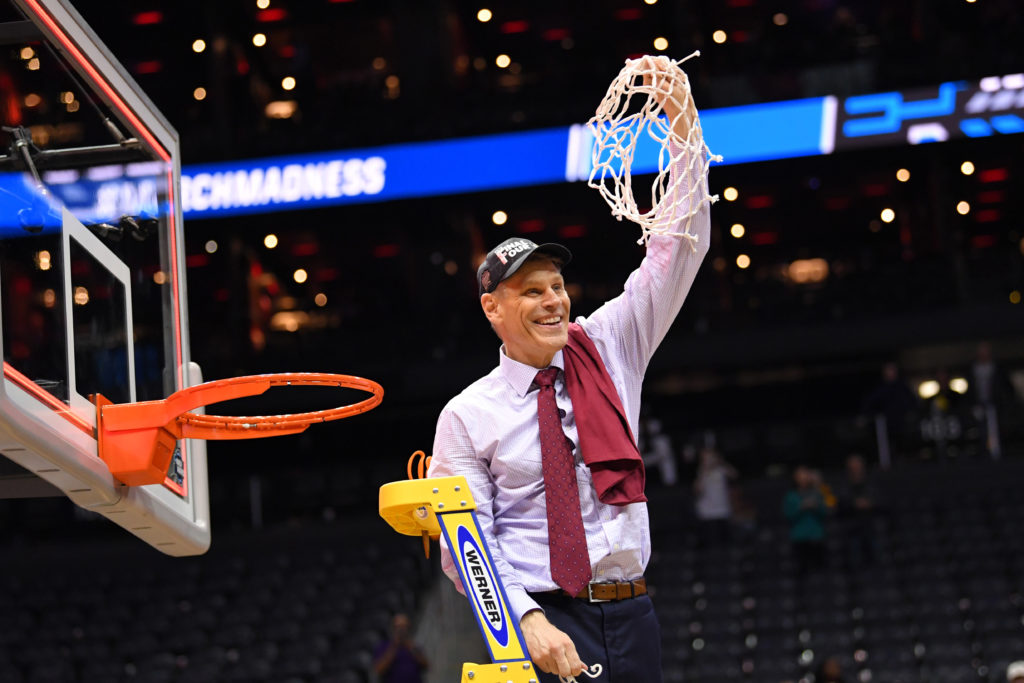 By PAUL GOTHAM
He followed the advice of his late mentor and now Porter Moser is walking in those footsteps.
In 1998, the late Rick Majerus  guided the Utah Utes to the Final Four played in San Antonio, Texas. Next Saturday, Moser's Loyola University-Chicago Ramblers will take the court at the Alamodome in the 2018 Final Four.
"Coach Majerus he was adamant," Moser told TBS in his post-game comments after Loyola-Chicago defeated Kansas State, 78-62 in the South Region final, from Atlanta, Georgia.  "He was like 'you go to take this job. You're from the Chicago area, Jesuit School."
"God has blessed this university. It's amazing when you believe."

Head coach Porter Moser after @RamblersMBB's win!#MarchMadness #FinalFour #OnwardLU pic.twitter.com/TiQbffYMWc

— NCAA March Madness (@marchmadness) March 25, 2018
Led by Michael Doleac, Andre Miller and Hanno Mattola, Utah advanced to the Final Four for the first time in 32 years. Saturday night Donte Ingram, Ben Richardson and Marques Townes paced Loyola-Chicago to the Final Four for the first time since the Ramblers claimed the 1963 National Championship.
Richardson netted a game-high 23 on 7-of-10 shooting including 6-of-7 behind the 3-point arc. Townes scored 13, and Ingram added 12.
With a Majerus-like balanced attack, the Ramblers led for nearly 39 minutes and connected on 27 of 47 shots (57 percent) from the floor while holding Kansas State to 23 of 66 (35 percent).
Moser's Ramblers scored 27 points behind the arc and 36 in the paint. They handed out 17 assists on the 27 made field goals.
"I think he'd be happy with the type of kids we got and how we play the game," said Moser who served as an assistant under Majerus at Saint Louis University from 2007-11. "That's what he would love about this."
After winning their first three NCAA Tournament games by a total of four points, the Ramblers led Kansas State by as many as 23 midway through the second half.
"It's an unbelievable group," Moser said of his squad. "It's amazing when you believe. They have believed and believed and believed."
Loyola-Chicago finished 7-23 in 2011-12 – Moser's first at the helm. With Saturday's win, the Ramblers improved to 32-5. They have won 10 straight and 17 of 18.
— Sister Jean (@SisterJean98) March 24, 2018
"It's the accumulation of a lot of people," Moser said of the journey to get the Loyola-Chicago program to its current height. "It's not one person. It's the accumulation of a group that's resilient and tough and believes and invested. How much these kids invested. This didn't just happen two weeks ago. But it's not one person. It's not one player. It's a collaboration of a lot of tough, high-character people."
Majerus took over the Saint Louis program in 2007-2008. In the '11-'12, Majerus's fifth and final season, the Billikens finished 26-8 and advanced to the third round of the NCAA Tournament. It was SLU's first of three straight tournament appearances – the only time in program history where the Billikens reached the Big Dance three consecutive years.
20 years after Rick Majerus led Utah to a Final Four (held in San Antonio), @PorterMoser is taking Loyola Chicago to a Final Four (held in San Antonio). pic.twitter.com/HteaWC1c9G

— Brian Kunderman (@BKunderman) March 25, 2018
"We were building something there," Moser noted. "He said 'you got to take this job.'"
Loyola-Chicago will play the Michigan versus Florida State winner in the Final Four.