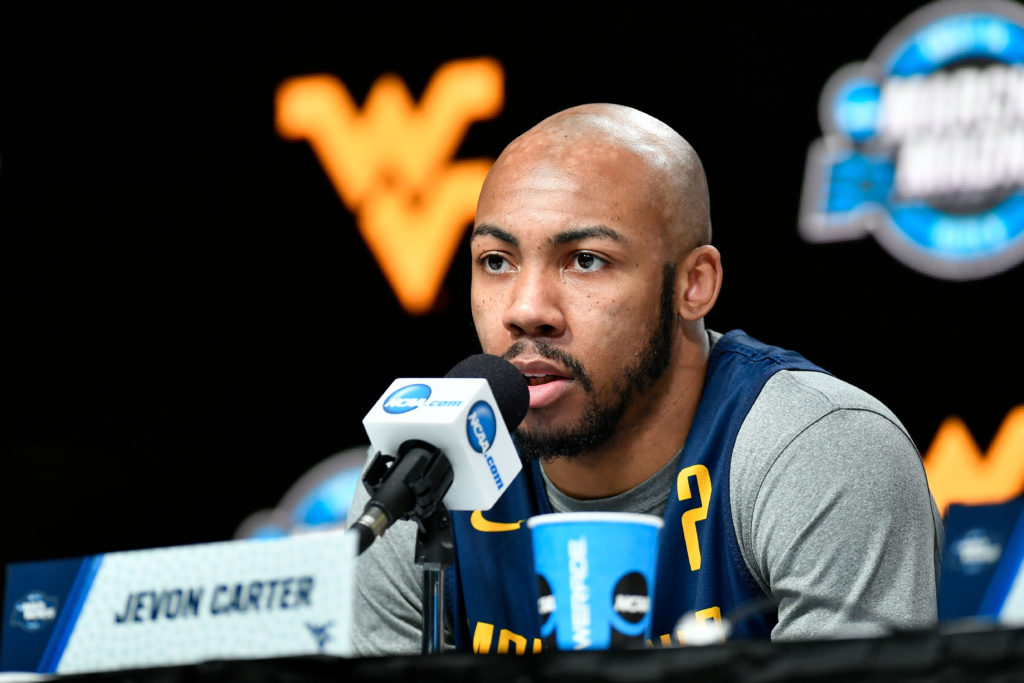 By PAUL GOTHAM
Jevon Carter slept through a scare aboard West Virginia's flight to Boston earlier this week. Smoke from a faulty air conditioner filling the airplane cabin in which his team was aboard couldn't disturb his slumber, so don't expect Carter to come unglued when WVU takes the court Friday night against top-seeded Villanova in the East Region semifinal.
Making their second straight trip and third out of the last four years to the NCAA Tournament's Sweet Sixteen, the Mountaineers will take on the Wildcats in a battle of contrasting styles.
"They've got a lot of guards that can shoot, can drive," Carter said during Thursday's press conference at TD Garden in Boston, Mass. "Everybody can score. They hit tough shots. We just got to key in on guys, follow the scouting report.
"We're going to come to play on Friday, and we're going to see what happens."
Both teams average 80 points per game with a double-digit scoring margin, but the two squads use a different means to accomplish those ends.
"It's going to be the kind of game where we're going to have to get in it, kind of take a punch in the mouth there for a second, and then get ready to adjust because it's hard to simulate," Villanova coach Jay Wright said of West Virginia's 16.5 turnovers forced per game which is tops among the remaining teams. "We just haven't seen it anywhere else this year."
Villanova's 10.4 turnovers ranks second only to Michigan's 9.2 misplays among the now-remaining 12 teams. The Wildcats 86.9 points per game tops the nation.
"They do a great job passing the ball," West Virginia coach Bob Huggins noted. "They do a great job of getting the ball to the guy most open. It's not sometimes. It's not the guy that's open sometimes. It's the guy that's most open. And when you put five guys on the floor that can all make shots, that spreads you.
"We're just going to go play. I don't think there's any secret. We do what we do, and we've got to try to do what we do better than they do what they do."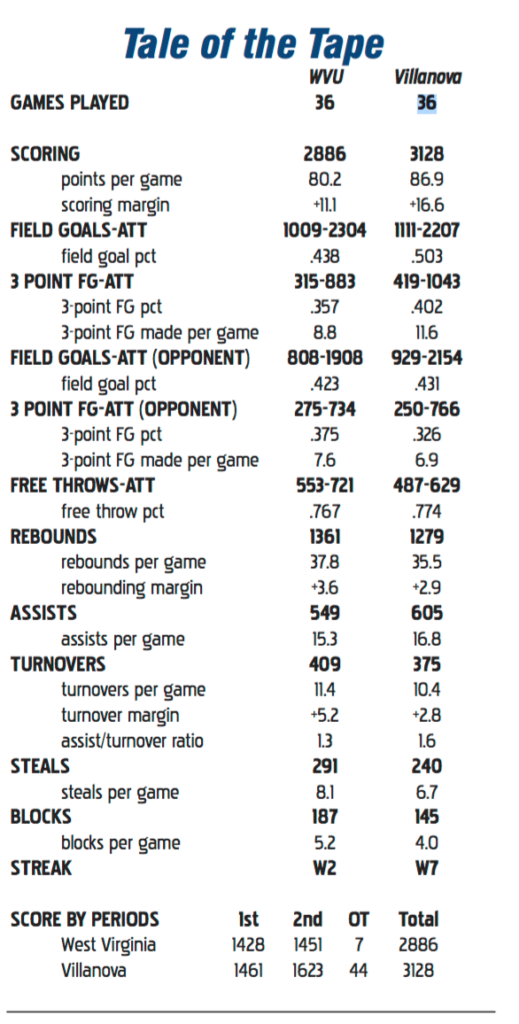 Courtesy of West Virginia University Athletic Communications. 
Villanova University Game Notes.
Jalen Brunson (19.1 ppg) leads six Villanova Wildcats in double figures. The junior guard averaged 24-plus minutes per game on the 2015-16 Villanova team which edged North Carolina in the national championship game.
Carter doesn't need an introduction to his opponent.
"I played with him growing up," Carter said referring to their experience as teammates from suburban Chicago.  "We played together in AAU. So we're very familiar with each other.
"He's very smart. He's crafty. He knows how to use his body well. He knows about angles and stuff."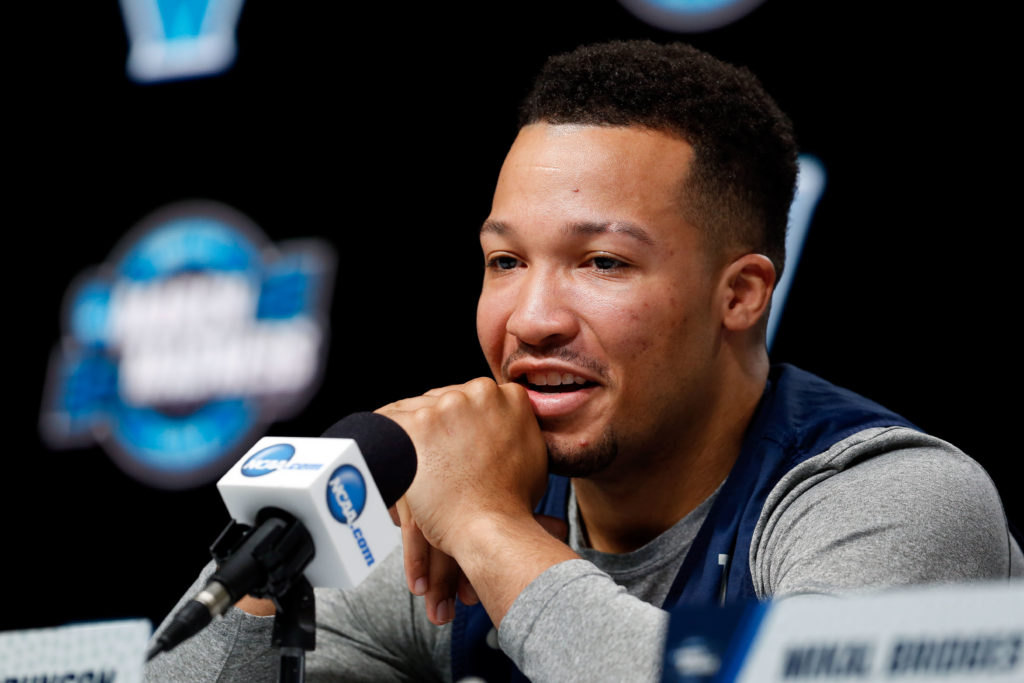 Brunson doesn't look at the game as a head-to-head matchup.
"He was a great shooter, a great defender then," he said. "He's just really gotten a lot better now, being more consistent at it. I mean, as a team, we've got to play together. There's no individual matchups. We've got to play together with everyone on the floor.
"We know they're a great team with a great leader in Jevon, but it's not just him. The whole team has great pieces. This is why they've come this far. They're an overall great team."
West Virginia averages more than 20 points per game off turnovers their defense creates. Beyond that, led by the front court of Esa Ahmad (10.2 ppg/5.5 rpg), Wesley Harris (5.5 ppg/3.6 rpg) and Sagaba Konate (10.8 ppg/7.6 rpg), the Mountaineers use +3.6  rebound margin to 15.5 points on second-chance opportunities and 28.0 in the paint.
"It's what you get at this point in the Tournament," Wright said of WVU. "Sweet 16, you're going to play a great team that's playing on all cylinders. You can't get this far unless you're really clicking right now. I think very similar to us, I think it's a team that has grown throughout the year and is really playing their best basketball right now, as we are."
Mikal Bridges (96-217/44.2 percent) paces a Villanova offense which leads the nation with 1,043 triples on the season and is 12th hitting those long-range attempts at a pace 40.2 percent.
"I don't think we want it in the 60s and 70s," Huggins stated. "We're better when we score, and we're better when the game's sped up. We're going to try to speed the game up and play at a faster pace."
This will be the 43rd meeting between the same schools who were both members of the Eastern 8 (Atlantic 10) and the Big East. Huggins is 3-3 all-time against Villanova. Wright is 5-8 versus West Virginia.
A 7:27 PM (EST) tip off is scheduled. The game will be televised on TBS.
As for the airplane scare.
"People are saying Hail Marys and trying to think of all the bad things they did and ask forgiveness and all that," Huggins mused. "But it really wasn't all that bad."