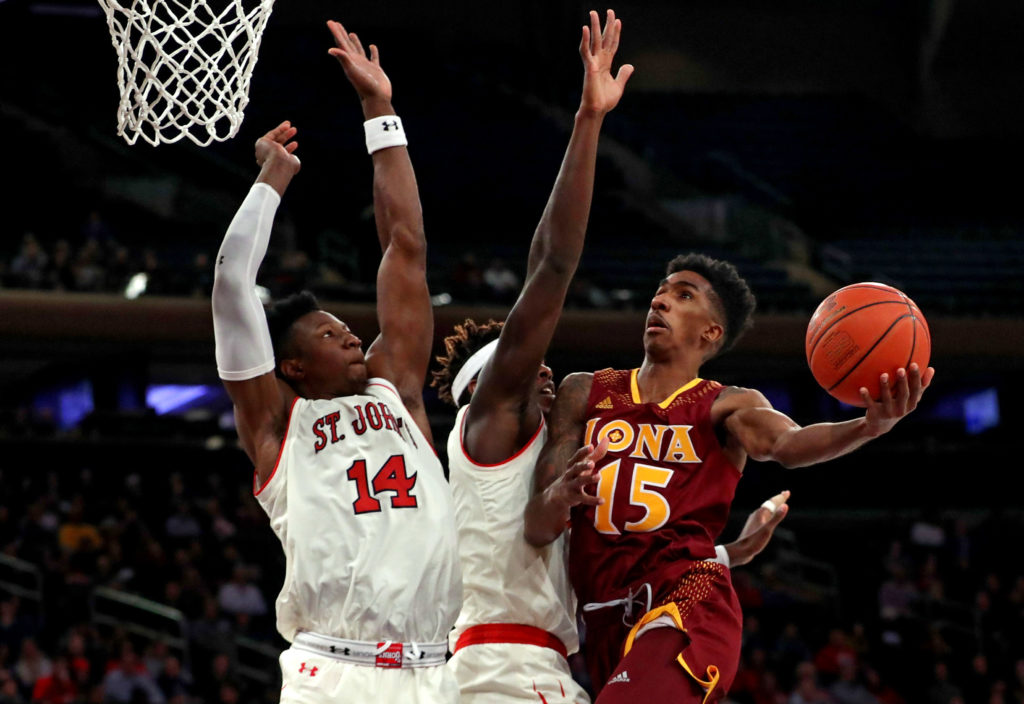 By PAUL GOTHAM
The list of Section V alums to go on and play in three or more NCAA Tournaments is a short one.
There is of course Greece Athena's John Wallace and Kendall's Roosevelt Bouie who made the trip four times with the Syracuse Orange as did Pittsford Sutherland's Marty Byrnes and Pittsford Mendon's Greg Monroe. Sutherland's Ryan Blackwell played three times on the sport's biggest stage. Same goes for McQuaid's Tom Sheehey. 
Add Gates-Chili's Deyshonee Much to that group.
With their third straight Metro Atlantic Athletic Conference (MAAC) championship, the Iona Gaels have once again reached the NCAA Tournament.
The opportunity is not lost on the Rochester native.
"At one point I didn't even imagine I'd be playing Division I basketball," Much said by email earlier this week. "It's a blessing to be in this position, to be able to be an example for the next generations in Rochester. In addition, inspiring kids in general that have followed my career over the years."
Much averaged 10.9 points and 3.9 rebounds for the Gaels (20-13) this season. The 6-foot-5 guard connected on 67 of 167 (40.4) 3-point attempts this season. He has started 25 games and is second on the Gaels playing 28.9 minutes per game.
"It's the simple fact of him living in the moment," said current Gates-Chili head coach Terry Nowden who was an assistant with the Spartans when Much played. "We never know what's going to happen next if he doesn't get a pro look or overseas anything like that. You don't know what's going to happen. But I told him, three straight championships is not common. I told him to enjoy. Just enjoy it."
Much posted career-highs 32 points in a win over Fairfield earlier this season and 12 rebounds when Iona visited Canisius on New Year's Eve.
He connected on 5 of 10 attempts from behind the 3-point arc for 15 points when Iona loss to third-seeded Oregon in last year's opening round of the NCAA Tournament. Much scored nine points in 2016 when Iona fell to Iowa State to open action in the Midwest Region.
"He is very successful, and it makes us proud," Nowden added. "We've always stayed connected, so I always talk to him. It's a tight relationship. It's humbling, but I'm just happy to see him succeed."
After his time at G-C, Much spent a year in prep school at Redemption Christian Academy (MA) before moving on to the University of Buffalo. He spent one season with the Bulls before transferring to Iona.
"He didn't have the easiest road to where he is right now," Nowden noted. "When he came out of Gates, he was real frail. He didn't have a lot of schools calling to recruit him, so he went the prep route. He's still slim, but he's strong now."
Iona opens against No. 2 seed Duke (26-7) in the Midwest Region.
"I had a nine-year old girl at my internship identify me on my first day of work and tell me I'm her favorite player," Much said. "So i know they're watching."
A 2:45 PM tip off is scheduled on Thursday. The game will be televised on CBS.