By JOE CERAULO           
WASHINGTON D.C. – Senior guard Matt Mobley set an Atlantic 10 conference tournament record with nine three pointers Friday night, propelling the St. Bonaventure Bonnies to an 83-77 quarterfinal victory over the Richmond Spiders.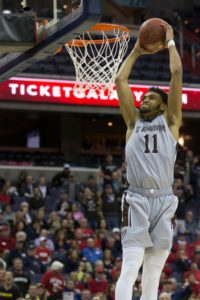 Both teams took a while to get going offensively, as the first score of the game came off a Courtney Stockard mid-range jump shot after over three minutes of play had passed.
            That was all Stockard needed to heat up, as he carried St. Bonaventure's offense for a majority of the first half with a game-high 12 points when both sides entered the locker room tied at 32.
            The battle in the post was as evenly matched as the score when halftime hit.
            Richmond big Grant Golden entered the break with seven points and seven boards, while junior forward LaDarien Griffin countered him with seven points and five rebounds of his own off the bench for the Bonnies.
            Despite Golden's hot start, he'd only add two points and two rebounds to his stat sheet in the second half, while Griffin would go on to record a double-double with 14 and 11.
            "I tried to keep him away from the basket and make him catch the ball far outside the paint," Griffin said, regarding his halftime adjustments to guarding Richmond's 6-foot-11-inch redshirt-freshman center.
            Stockard picked up the second half right where he left off, only this time, he had some help scoring.
            After Golden opened the second half with his final bucket of the evening, Mobley quickly responded with a three from the right wing.
            Then one from straight on.
            Then one from the left wing.
            It was like watching a game of around the world as Mobley lit Capital One Arena up for nine points in the first two minutes of the second half.
            Seemingly lost in the craziness that ensued after Richmond head coach Chris Mooney was forced to use an early timeout, was the fact that senior standout Jaylen Adams, still hadn't scored for the Bonnies as they owned a 41-34 lead.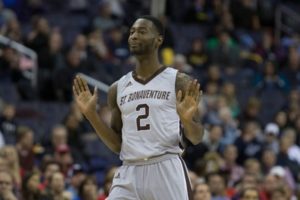 "We told each other last year that no matter what, both of us can't have an off day at the same time," said Mobley after the game. "My teammates did a great job of finding me and I was knocking down shots."
            Mobley was knocking down so many shots that he found himself with the record for most threes hit in an Atlantic 10 conference tournament game, and a game-high 29 points, when all was said and done.
            Even more impressive was that he got there by shooting 7-8 from deep in the second half, and the one he missed was arguably an alley-oop attempt to Griffin.
            As locked in as Mobley was, Richmond quietly found themselves back in the mix after falling behind 74-57 with 6:23 left.
            A quick 10-0 run, spanning over three minutes, led by junior guard Khwan Fore got the Spiders right where they wanted to be, in contention with no signs of letting up late.
            Fore would finish with a team-high 25 points.
            Assisting Fore in the comeback was freshman guard Jacob Gilyard, whose 2.75 steals per game were good for sixth in the nation this year.
            Gilyard added four steals to his incredible defensive campaign Friday night, and gave the Spiders 18 points as well, as he consistently turned defense into offense when Richmond needed it most.
            Richmond's late push brought them as close as two points with 1:20 left after a successful Fore and-one.
            "Our game plan going in was try and limit Golden as much as we could," said Bonnies head coach Mark Schmidt. "They were going inside out, and we did a decent job on him, but their other guys started attacking, driving and kicking and got much more aggressive when we got them down by 17, and we became tentative."
            The Bonnies secured this victory at the line, and Adams got his name on the score sheet as well, finishing with five points and a game-high six assists.
            Pointed out in the post-game press conference was the fact that the last time Adams was held to five points, he responded with 40 and 44 in consecutive games during St. Bonaventure's current 13-game winning streak.
            Asked after the game if this win gave the team a sense of security with selection Sunday looming, Mobley was blunt.
            "I think the only way we can secure a spot is by winning the whole thing," said Mobley. "The snub in 2016, everybody remembers that. We don't want to go through that again, so the only way to avoid that is to try and win this whole thing."
            The Bonnies will play the winner of the Davidson-St. Louis quarterfinal game Saturday, March 10 at 3:30 p.m. on NBC Sports.