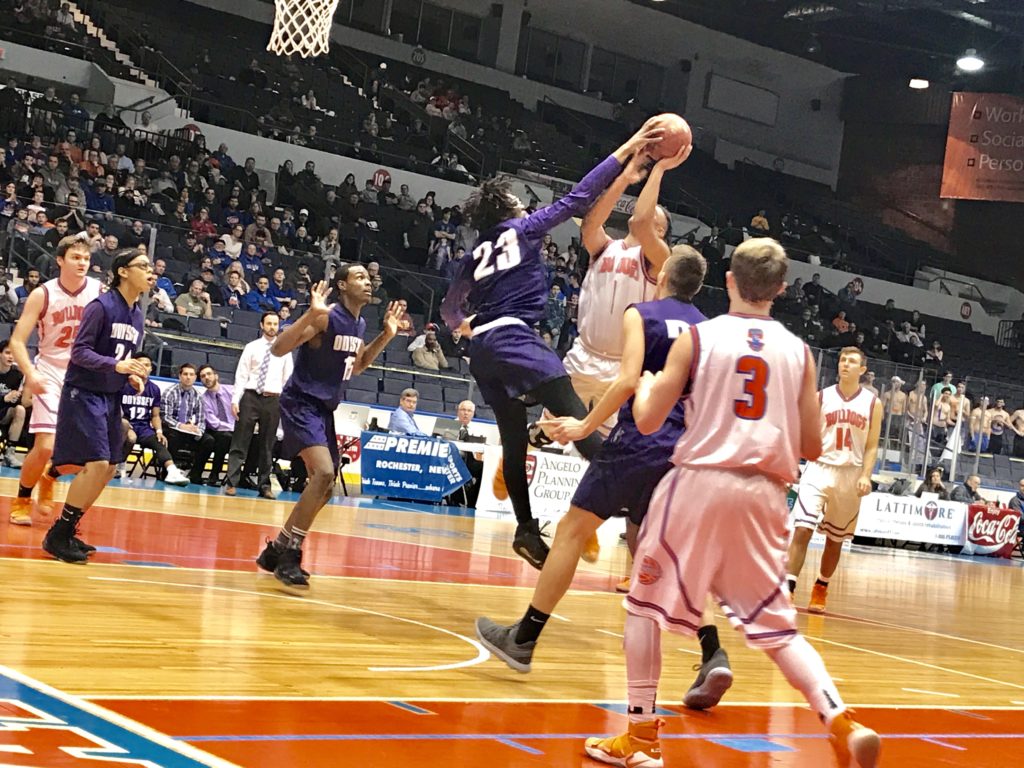 By PAUL GOTHAM
ROCHESTER, N.Y. — Less than six minutes remained in the third quarter of Monday's Section V Class B final between the Livonia Bulldogs and Greece Odyssey Leopards. The fifth-seeded Leopards had turned a five-point halftime edge into 11.
On the surface, a double-digit advantage offers promise. It also can be fool's gold. An opposing bucket followed by a stop and another basket can quickly change a contest's course, and the team that was dictating pace only a few minutes prior can can find themselves reacting.
It was in that moment Odyssey senior DJ Billings grabbed a pass at the top of the key and let fly with a three-point attempt. The senior forward had a good look at the basket and released with little to no defensive pressure on him.
Instinctually, teammate Travon Harper went into motion. The 5-foot-10 guard knifed through the lane, past the opposing frontline and gained position. When Billings's shot kicked off the iron, Harper was underneath the basket waiting. The pumpkin settled into the Odyssey guard's hands. A whistle sounded, and Livonia's 6-foot-5 forward Barrett Lowe was called for over the back. The Bulldogs leading scorer went to the bench with his third foul.
Jaden Hartsfield capped the ensuing inbound play with a corner 3.
Odyssey led 41-27.
Livonia showed signs of life in the remaining 13-plus minutes, but the Bulldogs never truly threatened.
On this night there was no denying Odyssey a program-first title and nothing exemplified that more than the play of Harper.
"Travon is a battler," Odyssey coach Jim Guzielek said after the 62-50 victory at the Blue Cross Arena. "He is that winner. You were going to have to match his effort and his intensity, and I don't think some of those guys (from Livonia) were ready for that."
The rebound was one of Harper's team-high seven on the night.
"The way he rebounded the ball tonight was amazing," Guzielek added. "He's going to get those rebounds versus those six-footers. He's going to go in and get that contact and that foul."
Odyssey won the opening tip and never trailed.
"They were ready for it," Guzielek said of his squad. "They had a really good game plan that they helped develop. They watched a lot of film. They saw the things that we could exploit, and we put it together. They completely bought into it."
Hartsfield led four in double figures to garner tournament MVP honors. The sophomore guard scored 18 points on 7-of-14 shooting from the floor including two of three from behind the 3-point arc part of an overall effort which saw the Leopards hit 7 of 12 from long range.
"Everybody wants to see the other man shine," Hartsfield said of his team. "It's not about the spotlight. It's about winning the games. That's why I love this team."
Billings grabbed a defensive rebound and went the length of the floor for the game's first points. Two possessions later, Darren Davidson provided a carbon copy with an end-to-end rush of his own.
"We knew that they didn't go too deep into their bench," Billings explained. "We knew that their starters were really strong, so we just wanted to get the ball and push, use this bigger court to our advantage.
DJ Billings gets ahead of the defense to give @ODYbball a 57-45 lead pic.twitter.com/7UY6Yk24eA

— Paul Gotham (@PickinSplinters) March 6, 2018
Odyssey was on its way to an 18-8 lead after the first quarter.
"We had our game plan," Hartsfield said. "We knew that we were going to outrun them. They were going to get tired. We did what we had to do. We knew in this game we were going to have to use the depth we have on our team. It just worked out perfectly."
Aric Williams gets inside the 1-3-1 to give @ODYbball a 19-9 lead over @LivoniaBball after the 1sr. Class B. pic.twitter.com/nZsIbEowPV

— Paul Gotham (@PickinSplinters) March 6, 2018
Billings finished with 14 points. The victory was especially sweet for the senior who went down with an injury in the team's second pre-season scrimmage and missed the first seven games.
"I didn't know if I'd be back," he said. "We had some ups and downs. Never thought this would be possible. Now we have our first ever sectional title. It's just a dream true. We made history."
Devante Gwyn and Cody Ullock combined to scored 10 points and pull Livonia within five going into the locker room at halftime. Gwyn converted a pair of rebound and putback opportunities. Ullock connected twice behind the arc to make it 31-25 game going into the break. It was as close as Livonia would get for the remainder of the game.
HALFTIME: Devante Gwyn rebound and putback beats the buzzer. @ODYbball 31 @LivoniaBball 25 pic.twitter.com/eiuZEeL2aM

— Paul Gotham (@PickinSplinters) March 6, 2018
Romell Griffin, who netted a team-high 14 in the Leopards semi-final win over top-seeded Mynderse,  connected on one of his four 3-pointers on the night to give Odyssey its largest lead at 52-33 early in the fourth.
Griffin and Harper joined Hartsfield on the all-tournament team. Livonia's Gwyn and Lowe earned post-season honors as well. Mynderse Academy's Kellen Caraher and Penn Yan's Dylan Stape rounded out the team.
Odyssey moves on to the NYS Far West Regional where the Leopards will meet the winner the Section VI championship between Olean and Health Sciences.
FINAL Class B: @ODYbball 62 @LivoniaBball 50 pic.twitter.com/41RzLuLlD6

— Paul Gotham (@PickinSplinters) March 6, 2018
GREECE ODYSSEY 62, LIVONIA 50
GREECE ODYSSEY (17-7)
Jaden Hartsfield 7-14 2-3 18; DJ Billings 5-11 3-3 14; Romell Griffin 4-6
0-0 12; Travon Harper 2-7 6-7 10; Aric Williams 2-2 0-0 4; Darren Davidson
1-3 0-0 2; Ray Colbert 1-2 0-0 2; Khyree Smith-Roberts 0-1 0-0 0; Josh Haff
0-0 0-0 0; Josh Wasula 0-0 0-0 0; Dylan Burgio 0-0 0-0 0; Ronell Joseph 0-0
0-0 0. Totals 22-46 11-13 62.
LIVONIA (18-6)
Devante Gwyn 8-14 5-8 21; Alex Minnehan 2-9 4-5 9; Barrett Lowe 3-10 2-4 8;
Cody Ullock 2-11 0-0 6; Jalen Marhsall 2-3 0-0 4; Da'Vieque Naulls 1-7 0-0
2; Andrew Crossway 0-0 0-0 0. Totals 18-54 11-17 50.
Greece Odyssey…………….   19   12   18   13  –   62
Livonia…………………..    9   16    8   17  –   50
3-point goals–Greece Odyssey 7-12 (Romell Griffin 4-5; Jaden Hartsfield
2-3; DJ Billings 1-2; Ray Colbert 0-1; Travon Harper 0-1), Livonia 3-18
(Cody Ullock 2-6; Alex Minnehan 1-6; Da'Vieque Naulls 0-6). Fouled
out–Greece Odyssey-None, Livonia-None. Rebounds–Greece Odyssey 32 (Travon
Harper 7), Livonia 33 (Barrett Lowe 13). Assists–Greece Odyssey 13 (Jaden
Hartsfield 6), Livonia 7 (Da'Vieque Naulls 3). Total fouls–Greece Odyssey
10, Livonia 11. Technical fouls–Greece Odyssey-None, Livonia-None.