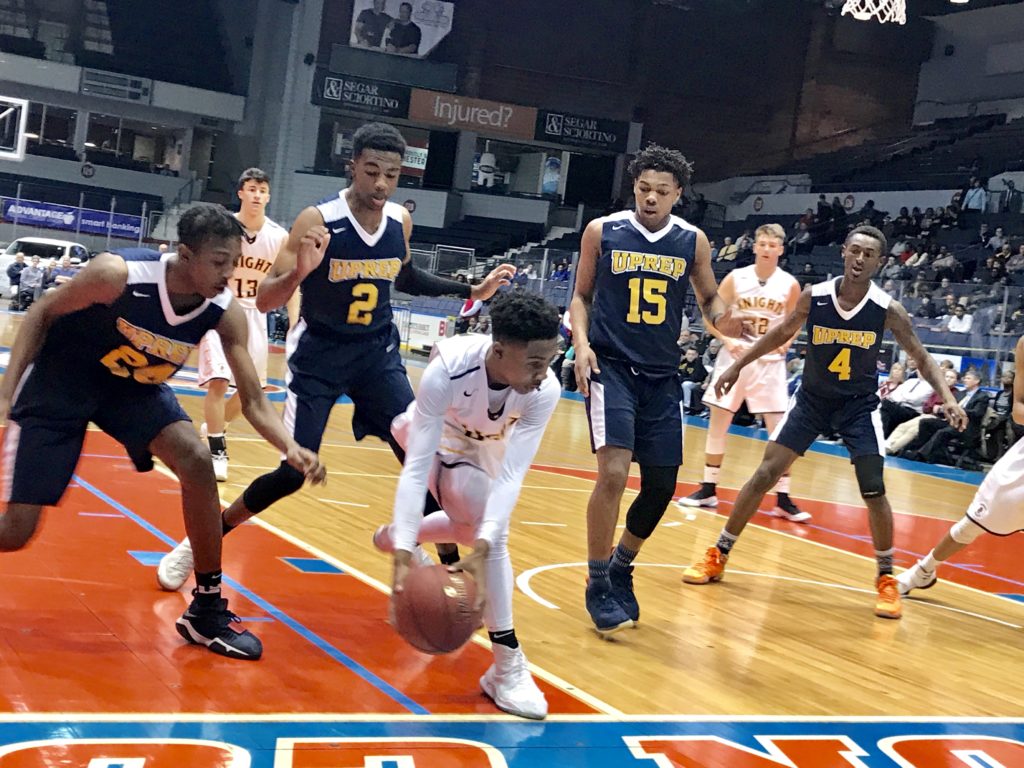 By PAUL GOTHAM
ROCHESTER, N.Y. — With 4:53 remaining in the third quarter of Saturday's Section V Class final, the McQuaid Jesuit Knights' double-digit lead had nearly evaporated. A Zach Harris Scott rebound and putback pulled the UPrep Griffins within two at 35-33.
Jack Leasure signaled for a timeout.
By the time UPrep called for its own break in the game early in the fourth, the Knights had gone on a 16-6 run, and the Knights were on the way to their first sectional title since 2003.
"We did a good job all night except for that little segment of making sure we ran offense and trying to get uncontested shots," said McQuaid coach Jack Leasure after the Knights defeated UPrep, 70-54 in the Class AA Section V final Saturday night at the Blue Cross Arena at the Rochester Community War Memorial. "We took some contested ones and some rushed ones."
The Knights came out of the timeout and got the ball inside to forward Connor Zamiara who was fouled and went to the free throw line where he converted on both opportunities. McQuaid's defense created a turnover on the next possession, and Josh Purcell led Kobe Long for a layup. Tournament MVP Anthony Iglesia followed with a 3-pointer, and McQuaid was on its way.
"We just had to get back to what we were doing in the first half," Purcell said. "Just playing great half-court defense, so we need to stop them in transition first. That started on offense by getting good shots. Rebounding the ball and taking care of it on offense."
Zamiara closed the quarter with back-to-back buckets inside to give McQuaid an eight-point advantage at 47-39. UPrep did not get any closer for the remainder of the game.
"Nobody could stay in front of our guards," Zamiara said. "By the time they're in the paint, my guy's helping out. I'm on the block wide open. My guards, they're going to give it to me. That's a layup, easy points. We're going to do it every time."
The win was the fifth straight for McQuaid (16-8) and 12th out of their last 13 games. All this for a team which opened the season with losses in their first three outings.
"It's really cool to see these guys progress as a group with that mental side of things," said Leasure who earned all-tournament honors for the 2003 champion. "That was what hurt us early on in the year. We weren't able to play with IQ like that. This stretch we really started to play well and with better IQ. I think there was no better example of that than tonight."
The loss was the second straight in the title game for UPrep (14-10) which fell to Fairport in last year's Class AA final.
"They wanted it a little more than us," UPrep coach James Reaves said. "There are no words to say. To lose two years in a row it hurts. The better team won tonight. No excuses, the better team won.
Iglesia and Zamiara combined for 25 second-half points to lead the Knights to the program's ninth championship overall.
Iglesia finished with 18 points and four assists. Zamiara added 14 on 4-of-7 shooting. Long scored 13, and Purcell had 12 to go with a game-high six assists.
Connor Zamiara finds Kobe Long for 3. McQuaid 62 UPrep 42. pic.twitter.com/48zR7J9iMf

— Paul Gotham (@PickinSplinters) March 4, 2018
Quinton Sanders came off the bench and paced UPrep with 13 points. Jakhi Lucas had 12 points and Elroy Clark, 11.
Long and Purcell joined Iglesia on the all-tournament team. Sanders and Lucas represented UPrep on the team. Hilton Tah-jae Hill and Fairport's Jackson Sullivan garnered honors as well.
Kobe Long finds Josh Purcell underneath for 2. Class AA final UPrep vs. @McQuaidJesuit pic.twitter.com/qg0Sb2BIvz

— Paul Gotham (@PickinSplinters) March 4, 2018
McQuaid will play Niagara Falls (VI) in the Far West Regional next Saturday at Buffalo State College. An 8:30 PM tipoff is scheduled.
MCQUAID 70, UPREP 54
UPREP (14-10)
Quinton Sanders 6-13 0-0 13; Jakhi Lucas 5-13 2-5 12; Elroy Clark 1-9 9-10
11; Kayshawn Ross 3-9 1-3 7; Z. Harris-Scott 2-3 1-3 5; J.J. Strothers 1-2
0-0 2; Kani Lagree 0-4 2-2 2; Justin Martin 1-1 0-0 2; Raymond Rivera 0-0
0-0 0; Christian Edwards 0-0 0-0 0. Totals 19-54 15-23 54.
MCQUAID (16-8)
Anthony Iglesia 5-12 6-6 18; Connor Zamiara 4-7 6-9 14; Kobe Long 3-11 5-6
13; Josh Purcell 6-9 0-0 12; Harry Bruu 3-4 1-1 7; Jon Catone 0-0 4-4 4;
Jermaine Taggart 0-3 2-2 2; Aidan Ruppert 0-0 0-0 0. Totals 21-46 24-28 70.
UPrep…………………….    9   13   17   15  –   54
McQuaid…………………..   11   20   16   23  –   70
3-point goals–UPrep 1-13 (Quinton Sanders 1-6; Jakhi Lucas 0-2; Elroy Clark
0-4; Kayshawn Ross 0-1), McQuaid 4-12 (Anthony Iglesia 2-5; Kobe Long 2-7).
Fouled out–UPrep-Z. Harris-Scott, McQuaid-None. Rebounds–UPrep 34 (Z.
Harris-Scott 7), McQuaid 31 (Harry Bruu 6; Connor Zamiara 6). Assists–UPrep
7 (Elroy Clark 3), McQuaid 13 (Josh Purcell 6). Total fouls–UPrep 21,
McQuaid 17. Technical fouls–UPrep-None, McQuaid-None.