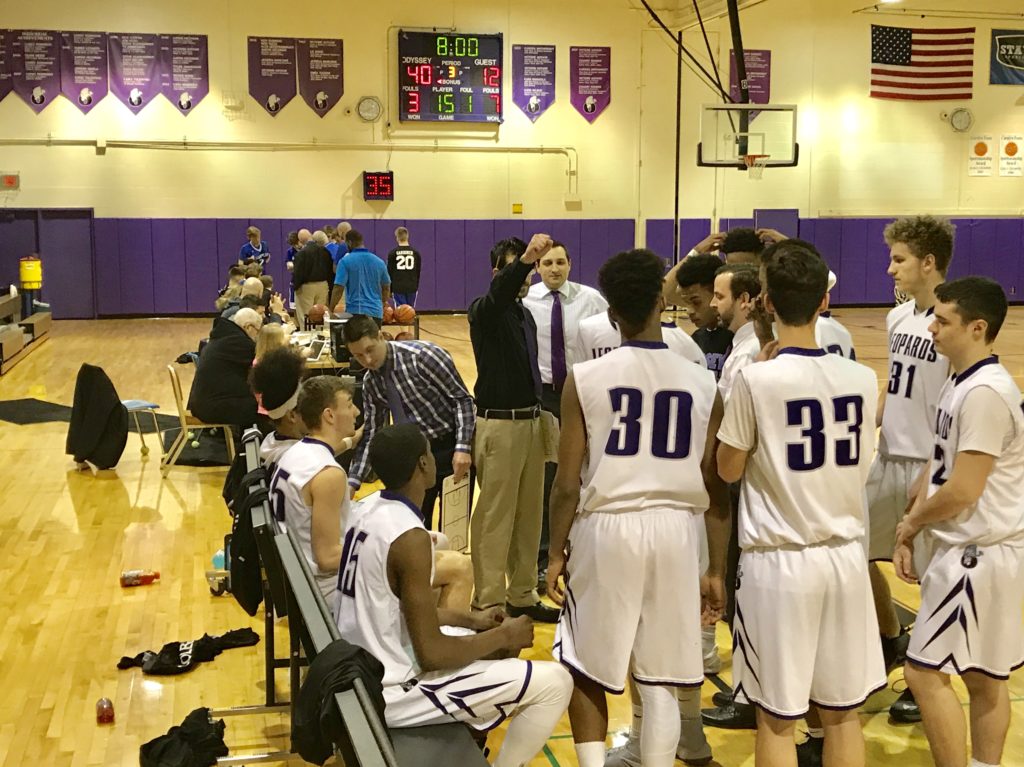 Top-seeded Mynderse is looking to win its second straight Class B title, but first the Blue Devils need to take care of business against a surging Greece Odyssey. Here is the Class B semi-final breakdown:
No. 1 seed MYNDERSE (19-3) vs. No. 5 seed GREECE ODYSSEY (15-7) Tuesday 6:30 PM Marcus Whitman High School
How they got here: Mynderse opened with a 109-52 victory over No. 16 seed Attica and followed with a 59-50 victory over No. 8 Wellsville.
Odyssey beat No. 12 Bath-Haverling, 81-31 and went on the road to knock off No. 4 Hornell, 63-43.
Last time they met: No. 1 seed Mynderse beat then No. 9 seed Greece Odyssey, 61-51 in the 2017 Section V Class B quarter-finals.
Players to Watch for Mynderse: Devin Anderson Sr. G 10.7 ppg, Quinten Battle Sr. G 10.8 ppg and Hunter Haust Sr. G/F 10.1 ppg.
Greece Odyssey: DJ Billings Sr. F 12.9 ppg, Jaden Hartsfield 13.1 ppg So. F and Travon Harper Jr. G 10.0 ppg.
Ky'Mere Meeks, Justin Smith and the Freshman Starting Five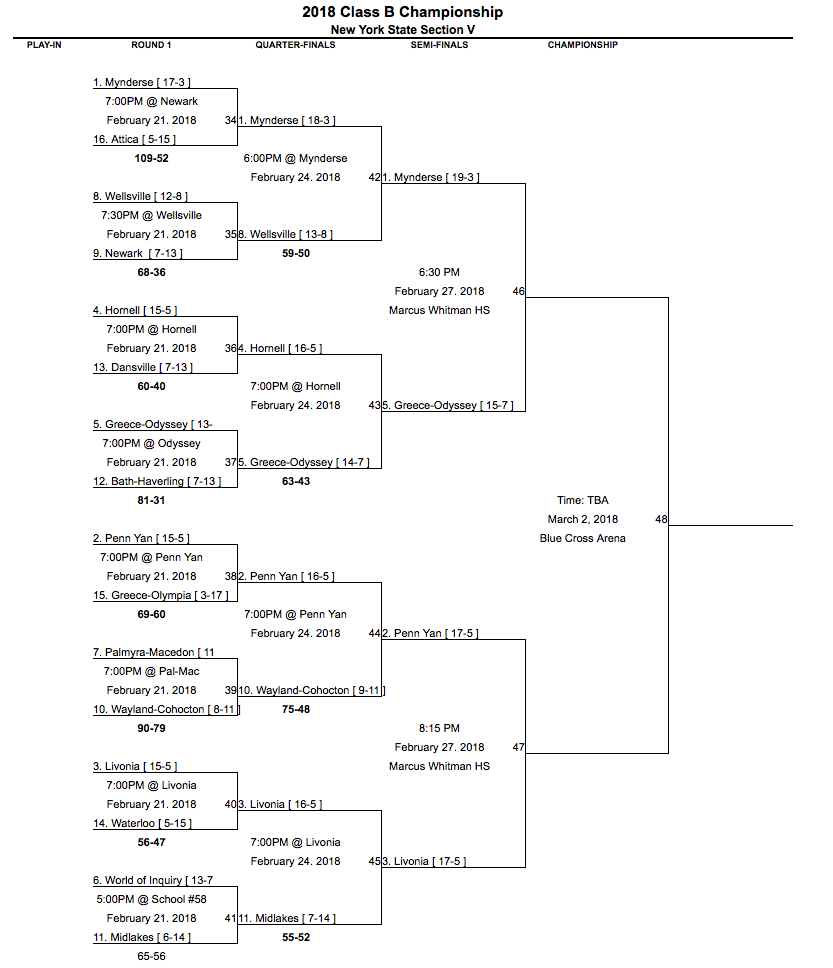 BRACKET COURTESY OF SECTION V BASKETBALL
No. 2 seed PENN YAN (17-5) VS. LIVONIA (17-5) Tuesday 8:15 PM Marcus Whitman High School
How they got here: Penn Yan defeated No. 15 Greece Olympia, 69-60 in the opening round and breezed past No. 10 Wayland-Cohocton, 75-48 in the quarter-finals.
Livonia opened with a 56-47 win over No. 14 Waterloo and edged No. 11 Midlakes, 55-52 on an Alex Minnehan 3-pointer with 2.1 seconds remaining.
Players to Watch for Penn Yan: Desmond Battin Sr. G 14.1 ppg, Ben Emerson Sr. G 10.8 ppg and Dylan Stape Sr. F 15.8 ppg.
Livonia: Devante Gwyn Sr. F 11.4 ppg/7.3 rpg, Barrett Lowe Sr. F/C 11.5 ppg/8.1 rpg, Alex Minnehan Fr. G 10.7 ppg/3.3 apg and Da'Vieque Naulls Sr. G 11.8 ppg/2.5 apg.