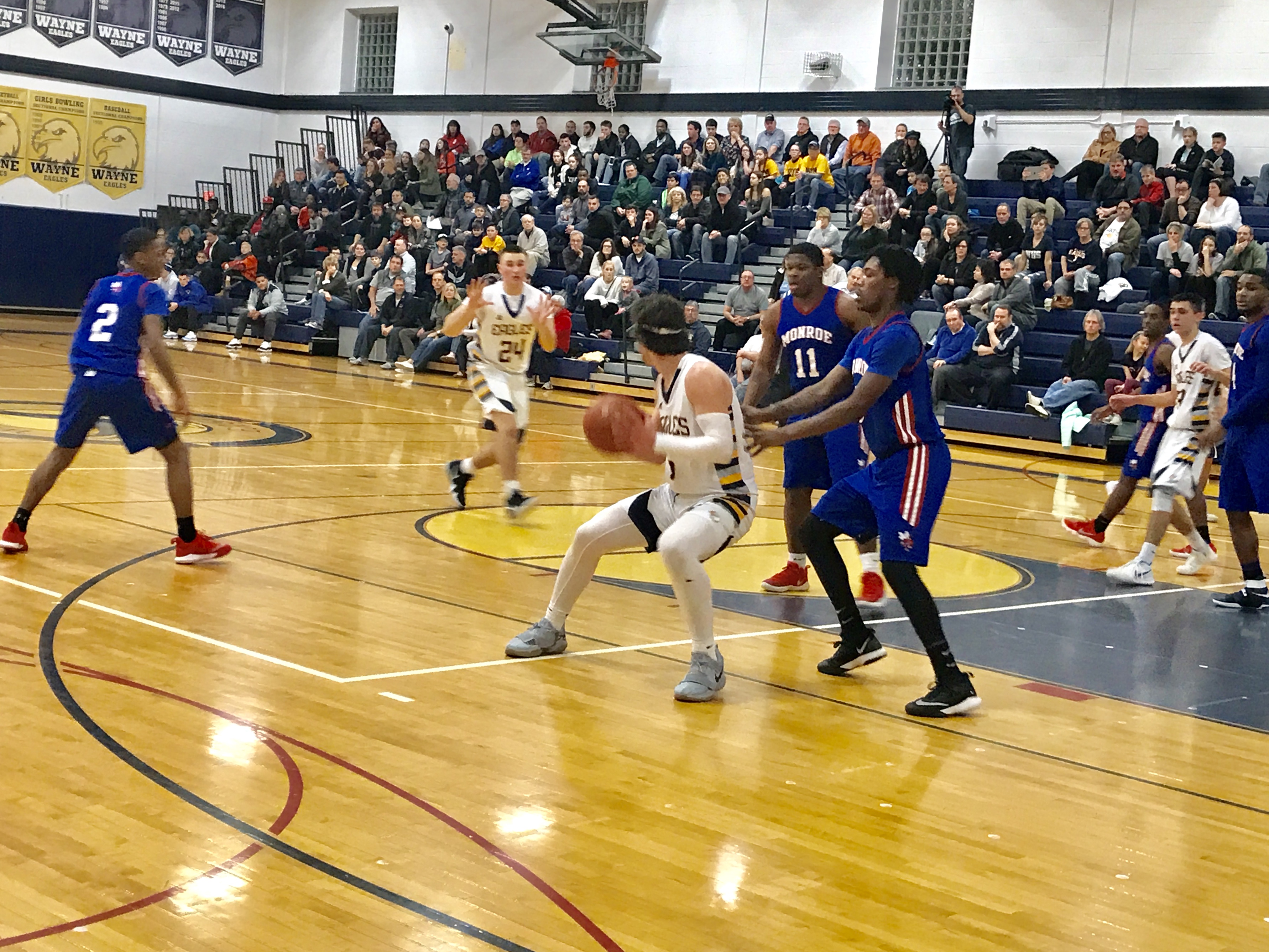 By PAUL GOTHAM
WAYNE, N.Y. — It became a matter of withstanding the initial rush.
Turnovers on four straight possessions and six ball handling miscues overall in the first eight minutes led to an early 12-point deficit in Saturday's Section V Class A2 quarter-final matchup. The Wayne Eagles needed a chance to find their rhythm.
Logan Blankenberg led the search party.
"They were ready for us," Blankenberg said after Wayne's 63-53 victory over the Monroe Redjackets. "They got that big lead on us. We just had to keep believing and keep fighting."
Blankenberg netted six of his game-high 25 points along with handing out two assists during the second quarter. Wayne erased the double-digit deficit and pulled even heading into the break.
"Just kinda had to settle it down," he added. "It's a big atmosphere. You gotta keep your emotions under control."
Blankenberg's corner three off an inbound play knotted the game at 36 midway through the third period. Two possessions later he converted a putback with contact for an and-one. Wayne had a lead it did not surrender at 43-40 with 2:41 remaining in the third.
The junior guard also finished the game with nine rebounds and seven assists.
"What people don't realize is he does so much more than just score," Wayne head coach Bill Thomson said. "He blocks shots. He contests threes that make it tough for the opposition. He passes well. He gets steals. He does everything. He's lanky. He's long."
With Blankenberg connecting from the outside, teammate Nick Carmichael took advantage in the paint finishing with 19 points and 10 rebounds.
The 6-foot-5 junior forward scored to end the third quarter and then added consecutive baskets early in the in the fourth – the second of which gave Wayne its first double-digit lead of the night.
Coming out of a timeout, Blankenberg fed Carmichael inside for a 57-47 advantage with less than five minutes remaining in the contest.
"We used our strength in the second half getting the ball inside," Thomson noted. "Definitely, you could see that. They didn't have an answer for Logan getting to the basket."
Monroe's Tyquil Glasgow scored seven of his team-high 15 points in the first quarter as the Redjackets jumped on the Eagles early.
Jonathan Jones hit a 3-pointer from the wing. Glasgow used a Euro to get to the basket for two. Giovanniel Santiago nailed a corner and Monroe led 9-2. Moments later, Redjacket point guard Devante Mateo hit a floater in the lane and made it 16-6.
But Wayne held Monroe to one field goal over its last six possessions of the first half to close the deficit.
"We felt we needed to do a better job of not allowing Mateo to penetrate the zone," Thomson explained. "I thought we got out on Santiago pretty good. I thought we got out on Jones pretty good.
"Really what hurt them was foul trouble. I think that was a big part of the second quarter to let us stay in the game. They couldn't play some of their best players."
The game was a rematch from last year's semi-final when Wayne beat Monroe on its way to a program first sectional title.
"This group doesn't give up," Thomson said of his squad. "We got on them pretty hard in the first half and good players step up."
Braeden Zenelovic added 13 points for Wayne. Logan Holgado, Max LaRocco and Billy Thomson added two points apiece.
Jones scored a dozen for Monroe. Mateo had nine. Chris Gibson, Jr. added eight points.
Wayne (18-3) will play Honeoye Falls-Lima (15-7) in Wednesday's semi-final.