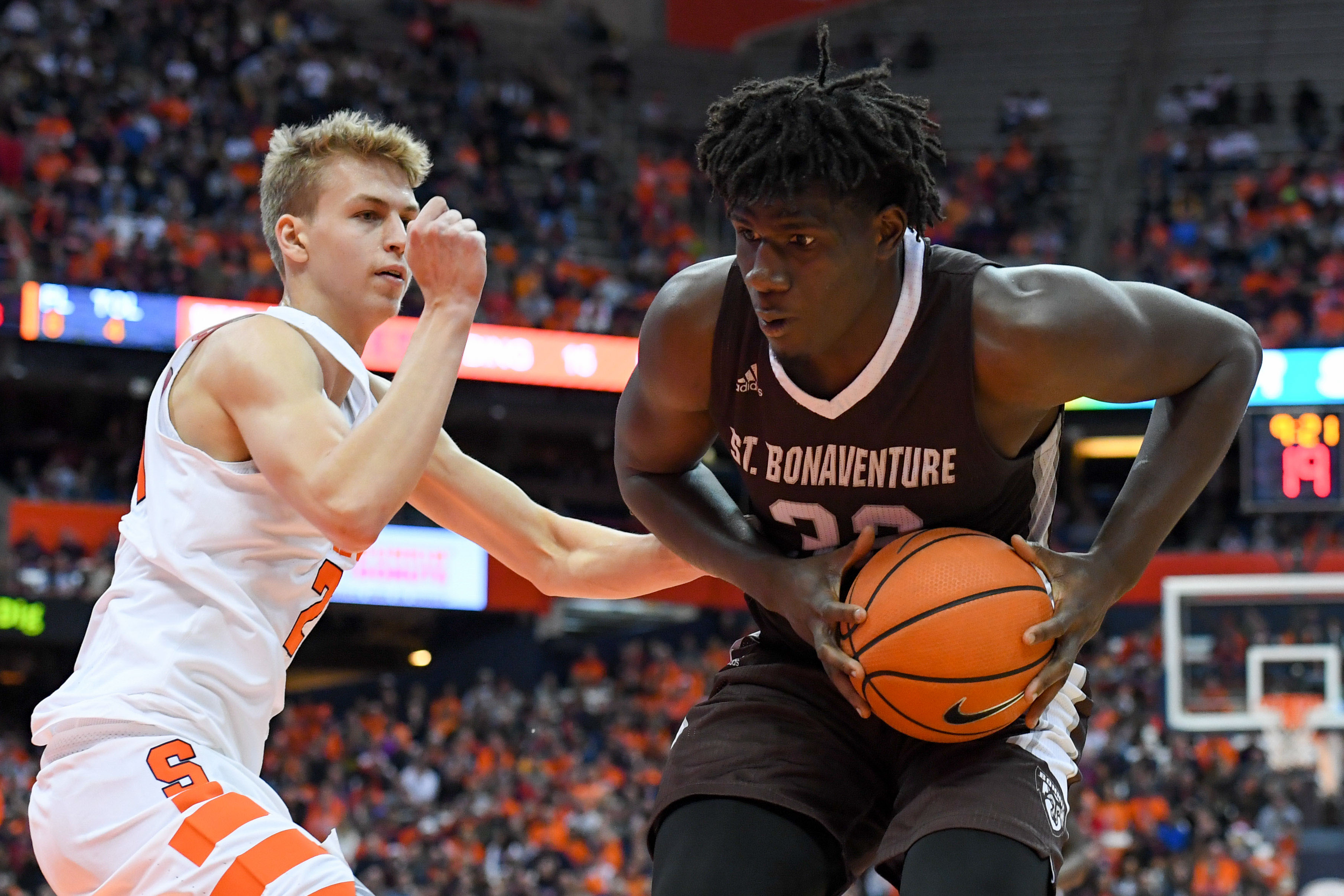 BY JOE CERAULO
OLEAN, N.Y. – The Bonnies won their ninth straight game Wednesday night against Duquense in front of a nearly sold-out crowd at the Reilly Center.
The winning streak marks the team's longest since the 1969-1970 season when St. Bonaventure made its lone Final Four appearance.
Neither team succeeded in finding an offensive rhythm, as constant whistles from the officials seemed to slow the pace of play any time excitement broke out on the court.
The game featured 45 fouls, 29 in the second half, and a combined 56 free throws.
On a night when the Bonnies weren't shooting threes with the success they're accustomed to, free throws gave them a much-needed offensive boost.
The team converted on 29 of its 33 attempts from the line, including a perfect 7-7 for center Amadi Ikpeze.
Since the suspension of sophomore forward Josh Ayeni, Ikpeze has seen a drastic increase in playing time and has performed well enough to make himself a regular part of the team's starting five.
With 4:27 left, Ikpeze grabbed an offensive board with Jordan Robinson draped all over him, went to the line and hit a pair to ignite a rather quiet crowd.
His first career double-double sparked the Bonnies in a game where no other big men asserted any dominance on the floor.
Senior guard Jaylen Adams quietly had a productive offensive night for the Bonnies, scoring 24 points, nine on foul shots, and dishing out five assists. He also harassed the Dukes on defense, matching Duquense's Eric Williams Jr. for a game-high four steals.
"He's a pro," said Duquense coach Keith Dambrot, best known for coaching LeBron James in high school at St. Vincent-St. Mary, of Adams. "I've had four NBA guys and I think he's going to be on somebody's roster before it's over."
Adams wasn't the only impactful senior guard for the Bonnies.
On a night where Matt Mobley's touch was off, Idris Taqqee stepped up, scoring 11 while ripping down eight boards as well.
The senior trio likely played its last game in front of the Bona's student section Wednesday, as SBU's final home game falls during spring break.
"This place right here is special to me," said Adams. "The students, the boost they give the team, they don't even understand what that does for us. Me personally, I hate when they're quiet, so I always try to make plays to get them on they're feet because they're a real game changer."
St. Bonaventure's next game is Saturday, Feb. 24 at Virginia Commonwealth University.
"Every game is a game seven," said Bonnies coach Mark Schmidt. "That's the mentality that we need, and even though we struggled today offensively I thought they had that sense of urgency on the defensive end."
Saturday's game can be seen at 8 p.m. on CBS Sports Network.