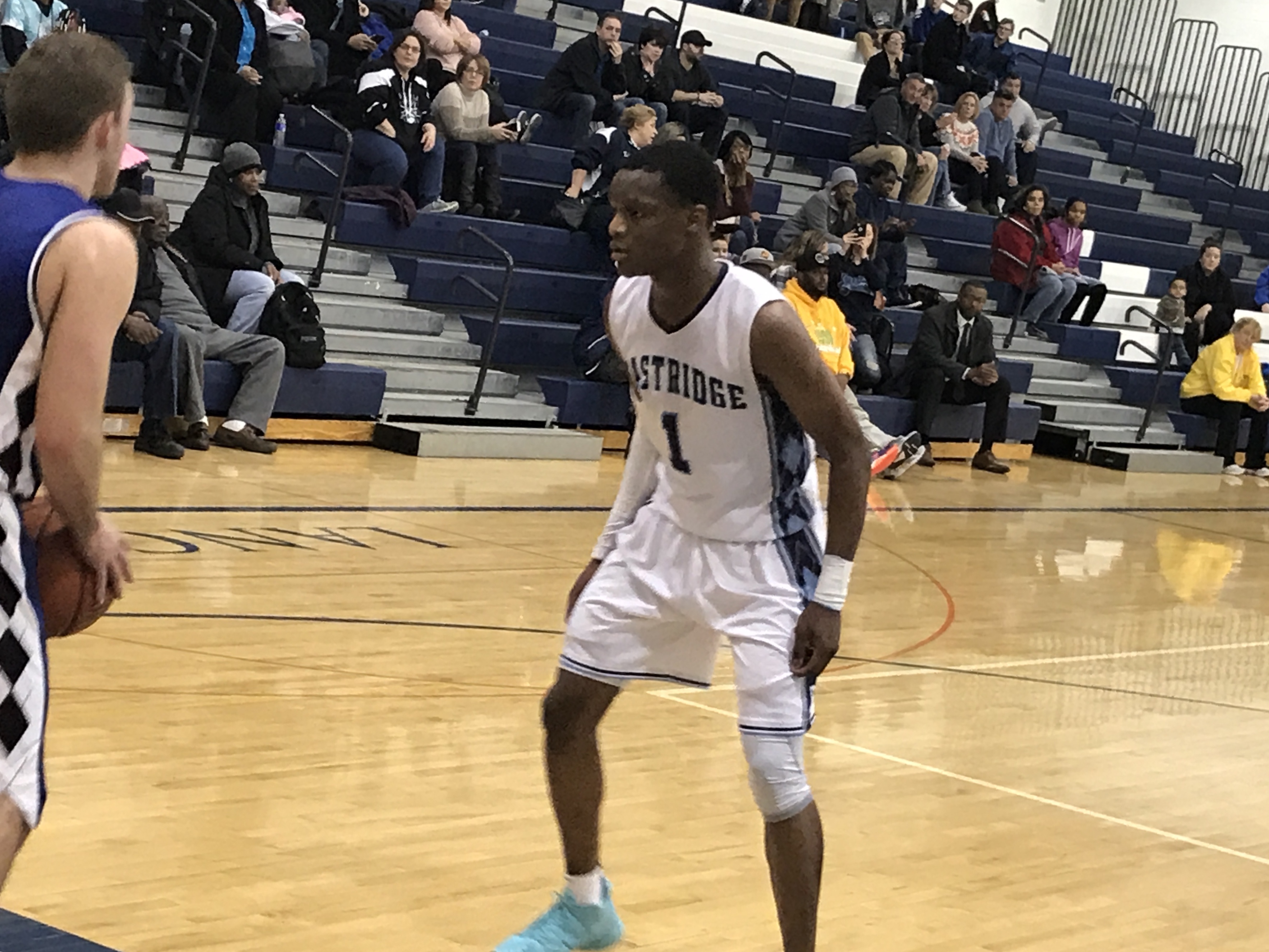 BRIGHTON 59
NE DOUGLASS 67
Adonis Flagler converted 15 of 15 from the free throw line and finished with a game-high 22 points to lead NE Douglass. Flagler scored 10 in the second quarter as the Panthers took a 40-26 advantage into halftime. The sophomore also grabbed six rebounds in the contest. Teammate Jiahmere Mitchell added 15 points and five assists. Trevion Miller had 10 points, eight rebounds and four steals. Lamar Lovelace scored 12 for NE Douglass. Kendall Clyburn and Jasper Newman scored 14 apiece to lead Brighton. Jack Falter hit three 3-pointers and finished with 11 points for the Barons. Other scorers: Brighton – Will Bell (3), Nate Sponsel (6), Ryan Martin (6) and Will Brownell (5). NE Douglass – Lonnie Watkins, Jr. (4) and Nicholas Jeanty (3).
EARLY COLLEGE 60
FRANKLIN 59
Jahkier Moore converted a pair of one-and-one free throws with :05 remaining to clinch the victory for Early College. Moore grabbed an offensive rebound on a missed free throw attempt and was fouled on the play to set up the game-winning charity tosses. Moore finished with 10 points on the night. Shedrick Smith led the Cobras with 20 points. Shamar Hampton hit five 3-pointers and finished with 17 points. Franklin's Devonte Goins connected six times from behind the arc on his way to a game-high 23 points. Tahjir King added 12 for the Quakers. Other scorers: Early College – Ahmir Buckhannon (8), Jovan Sargent (3) and Sam Jackson (2). Franklin – Tyree Spann (6), Kentonio Kelly (4), Tommy Coleman (4), Tramel Bush (6) and Anthony Smith (2).
WORLD OF INQUIRY 70
GREECE OLYMPIA 59
Charles Maurice Brown (27 points/12 rebounds) and CeyQuan Salmon (25 points/10 rebounds) posted double-doubles, and WOI (13-6) won its second straight. JahMir Douglass collected 11 points and seven steals for the Griffins. Salmon has now scored 1,584 career points. William Green, Jr. paced Olympia with 21 points. Jeff Jung, Jr. added 18. Samuel Wright IV had 11 points for the Spartans. Other scorers: Olympia – Wesley Elmore, Jr. (4), Angel Perez (3) and Kris Perez (2). WOI – Bobby Searight (2), Javonte Burrell (5).
SOTA 52
BLOOMFIELD 44
Ethain Clarke-Desouza converted 13 of 15 free throws including six of eight in the fourth quarter and finished with a game-high 26 points to lead SOTA. Patrick Geitner scored 16 to lead Bloomfield. Alex Roach added 14 for the Bombers. Other scorers: Bloomfield – Devin Campbell (4), Mitch Bliss (2) and George Willix (2). SOTA – Kentraly Brown (5), Maurice Wiggins (2) and Joe Denegal (6).
HONEOYE FALLS-LIMA 75
EASTRIDGE 84
Tony Arnold poured in 24 of his game-high 33 points in the first half as Eastridge took a 50-41 lead going into the break. Kyndal Taggart scored 15 for the Lancers. Jalen Rose-Hannah added 12, and Terrence Reid had 10 for Eastridge (11-8/4-3) which has won four straight games. Dan Hayes and Tyler Selke scored 24 apiece for HF-L (12-7/6-2) which saw its four-game winning streak come to an end. Seek hit six 3-pointers. Garrett Ruff added 10 points. Other scorers: Eastridge – SherRon Davis (2), Zach Taranto (2), Robert Clark (4) and Adrian Rodgers (6). HF-L – Trevor Chamberlain (8), Jack Eastman (3), Owen VanNewKirk (2) and David O'Connell (4).
GREECE ATHENA 83
CANANDAIGUA 48
SPENCERPORT 58
HILTON 76
Tah-jae Hill netted 12 of his game-high 24 in the second quarter when Hilton outscored Spencerport 17-11 to take a 13-point lead into halftime. Mitch Carr added 16 points for the Caderts, and Joey LiPani had 12. Najier Daniels and Noah Malta scored seven apiece for Hilton. Spencerport's Josh Reding connected on five 3-pointers and finished with a game-high 25 points. Noah Mundt added 10 of his 12 in the second half. Malcolm McCullough had 11 points for the Rangers. Other scorers: Hilton – Colin Burkis (3), Morgan Kunigan (3), Jackson DiPalma (3) and Jack Gombatto (1). Spencerport – Alton Jones, Jr. (4), JJ Jenkins (3) and Evan Clarke (3).
PITTSFORD-MENDON 50
PITTSFORD SUTHERLAND 51
Ben DiGiovanni scored 11 points including a runner in the lane at the buzzer for the game winner as Sutherland avenged an earlier loss to its cross-town rival. Kevin Ryan had 14 to lead the Knights, and Matt Thaney added nine points. Mendon's Daniel Cook finished with a game-high 17 points. Matt Power had 14. Mendon won the previous meeting 68-63. With the win, Sutherland (16-3/7-2) stayed tied for first with Greece Athena in Monroe County Division III. Sutherland played without starting point guard, Graham Schild who missed the game to attend the Winter Olympics in Pyeongchang, South Korea where his sister, Morgan, competed in the moguls event. Other scorers: Mendon – Mike Harrington (8), Connor Krapf (6) and Jacob Shadders (5). Sutherland – Craig Rosen (2), Josh Rosen (7), Davis Heyman (2) and Chris Cox (6).
BATAVIA 69
LIVONIA 42
Tee Sean Ayala and Mason McFollins combined for 40 points and Batavia won its seventh straight game. Ayala hit two 3-pointers and finished with 21 points. McFollins connected four times behind the arc and added 19. Antwan Odom scored eight for the Blue Devils, and Jonathan Liciaga had six points. Steven Gilebarto chipped in with five points. Naz Pratt handed out six assists. Livonia's Da'Vieque Naulls scored 13 to lead the Bulldogs. Jalen Marshall had 10 points. Other scorers: Batavia – Andrew Francis (2), Ray Mlodozeniec (2), Ethan Biscaro (4) and Joe Martinucci (2). Livonia – Devante Gwyn (2), Andrew CCrossway (4), Alex Minnehan (3), Nathan Genther (4), John Futter (2) and Barrett Lowe (4).
HAC 51
MARCUS WHITMAN 57
RUSHVILLE — In a battle of Finger Lakes West heavyweights, Marcus Whitman's Jon Donovan hit a three as the shot clock expired late in the fourth quarter to push the Wildcats to a 57-51 win over Harley Allendale Columbia.
MW, who had already clinched the league title, was clinging to a 51-46 lead with less than 2 minutes left over the second-place Wolves when Donovan willed his long range shot through the hoop. The basket made it 54-46. Ryan Hilton hit swished two free throws on the next possession to but Seth Benedict hit two of his own free throws with less than 40 seconds left to push the lead to 56-48. Rob Dorsey answered with a long range three for HAC to pull within 56-51 and after a missed 1-and-1 free throw HAC could not convert and Marcus Whitman escaped with the win.
The win pushes MW to 14-1 in the league and 16-3 overall. The loss snaps the Wolves 3-game winning streak and sends them to 10-5 in the league and 13-6 overall. The Wildcats continued their league dominance, as it pushed the league record to 40-1 over the last two-plus seasons.
Hilton led all scorers with 20 points and grabbed a game high 10 rebounds. HAC's Xavier Israel finished with 11 points, Zitong Jin with 10 and Xavier Israel was held to 11 points. For Marcus Whitman, Jon Donovan finished with 14 points, Seth Bendict and Riley McLeod with 13 each and Liam Pendergast 11 points and 7 rebounds.
MW jumped out to an early 9-0 lead, but the Wolves did not go away quietly. A three pointer by Jin broke the seal on the offense that saw the Wolves close the first quarter down 15-9. Donovan was on fire in the first quarter scoring 9 of those points.
But in the second, the Wolves shook off whatever ailed them and thanks to Hilton and Israel's 9 and 7 points respectively, HAC outscored the Wildcats 22-10 and take a 31-25 lead into intermission. Each team bore down defensively and made tiny runs in the third, and HAC entered the fourth clinging to a 39-37 lead.
The fourth quarter charge was led by Riley who netted 7 points, including the go-ahead three point basket to give the Wildcats a 42-41 lead. Hilton gave the Wolves back the lead short put back, but that was the last lead the Wolves had in the game.
WAYNE 55
VERTUS 45
Nick Carmichael scored 20 points, grabbed 10 rebounds and blocked four shots to lead Wayne. Teammates  Logan Blankenberg and Braeden Zenelovic scored 14 apiece, and the Eagles improved to 15-3 on the season. Blankenberg hit four 3-pointers, corralled nine rebounds while collecting six assists and three steals. Zenelovic hit 7-of-11 from the floor. Billy Thomson finished with six assists, four steals, three rebounds and two points. Wayne finishes the season on the road at Newark and Penn Yan. With two wins, the Eagles will claim the Finger Lakes East title outright. A victory over Newark on Tuesday will clinch a share of the title for the first time since joining the league in 2000. De'Andre Hunter led Vertus with 14 points. Jamel Demery added nine. Other scorers: Vertus – Trevon Burkett (5), Lee Cooper (5), Eric LeBrane (4) and Myles Rose (8).  Wayne – Thomas Bolt (2) and Logan Holgado (3).
PENN YAN 50
MYNDERSE 47
CLYDE-SAVANNAH 63
NORTH STAR CHRISTIAN 91
Miles Brown and Matthew Medeiros formed a prolific inside-outside combination, and the Northstar Christian Knights turned what was a back-and forth contest for six minutes into a one-sided affair. READ MORE. 
DANSVILLE 50
CALEDONIA-MUMFORD 73
Ian Lenhardt collected 19 points, 13 rebounds and six blocks to lead Cal-Mum to its 15th straight victory and pulled within one win of clinching role possession of the Livingston County Division II title. Vin Molisani added 18 points and four steals. Joe Laursen had nine points, and Jon Bollard chipped in with seven points and five assists. Kyle Raniewicz handed out five helpers as well. Hunter Little with 15 points. Jacob Wadsworth had 11 and Dylan Race 10 points. Cal-Mum plays at Avon on Wednesday with the division title on the line.
SODUS 56
WILLIAMSON 47
Lonnie Logins scored 22 points, and Paul James added 17 to lead Sodus. Adam Fisk paced Williamson with 14 points. Josh Miller added 13 and Drew DiSanto had 11 points.
ELBA 67
OAKFIELD-ALABAMA 57
Colton Dillon had another huge night to lead four Lancers in double figures, while the Elba defense stifled high-scoring O-A for much of the night as it picked up a quality road victory. READ MORE.
ALEXANDER 55
LYNDONVILLE 37
The Trojans had four players score in double-figures and they used a 23-7 fourth quarter to break open a two-point game on their way to the win. READ MORE.
LIMA CHRISTIAN 53
SOUTH SENECA 60
MARION 43
ROMULUS 56
NAPLES 35
MT. MORRIS 79
RED CREEK 33
GANANDA 76
CAMPBELL-SAVONA 34
ALFRED-ALMOND 28
CANISTEO-GREENWOOD 61
ARKPORT-CANASERAGA 40
JASPER-TROUPSBURG 42
BRADFORD 49
ANDOVER 67
HOUGHTON 47
FRIENDSHIP 16
FILLMORE 64
OTTO-ELDRED 55
GENESEE VALLEY 67
SCIO 62
BELFAST 76
ATTICA 41
WHEATLAND-CHILI 60
EAST ROCHESTER 47
ROCHESTER ACADEMY 46
ROCHESTER PREP 46
LEROY 62
KENDALL 64
PAVILION 73