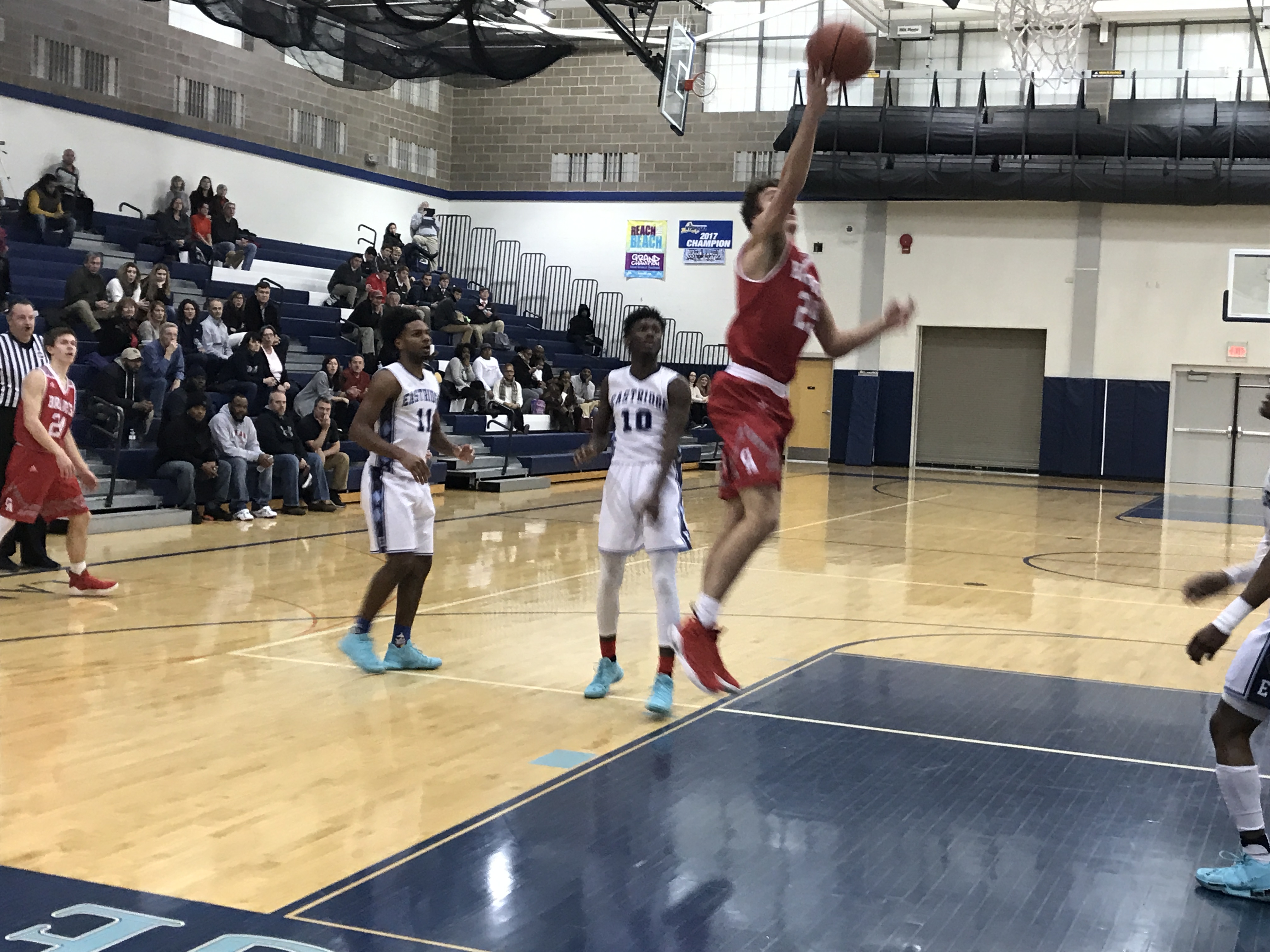 PITTSFORD MENDON 79
BRIGHTON 59
Daniel Cook scored 26 points and corralled 12 rebonds to lead Mendon (13-3/5-2). Michael Harrington added 14 points for the Vikings. Connor Krapf collected 11 points and five assists. Ryan Martin paced Brighton with 17 points. Kendall Cleburne had 10 for the Barons.
CANANDAIGUA 63
EASTRIDGE 68
Tony Arnold keyed a decisive run that started late in the first half, and the Eastridge Lancers (9-8) held on for their second straight win. READ MORE.
GREECE ODYSSEY 50
SOTA 42
Jaden Hartsfield scored five of his team-high 16 points in the first quarter as Greece Odyssey took a double-digit lead after the first eight minutes and held on to beat SOTA. DJ Billings added six of his 11 in the second to pace the Leopards to a 31-15 lead going into the break. Travon Harper converted on 6-of-6 free throws and added 12 points. Ray Colbert added seven. Darren Davidson and Aric Williams scored two apiece for Odyssey. Reggie Smith connected three times behind the arc in the fourth quarter and poured in 11 over the last eight minutes as SOTA outscored Odyssey 15-10 in the final stanza. Joe Denegal chipped in 10 points for the game. Ethain Clarke Desouza and Kentraly Brown had six apiece for the Silverhawks. Ke'vion Mitchell added two points.
NORTHSTAR CHRISTIAN 86 OT
WORLD OF INQUIRY 83
A battle of 1,000-point scorers did not disappoint. Miles Brown led Northstar Christian with 43, and World of Inquiry's CeyQuan Salmon poured in 41. Brown converted 9-of-12 free throws including two with 1.7 seconds remaining in regulation to force overtime. The junior guard also connected on four 3-pointers to lead the Knights (15-1). Salmon drilled five 3-pointers and grabbed 11 rebounds. Brown, the Northstar program's all-time leader has scored 1,847 career points. He established a single-game school record with 53 points last week in a win over Early College. Salmon, the RCAC's current active cheer leader has 1,545 points. Salmon scored 47 in a game earlier this season. The senior is averaging better than 21 per game. Tray Roberts added 19 for Northstar. Mike Brown had 12. Daniel Pickett had seven points. Matt Medeiros scored five. WOI's Charles Maurice Brown scored 15 points. Jamir Douglas had 10. Tremier Dollar added six. Javonte Burrell had five for the Griffins. Frankie Santiago (4) and Bobby Searight (2) rounded out the scoring for WOI.
.@nysswa #3-ranked Northstar Christian wins a shootout w/ World of Inquiry, 86-83. Incredible performances by Northstar's Miles Brown (43 pts) & WOI's @GuyWith1Sleeve (41 pts). @sectvbb #RCAC #ROC pic.twitter.com/OvWjqjETOk

— Varsity Media (@VarsityMedia) February 6, 2018
VIDEO COURTESY OF VARSITY MEDIA. 
WATERLOO 51
GREECE OLYMPIA 52
Jeff Jung, Jr. connected four times behind the 3-point and finished with a team-high 15 points as Olympia erased a halftime deficit. William Green, Jr. added 12 points and nine rebounds for the Spartans which trailed 29-22 after two quarters. Kris Perez added nine. Wesley Elmore, Jr. and Rah'Qual Avant scored eight apiece for Olympia. Derek Slykwa amassed 27 points and 14 rebounds for Waterloo, but it wasn't enough. The junior guard hit two 3-pointers and finished 3-of-4 at the free throw line. Julian Ruiz collected 14 points, five assists and three rebounds. Mike Hubbard scored seven points. Joel Kraft had three
BATAVIA 51
NEWARK 36
Antwan Odom connected five times behind the arc and netted 23 points as Batavia used a decisive third quarter to win its fifth straight. Odom had 13 in the third when Batavia outscored Newark 18-5 to take a 42-23 lead into the final stanza. Mason McFollins scored eight for the Blue Devils. Naz Pratt had three points and handed out five assists. Steven Gilebarto collected seven points and six rebounds. Jonathan Liciaga (5), TeeSean Ayala (3) and John Kindig (2) rounded out the scoring for Batavia. Mason VanDeMortel paced Newark with 12 points. Taylor Clements had 10. Jayden Peters scored eight. Terry Anglin (3), Kyle Martinez (2) and Parker Casselman (1) contributed the rest of Newark's offense.
LYONS 65
SODUS 49
David Weaver hit five 3-pointers and scored 20 to lead Lyons (15-2). Justice Smith recorded a triple double with 15 points, 13 rebounds and 10 assists. Jordan Harris scored 10 points and 10 rebounds for Lyons. Lonnie Logins led Sodus with 18 points.
MT. MORRIS 62
DANSVILLE 54
Colin Young and Jansel Martinez combined to score 36 points to lead Mt. Morris. Young had 21 and Martinez 15. Josh Hart added nine for the Blue Devils. Cameron Regal added seven, and Justin Martin five. Dylan Cicero (4) and Steven Soto (1) rounded out the scoring for the Blue Devils. Danville's Arrik Gerber led all scorers with 23 points to go with five rebounds. Hunter Little collected 12 points and 10 rebounds for the Mustangs. Dylan Race had nine points and three rebounds. Carter Davis and Jacob Wadsworth scored four apiece, and Nick Rosica had two points.
BOLIVAR-RICHBURG 42
ADDISON 65
Adam Chilson hit five 3-pointers and finished with 19 points and four assists to lead Addison. Danny Ames added 15 and four assists. Nick Sutryk had 14 points. Nick Solinas collected four points, nine rebonds and four assists in the win. Gage Adams chipped in seven points. John Stierly had four points, six blocks and five rebounds. Evan McIlwain had two. Parker Cole paced B-R with 19 points. Riley McDonald scored 10. Rile Danaher and Adam Jones scored six apiece. Nolan Faulkner had one point.
PEMBROKE 78
HOLLEY 36
Zach von Kramer scored a game high 17 points while Reid Miano and Jamil Marable Jr. added 14 and 12 points respectively as unbeaten Pembroke (17-0) broke open a close game with a big defensive second half during GR action Monday. READ MORE.
WARSAW 64
OAKFIELD-ALABAMA 74
Ben MacConnell's 31 points and 19 rebounds would not be enough as Oakfield-Alabama got big offensive games from Tylor Ohlson and Ryan Douglas, who combined for 45 points and eight steals to earn the 74-64 victory. READ MORE.
ROCHESTER PREP 70
KENDALL 59
Jaden Hayes 22 led Prep with 22 points while Wesley Henderson and Marquis Thomas scored 14 and 13 points respectively. READ MORE.
C.G. FINNEY 75
JASPER-TROUPSBURG 33
Finney's Max Harris connected four times from behind the 3-point arc. The senior guard currently ranks third all-time on the NYS list with 328 career 3-pointers. Joe Licata (Williamsville South) holds the state record with 343.
BISHOP WALSH 36
WELLSVILLE 68
GOW SCHOOL 72
LIMA CHRISTIAN 69
HONEOYE 66
ROCHESTER ACADEMY 72
FRIENDSHIP 38
ANDOVER 63
GENESEE VALLEY 76
CUBA-RUSHFORD 62
WHEATLAND-CHILI 42
AVON 63