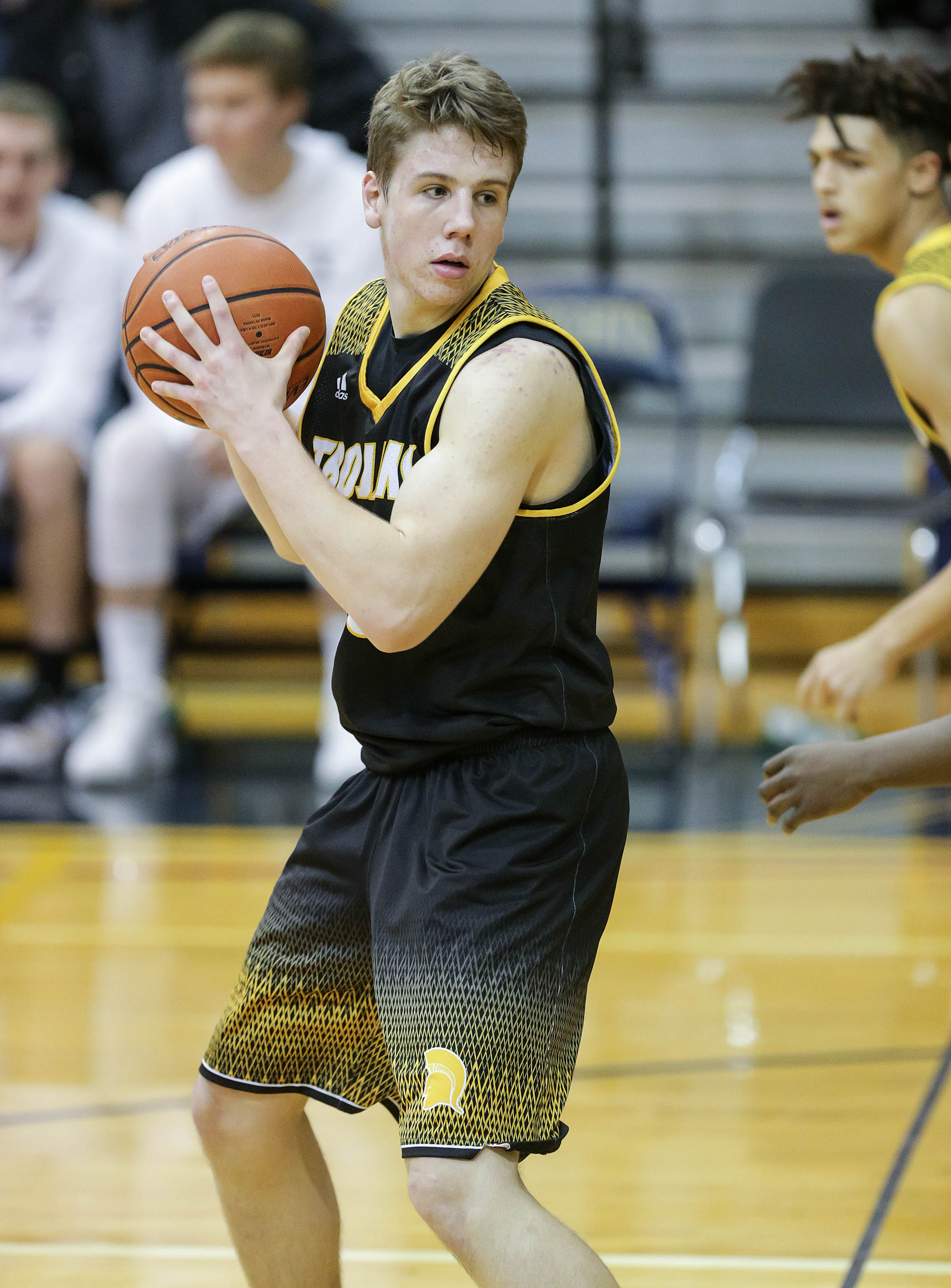 By MATT TRABOLD
TRABS KEEPS TABS
Possible Sleepers in Class A1
This part of the column has dealt with classifications outside of Class A1 for many weeks now. One of the reasons for that trend is that a substantial case could be made for recognizing that classification as the best in Section V this year. That sturdy case can be made due in large part to the strength of the top four teams in the standings for that classification just about every week so far this season in Greece Athena, Irondequoit, Pittsford Sutherland and Pittsford Mendon, which drums up some perceived chalk.
With that being said, there are a few teams further down in those standings at the moment that could very well go on a pretty surprising trek of winning a game or two in postseason play coming up here soon due to what they boast on their roster. Canandaigua showed this past Friday against Pittsford Mendon that this classification is not quite all chalk.
Speaking of Canandaigua, the six-game winning streak of those Braves has them just two games out of the illustrious top four in those standings. Who might you ask is in the fourth spot right now? That answer would be a Pittsford Mendon side that they just beat on the road this most recent weekend. When you look at this Canandaigua roster, you see a lot of guys that are big names in other sports the school provides. Those players include Connor Fisher, Noah Emerson, Mitch Pfeiffer and Devon Chamberlain. That aspect of the squad does not hurt its overall basketball IQ though. Just about everyone passes well. Just about everyone shoots jumpers well. These Braves rarely make dumb mistakes.
VIEW MORE CHRISTOPHER CECERE PHOTOS HERE. 
Then, there is a currently 7-8 Eastridge group that gave Pittsford Sutherland all it could handle in a road game for the Lancers a handful of weeks ago. Sophomore guard Tony Arnold is truly one of the top underclassman basketball players around these parts as we type and read. He uses his wingspan and coordination to regularly pull off a wide array of mystifying layups. Fellow sophomore backcourt player Jalen Rose Hannah is a tenacious on-ball defender and transition scorer. The veteran leader of this battalion though is springy 6-foot-1 senior Kyndal Taggart.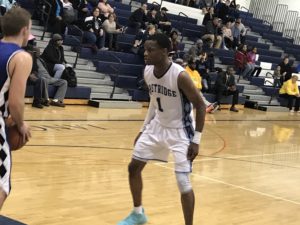 If this regular season ended today, Brockport would sit in the eighth spot of the aforementioned sectional bracket for this classification. 6-foot-2 University at Buffalo football commitment Cory Gross Jr. joined the team after the season already began. One indication of that is, in the line of posed individual player pictures hung up in the home gymnasium for the team at A.D. Oliver Middle School, the one for Cory features him wearing sunglasses, and it was clearly taken in a different place than the others. It is a joy to view. Gross is just a great natural athlete. He has what it takes to execute a highlight play here and there.
There are not many starting men in the middle around here as big as 6-foot-6 Noah Schultz. A marksman of a senior guard in Amire Odey was not able to play in a recent ballgame against Pittsford Sutherland, but he could play a key role down this stretch if he is able to see the floor again. Also, keep at least one eye out for Josh Reding and always upset-minded Spencerport.
SLAP YOUR PEEPERS ON THIS FIVER
Irondequoit at Greece Athena—Wed., Jan. 31, 6:45 PM
Verticality virtuoso Patrick Thomas has returned to action with a vengeance. In limited minutes this past Friday against Webster Schroeder in his first stretch of playing time for the Eagles since breaking a wrist earlier this season, Thomas recorded nine points. The 6-foot-5 junior made his presence felt immediately in that one against the Warriors, including a play that saw him receive the basketball in the corner and dart past defenders on the baseline for a thunderous one-handed dunk. He might just be the most explosive player getting to the rim in the Section V ranks this season, so him being back for Chris Cardon and his staff drastically changes the dynamic of that team. Patrick and sophomore Luke Melidona look to be weaving quite the court connection at the moment.
Welcome back, @P_Thomas_3! @WIEagles roll to 73-42 win over Schroeder & improve to 12-2. @wihseaglesnest @MichaelSeeley2 pic.twitter.com/2bEM4KDdWp

— Varsity Media (@VarsityMedia) January 27, 2018
VIDEO COURTESY OF VARSITY MEDIA
A number of stout squads have taken their turn at the top of the Class A1 standings in this area this campaign thus far. At the moment, the two teams at the summit of that list are the ones that will be doing battle in this one. Greece Athena and its present 14-1 record are currently in the midst of an eleven-game winning streak. Christian Jones was at the center of the Trojans turning a halftime tie at home against Pittsford Mendon last night into a lead of 21 points early in the fourth quarter. You knew everything was going right for Jones in that ballgame when a smacked cross-court pass fell right to him for a threeball.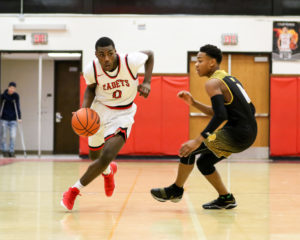 Hilton at Fairport—Wed., Jan. 31, 7:30 PM
The Cadets might have fallen into the seventh spot of the Class AA sectional bracket if this regular season had ended this past weekend after losing to Rush-Henrietta by 20 points sans Shamire Broyld this past Friday. Hilton still boasts Mitchell Carr in its frontcourt and Tah-jae Hill in its backcourt. The group Troy Prince and his staff have this time around has already compiled enough striking results to warrant fans thinking these Cadets can go on a run in postseason play this year regardless of what seed they end up being in a few weeks. Fairport might have fallen in overtime Monday night against McQuaid Jesuit, but 6-foot-5 senior Jackson Sullivan was just about unstoppable down low despite great defensive pressure by the Knights. Sullivan is so good at spinning off contact in the post. Vanzell Johnson and Andre Starks Jr. seem to get better, especially offensively, with every game this season. That duo with Andrew Bartlett will serve as one side of what should be a fun backcourt battle in this one against Noah Malta alongside a pair of productive sophomores in Hill and Colin Burkis.
VIEW MORE CHRIS ROACH PHOTOS HERE.
Pittsford Sutherland at Canandaigua—Fri., Feb. 2, 7:15 PM
This past Friday, Canandaigua brought its four-game winning streak on the road to Pittsford Mendon to do battle with the ten-game winning streak that the Vikings possessed at the time. One of those streaks obviously had to end. To the surprise of many, the home side was the team to have theirs cease. Few teams around these parts right now have as many perimeter weapons as these Braves. Plus, against Pittsford Mendon this past weekend, Canandaigua was without one of its best marksmen in Jack Ferris. Earlier this season, Ferris hit a foursome of jumpers from deep in a single quarter against Penfield. The play that essentially sealed that victory over the Vikings was Connor Fisher confidently and rather unexpectedly letting one rip from 27 feet for three points with just over a minute left in regulation. The fiery Scott Loforte is one of the top inside-outside threats in this section at the moment. Danny Herrick leads the Braves scoring 15.5 per game.
The Braves got past a team with 6-foot-5 Daniel Cook in the lineup,  but Pittsford Sutherland has a pair of productive 6-foot-6 studs to toil with. What makes facing the tandem of Kevin Ryan and Matt Thaney extra difficult is that they hurt opposing forces in pretty different ways. John Nally and his staff will be utilizing the backcourt length of Craig Rosen, Josh Rosen and Benedict DiGiovanni to close gaps and dominate the space against all of those Canandaigua snipers.
Bishop Kearney at McQuaid Jesuit—Fri., Feb. 2, 7:30 PM
The flip side of the overtime game in Fairport last night mentioned above was McQuaid Jesuit getting its hands on a comeback win over the Red Raiders. Despite the Knights trailing by eight points late in the third quarter, they had executed a twelve-point swing by the time Kobe Long canned a perimeter jumper for a four-point advantage with under a minute left in regulation. After Jackson Sullivan sent it to overtime from the paint with seven ticks to go in regulation, McQuaid Jesuit cruised. It is not easy to win by nine points in a game that goes to an extra session. It is also hard to string together two better wins in the Rochester area these days than what Anthony Iglesia, Jermaine Taggart and company have done in the past three days against Leadership Academy for Young Men and Fairport.
Sitting in the blue bleachers for that overtime win by their soon-to-be opponent were Kevin Goode Sr., one of his assistant coaches in Jamar Gray and a handful of their Kings in team hoodies. Since star starting point guard Shykell Brown returned from injury, Bishop Kearney has impressed time and time again, even in losses. Those results included beating the side currently atop the Class AA standings around here in Rush-Henrietta in overtime and narrowly losing against state powerhouse Canisius High this past Saturday in a ballgame that included the Kings beginning the second half with a sixteen-point swing.
Charles Finney vs. Rochester Academy Charter School at Rush-Henrietta Senior High School—Sat., Feb. 3, 11:00 AM
When Rochester Academy Charter School and basketball are brought up together these days, it is usually in reference to how good the girls basketball team is right now over there in the former Mother of Sorrows Catholic School building that used to house the learning of NHL veterans Stephen and Brian Gionta. The boys basketball team of the school has a couple of supreme hardwood talents as well. In an outing for the Racers this past Friday against mighty Northstar Christian, senior guard Jevonny Brown scored a pair of head-turning baskets in the first half, including a stepback threeball, despite thorough defensive play by one of the biggest names in Section V currently in Miles Brown. It has been successful business as usual this year for Charles Finney with the Falcons presently ranked seventh in the state for Class C. The program reached state postseason play in Class D a season ago. Xavier Smith is a bull of an undersized frontcourt player. Keegan Ocorr has taken on more of a starring role for the Falcons this time around after being a perimeter offense role player as a sophomore.
SECTION V IN DIVISION I UPDATE
Nahziah Carter—Fr., Washington (Bishop Kearney)
Last time out this past Sunday, Carter accomplished the fourth double-digit scoring outing of his young collegiate career by recording eleven points on 4-of-6 shooting from the charity stripe and three rebounds in sixteen minutes off the bench against rival Washington State. Unsurprisingly, Nahziah flaunted his trademark springs along the way to those eleven points when he slammed home a pass from David Crisp with his forehead nearly grazing the rim. He has reached double figures in scoring in the last two ballgames that he has received over ten minutes of playing time in. Beginning during his final AAU season with The City Rocks, Carter drastically increased the quality of his perimeter shooting. He is certainly still displaying that trend at the collegiate level. Nahziah is currently shooting 42.9% from downtown for the bubblicious Huskies.
Former Bishop Kearney teammates Quinton Rose [@qrose_3] and Nahziah Carter [@_ClutchCarter] both got their oop on tonight. Rose had to adjust in the air to throw that down vs. Connecticut MBB. Carter had his eyes right next to the rim there vs. rival Washington State. // @sectvbb pic.twitter.com/MihYU3Wmsy

— Matt Trabold (@TrabsMatt) January 29, 2018
Antwoine Anderson—Sr., Connecticut (Bishop Kearney)
In a backcourt battle with a former Bishop Kearney teammate of his in Quinton Rose, Anderson went for eleven points on 4-of-7 shooting from the field, four rebounds and three assists for the Huskies against Temple. That was the first time in twelve games that Antwoine eclipsed double figures in scoring. He achieved double-digit scoring in seven of his first eight ballgames under Kevin Ollie and his staff. The fact that Anderson received starts here and there over that twelve-game stretch where he was not scoring the basketball that well is a testament to all of the contributions that he can make to a team that go beyond what is quantifiable by a stat sheet. Ollie frequently raves about the overall leadership of the graduate transfer from Fordham in media sessions.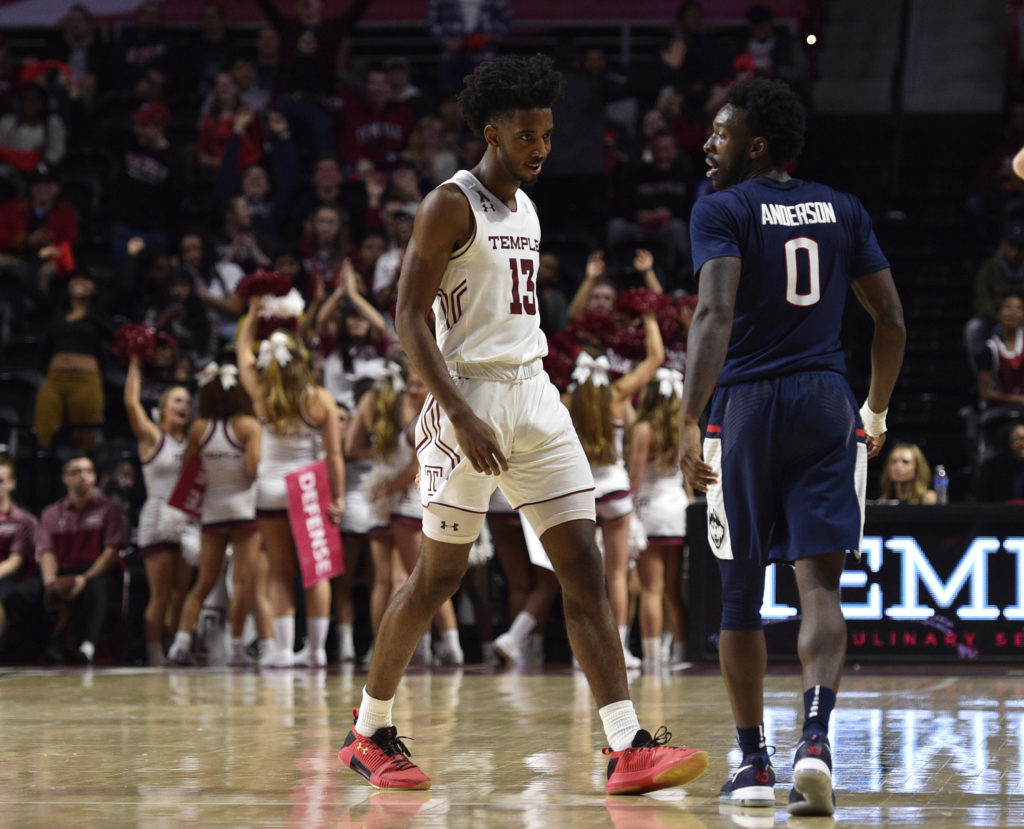 Deyshonee Much—Sr., Iona (Gates Chili)
While he only got his hands on four points in the overtime loss to Fairfield the last time out for the Gaels, Much tallied the fifteenth double-digit scoring performance of his senior campaign in the ballgame right before that. On that afternoon, Deyshonee went for a near triple-double of ten points on 4-of-8 shooting from the field, six rebounds, six assists and two steals against Manhattan. Iona is certainly not dominating conference play in the Metro Atlantic Athletic Conference this year thus far as much as many expected, but it is hard to pick against the pedigree of the Gaels in this day and age when it comes to which team from this conference snags the automatic bid to the NCAA Tournament.