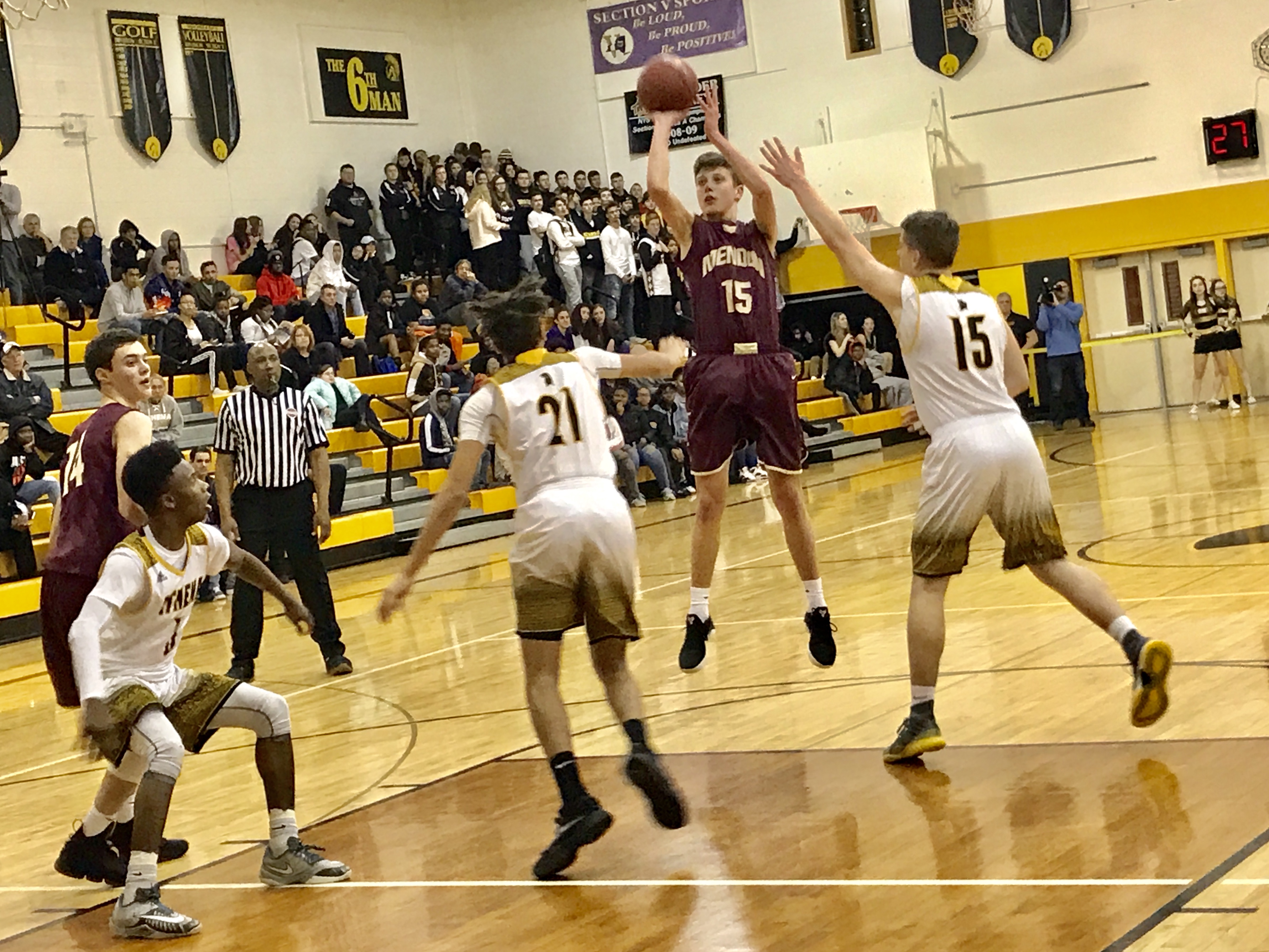 By PAUL GOTHAM
ROCHESTER, N.Y. — Four different players connected from behind the 3-point arc during a decisive stretch in the third quarter, and the Greece Athena boys' basketball team went on to defeat Pittsford Mendon, 84-75 in Monroe County Division III action, Monday night.
Slowed by first-half foul trouble, Athena's defensive adjustment sparked its offense.
"Our strength is getting the ball and going," second-year coach Mike Setzer said. "We just couldn't get in transition. Finally we got some turnovers."
With the game knotted at 36, Patrick Meisenzahl hit 3s on back-to-back possessions to spark a 15-4 run as the Trojans improved to 14-1/5-1 with their 11th straight win.
"Getting in transition was what really helped us the most there," Setzer noted.  "They took some long shots. We got some long rebounds."
Running the floor: @_Nigel___ finds @reaves_kelvin02 for 2. pic.twitter.com/dCYCkqZFFr

— Paul Gotham (@PickinSplinters) January 30, 2018
Christian Jones, Ryan Kubanka and Nigel Scantlebury added to the aerial attack as Athena needed eight possessions to score 19 points and take a 55-40 lead late in the third quarter.
"We had to go a little zone because we had too many guys in foul trouble," Setzer explained. "We made a little adjustment on the zone as to how we were going to play the top part of it. It was a 3-2.  That helped us to finally start getting out in transition."
Jones opened the fourth quarter with a pair of 3-pointers, and Kubanka hit a jump hook in the lane to give Athena its largest lead of the night at 69-48.
Using the upfake to get inside the zone, @reaves_kelvin02 connects on the floater for @GAHSBoysHoops pic.twitter.com/k2yNU4aM7G

— Paul Gotham (@PickinSplinters) January 30, 2018
But Mendon didn't go away.
Michael Harrington scored five of his career-high 29 points during a 15-0 stretch as the Vikings cut the deficit to five and had a chance to make it a one-possession game in the final minute.
"There's no quit in these guys," Mendon head coach Bob Nally said. "It was a bad start to the second half that really put us in a deep hole. They don't quit, and it was good to see."
Daniel Cook started the rally with a layup. Jacob Shadders followed with a corner 3 off an inbound play, and Harrington scored the next five. Matt Powers used a spin move in the lane to get to the bucket, and Cook made it a 73-68 game with a 3-ball from the top.
Michael Harrington gets to the rim for 2 of his 29 points on the night. @mendonbball pic.twitter.com/xRnCuPdp3e

— Paul Gotham (@PickinSplinters) January 30, 2018
It was still a five-point game at 75-70 after Harrington drove from the wing, but the Vikings could not get any closer.
"It was a tough five-minute stretch there," Nally said referring to the third quarter when Athena built an insurmountable lead. "They just poured it on. We couldn't get the stops we needed. We came out a little flat. We haven't had a third quarter like that."
The loss was the second straight for Mendon which dropped to 11-3/4-2 on the season. The Vikings had won 10 in a row leading up to last Friday's game against Canandaigua.
"Three losses, it's not the end of the world," Nally said. "It doesn't feel good to have two in a row, but I'm not really worried about it."
Dan Cook drills a 3 off the inbound for @mendonbball pic.twitter.com/o58mHStpWn

— Paul Gotham (@PickinSplinters) January 30, 2018
The game was originally scheduled to be played on January 5th, but severe weather postponed the contest. The same two teams will meet again on February 9th.
"Hopefully, we can have another competitive game and not give up a big run like we did in the third quarter," Nally said.
Athena entered play holding its last 12 opponents to 59 points of fewer. The Trojans hit 12 3-pointers in the contest and finished 14 of 15 from the free throw line.
Jones led five Trojans in double figures with 27. Scantlebury and Kelvin Reaves scored 15 apiece. Meisenzahl had 12 and Kubanka, 10. Johnny Salone added five points.
Cook scored 19 for Mendon, and Shadders had 11. Powers finished with nine. Conner Krapf scored five. Michael Kneuer had two.