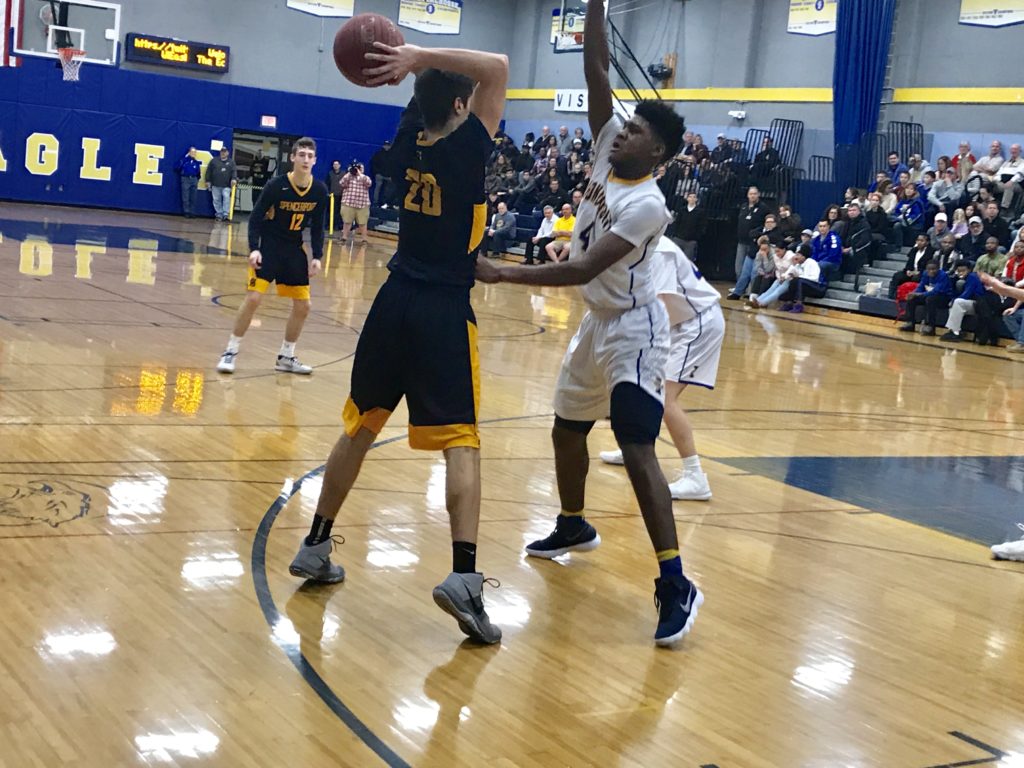 By PAUL GOTHAM
ROCHESTER, N.Y. — Gerald Drumgooole finished with 25 points on 9-of-15 shooting.
Josh Stenglein posted a career-high of 21 connecting on five of six shots from behind the 3-point arc.
Those numbers only begin to tell the story of the dominant performance put on display Saturday night by Irondequoit boys' basketball team.
By the final tally, the Eagles defeated the Spencerport Rangers, 75-44. Along the way, they handed out 19 assists on 26 made field goals. Of the remaining seven baskets scored, three occurred on rebound and putback opportunities which very likely would have added to the number of dimes dished if the first attempt in those sequences found the measure.
And so on a night in the middle of January at a time of the season when high school teams can easily lose focus with sectionals more than a month away, the Irondequoit Eagles looked as sharp as the meat slicers at the nearby Cooper Deli.
"We all played with energy and were looking for the open man to get him shots," junior point guard Frederick June, Jr. said. "A lot of people were hitting shots tonight. We all played great. Our transition and fast break points were really good."
Stenglein nailed a corner 3 on the contest's first possession to give Irondequoit an advantage it never surrendered. After eight minutes the Eagles led 20-6 on their way to a 23-point advantage at halftime. That number ballooned to 31 less than four minutes into the third quarter.
Spencerport never had a chance. The Rangers came into the game winners of their past two and three of four including a victory over then Class AA No.1 seed Rush-Henrietta earlier in the week. In that win, Spencerport held R-H to 59 points through four quarters before taking the game in overtime. Friday night, the Rangers limited Webster Schroeder to 49 points. On January 3rd, they held Victor to just 46.
By the time Drumgoole, June, Stenglein and the rest of the starting five left the floor after three quarters of play, the Eagles had hung a 63-spot on the scoreboard.
.@g_drumgoole24 drains a long 3-pointer at the 1st quarter buzzer as the @WIEagles cruise to 75-44 win over Spencerport on Saturday at @IrondequoitHS. @sectvbb pic.twitter.com/T3DdJboJqV

— Varsity Media (@VarsityMedia) January 21, 2018
VIDEO COURTESY OF VARSITY MEDIA
"We just knew we had to step our game up because Spencerport was coming off a big win," said Drumgoole who came into the contest leading Monroe County Division II averaging 21.9 points per game. "We knew if we came out sluggish and not ready to play then they could potentially take the game from us.
"Our focus was to play our game, play fast and play with energy.  Hopefully we could do that, and we did. Thankfully everybody was able to play and everybody was able to get quality minutes and have fun playing the game."
The win was the fourth in seven days and seventh straight for Irondequoit (10-2/4-0). Postponements forced scheduling changes, and the Eagles opened the week on Sunday with a victory over East in the East High/RAP Invitational. They followed with a win over Victor on Wednesday before beating Greece Arcadia, Friday night.
"It was a little tiresome," Drumgoole said of the week's slate. "But we managed to bounce back and we knew that we had tough opponents coming up. We just played our hearts out every game."
Drumgoole collected nine rebounds and four assists.
June scored just three points but handed out six assists without a turnover. The junior guard also drew the assignment of slowing Spencerport's Josh Reding.
Frederick June, Jr. finds Tanner Pioch with ☝️ of his 6 dimes on the night. @WIEagles pic.twitter.com/GDCQQrPkAi

— Paul Gotham (@PickinSplinters) January 21, 2018
"I know he's a good player. He's very quick," June said of Reding who finished with eight points on the night – six under his season average. "I forced him to his opposite hand and made him pick up the ball a lot. I just focused on trying to keep him from shooting.
Stenglein, who scored a total 19 points in Irondequoit's first four games, is averaging 11.6 over the last eight contests. The 6-foot-2 junior has found a role in getting lost on the offensive end the floor. As opposing defenses look to neutralize Drumgoole and June, Stenglein is taking advantage of the open space on the perimeter.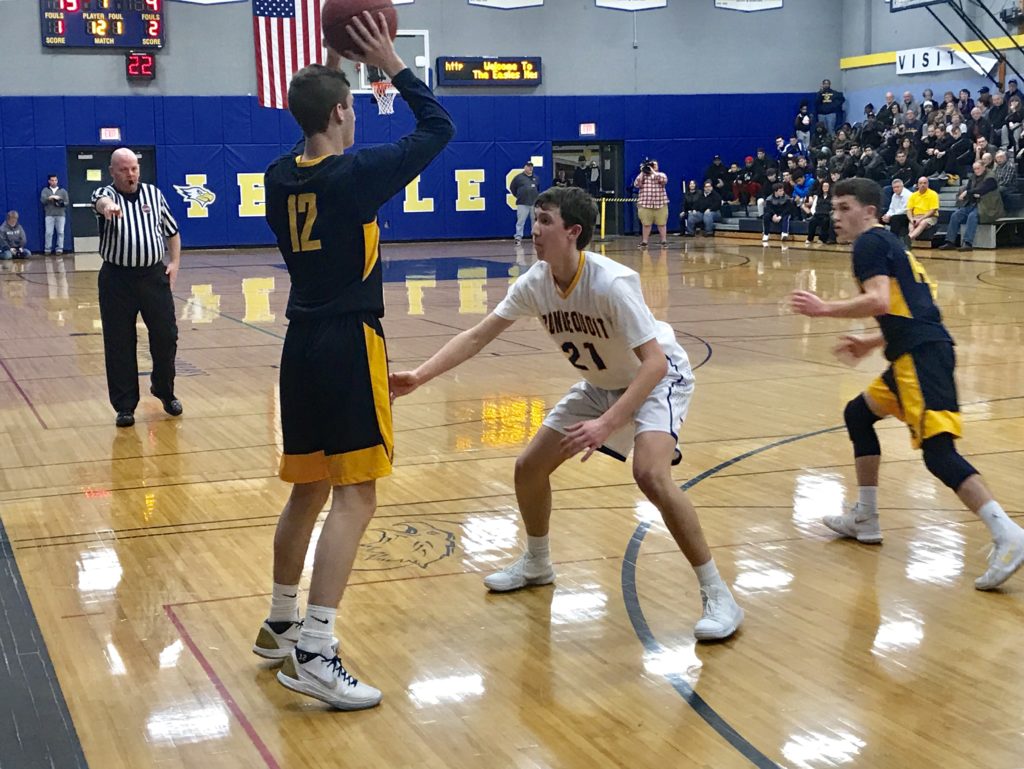 "They're so good that they draw attention and I'm more wide open to knock down shots," Stenglein said of his teammates. "I made my first shot which gave me a confidence boost. They just kept going in from there."
Irondequoit also received some more good news in that Patrick Thomas will be returning to the lineup soon. Thomas injured his wrist on December 21st and has missed the past eight games. The junior forward was on the bench Saturday with the splint removed.
Other scorers: Irondequoit – Jack Brennan (2), Robert Diaz-Judson (3), Luke Melidona (1), Tanner Pioch (8), Keegan Vankerhove (3), Kenny Gonzalez (4) and William Porter (5). Spencerport – Malcolm McCollough (6), Evan Clarke (2), Noah Mundt (13), Josh Pierre (2), Alton Jones, Jr. (3), Ben Reding (3), David Stewart (2) and Gino Pellett (5).