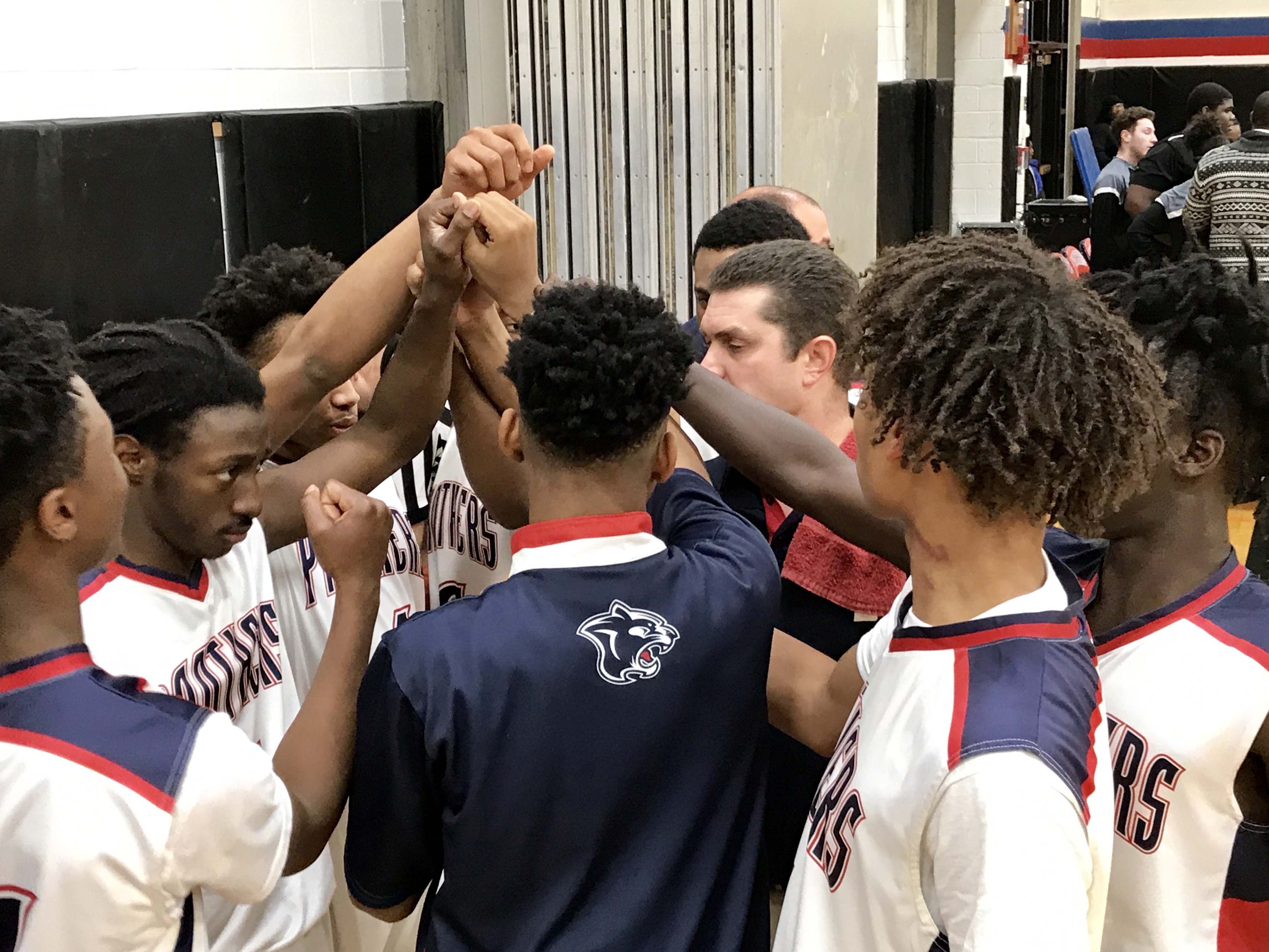 BY PAUL GOTHAM
ROCHESTER, N.Y. — For the NE Douglass Panthers, Thursday night's RCAC matchup should have been an afterthought. Instead it became a display of unity.
Kyle Crandall and his Panthers knew going into the day that they would be without their starting backcourt. By game time, they faced the reality of two other teammates playing with heavy hearts.
"So many times as a basketball coach we focus on the Xs and Os and what needs to be done with a scouting report for the other team," Crandall said by phone Friday morning. "Before yesterday's game, while we certainly had some strategy to employ, it was more about being there as a family for each other and really try to play for the guy next to you instead of worrying about yourself."
With leading scorer Jiahmere Mitchell attending an out-of-state funeral and starting point guard Maurice Glenn still suffering the effects of an illness that kept him out of school most the week, the Panthers knew the challenges ahead when taking the court against East High Eagles.
Then two others Panthers received tragic news prior to Thursday's tipoff – one the death of a close family member and another the passing of a close friend.
"Basketball really was put on the back burner, and the team for these kids was an extension of their family," Crandall said. "We did everything we could to pick each other up and play hard. Not worry about the result, but just play hard and play for each other. That's really what they did. They overcame a lot of adversity."
On the hardwood, NE Douglass faced a resurgent East High squad which had won three straight after dropping their first five games. Early in the first quarter, the Panthers fell behind by as many as 11 points.
"We knew that East was going to attack us with a ton of pressure," Crandall explained. "They do that all the time whether it's in the full court or the half court. They like to pressure."
Without Glenn and Mitchell, others would have to step into different roles.
Adonis Flagler netted 10 of his game and season-high 26 points during the second quarter, as the Panthers turned the double-digit deficit into a seven-point halftime advantage on their way to a 63-58 victory. The sophomore guard/forward put an exclamation point on the stanza with a 35-foot shot with three seconds to go in the half.
"That was a huge shot," Crandall said. "It was a really big confidence booster for our kids at halftime."
It was Flagler's second 3-ball of the quarter. He eventually connected one more time from long range.
"Adonis got the ball in bound full length of the court and took a few dribbles. He could have taken two or three more dribbles but pulled up from about 35 feet, just over half court and swished a three.
Sophomore Lamar Lovelace took over the primary ballhandling responsibilities in Glenn's absence.
"He's really been our engine and catalyst for our offense this year," Crandall said of Glenn who has better than a 2:1 assist to turnover ratio.
Lovelace connected on three of four free throws in the game's closing moments as East cut the NE Douglass lead to two.
"He was huge down the stretch. It was a real gutsy performance."
Chaz Washington scored nine of his team-high 23 points in the first quarter to pace East High to a 17-11 advantage after eight minutes.  Teammate Kni Jear Sapp scored all 12 of his points in the second half. Jordan Randolph had nine. Kaori Barley added eight. Freddie Brock scored three points. Maurice Coney III had two points, and Deshaun Holley one to round out the scoring for the Eagles.
Flager grabbed 11 rebounds for NE Douglass. Trevion Miller had 10 points and seven rebounds. Miguel Santos scored 13. Lovelace finished with six. Adaile Becoats, Nicolas Jenty, Marquis Reed and Lonnie Watkins Jr. scored two apiece.
NE Douglass improved to 6-4 with the win – their third in the last four games.
"For our kids the message really was about chemistry and unity. It's really powerful that when adversity strikes and backs are against the wall, how much stronger a team can be if they pay together and play for each other. I was blown away. I was so proud of them in terms of their response yesterday."