By PAUL GOTHAM
ROCHESTER, N.Y. — So much for a pregame shoot around.
The Greece Athena boys basketball team gathered Friday afternoon for what some may consider a light exercising of offensive skills. The Trojans, though, spent the session emphasizing their efforts on the opposite end of the floor.
It was time well spent.
In a game where their defense dictated pace, four different Trojans scored in double figures as Athena cruised to an easy 67-49 victory over the host Hilton Cadets in the 2017 Hilton Holiday Hall of Fame Tournament final.
The Trojans sprinted to a double-digit lead in the first quarter and never looked back. By halftime, they had forced 11 turnovers, allowed just eight field goals and led 35-21.
"We do a lot of talking about our offense because we have some guys who can score," second-year coach Mike Setzer said.  "But we're really trying to take pride in defense. At shoot around earlier today, that was our focus. The kids were really up for the challenge."
Facing their only deficit of the night at 4-3, Athena allowed just one field goal over the next nine possessions. Christian Jones knocked down a pull-up jumper for a 17-6 advantage with 1:25 to go in the first quarter.
VIEW MORE CHRIS ROACH PHOTOS HERE. 
Hilton did not get within single digits again.
"We made it tough for them to score," Setzer stated. "When you play defense like that, it sparks your offense. That's what happened in the first half."
The Trojans, which have had three individual performances of 29 points or more in their first seven games of the season, had seven different scorers in the first 16 minutes of play. None had more than eight points.
Ryan Kubanka ???????????? End 3rd: @GAHSBoysHoops 51 Hilton 32 pic.twitter.com/inzMqU2n7B

— Paul Gotham (@PickinSplinters) December 30, 2017
"Our rule is give it up early and then you got a chance to get it back," Setzer explained. "You get the ball on defense off a turnover and you look up. Give it up and get it back. That's what we were doing."
Jones netted 39 points in Athena's third game of the year. Friday night he drew the top defensive assignment of having to cover Hilton's Tah-jae Hill.
Hill scored the Cadets first four points. He converted a rebound and putback. Next time down the floor, he used a scintillating crossover dribble to get in the lane for two.  He went to the bench early in the second quarter after picking up his second foul of the game (both on the offensive end) when Jones drew a charge on the 6-foot sophomore guard.
Tah-jae Hill converts the rebound and putback for @Hiltonhoops pic.twitter.com/VeVYOGvCTb

— Paul Gotham (@PickinSplinters) December 30, 2017
"We challenged Christian especially today," Setzer said. "He had to cover Tah-jae. I thought he did a really good job."
Ryan Kubanka paced an 8-0 run early in the third quarter to push the advantage to 20. The senior forward converted two from the free throw line and used a spin move next time down the floor to set up a layup. Johnny Salone hit two of his own from the charity stripe and the Trojans led 43-23.
"His shooting percentage is through the roof," Setzer said of Kubanka. "He's been very efficient."
Athena didn't let up and scored the first eight of the fourth quarter to grab its largest lead of the day. Salone took a feed from Jones for two. Next time down the floor, the junior forward followed his own miss for another deuce.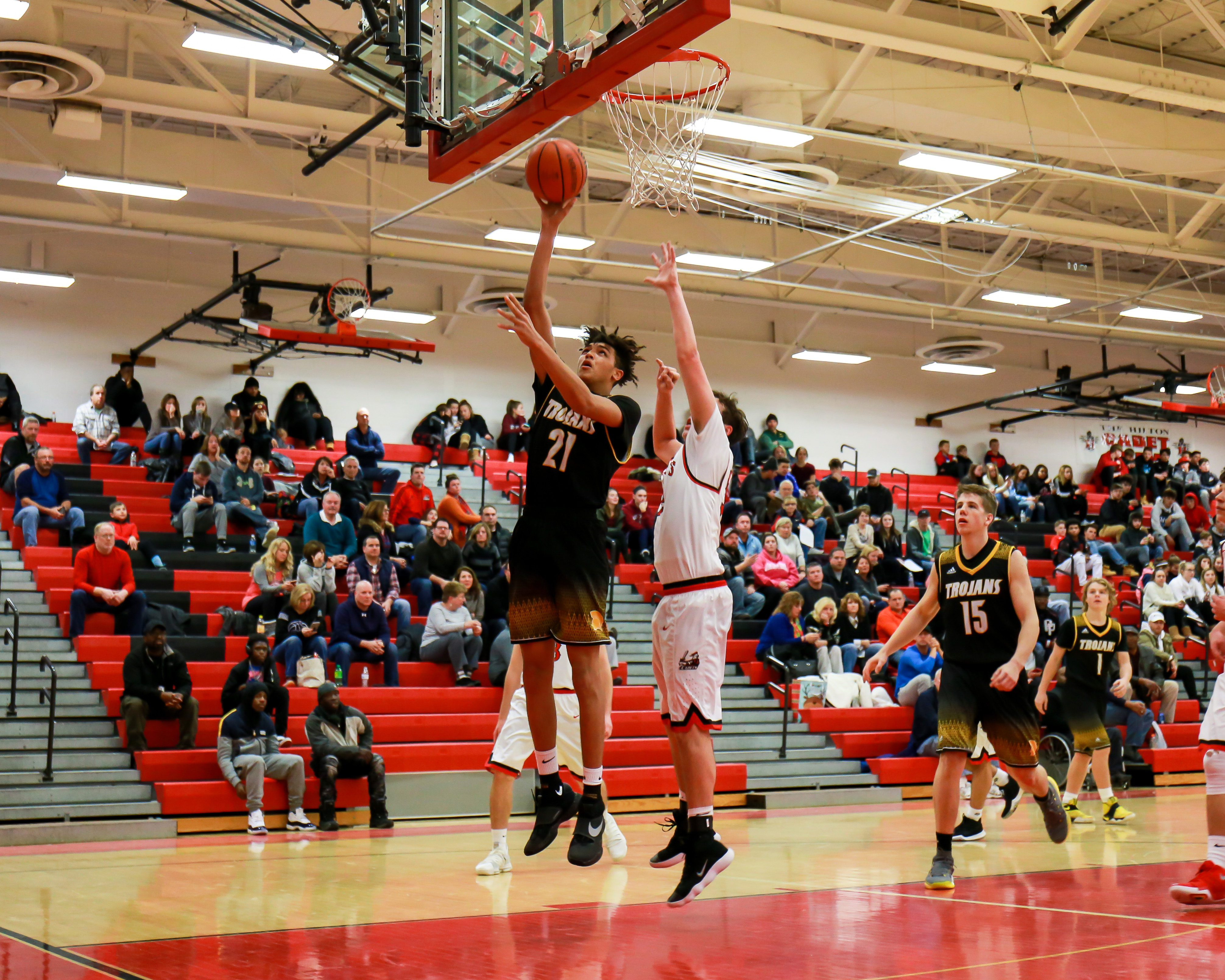 VIEW MORE CHRIS ROACH PHOTOS HERE.
Jones found Nigel Scantlebury with a no-look pass for a bucket, and Scantlebury got loose on the wing for a drive, basket and a 59-32 Trojan lead.
Christian Jones finds Nigel Scantlebury for 3. pic.twitter.com/4haF06a1eQ

— Paul Gotham (@PickinSplinters) December 30, 2017
"We're starting to click," Setzer said. "Our chemistry isn't yet 100 percent, but it's starting to get there. You can tell by how often we're passing. We're starting to share the ball and trusting each other."
Kubanka and Scantlebury scored 14 apiece. Jones and Salone had 12 each. Pat Meisenzahl and Kelvin Reaves both scored five. Melvin Council, Jr. had three and Isaiah Brock two for Athena (7-1).
Mitch Carr and Noah Malta scored 10 apiece for Hilton (3-5). Colin Burkis had eight. Napier Daniels and Joey Lipani both chipped in five. Joey Gombatto had three. Morgan Kunigan and Nick Walsh added two each. Hill finished with four but, as reported by the Democrat and Chronicle, left the game in the third with a possible concussion.