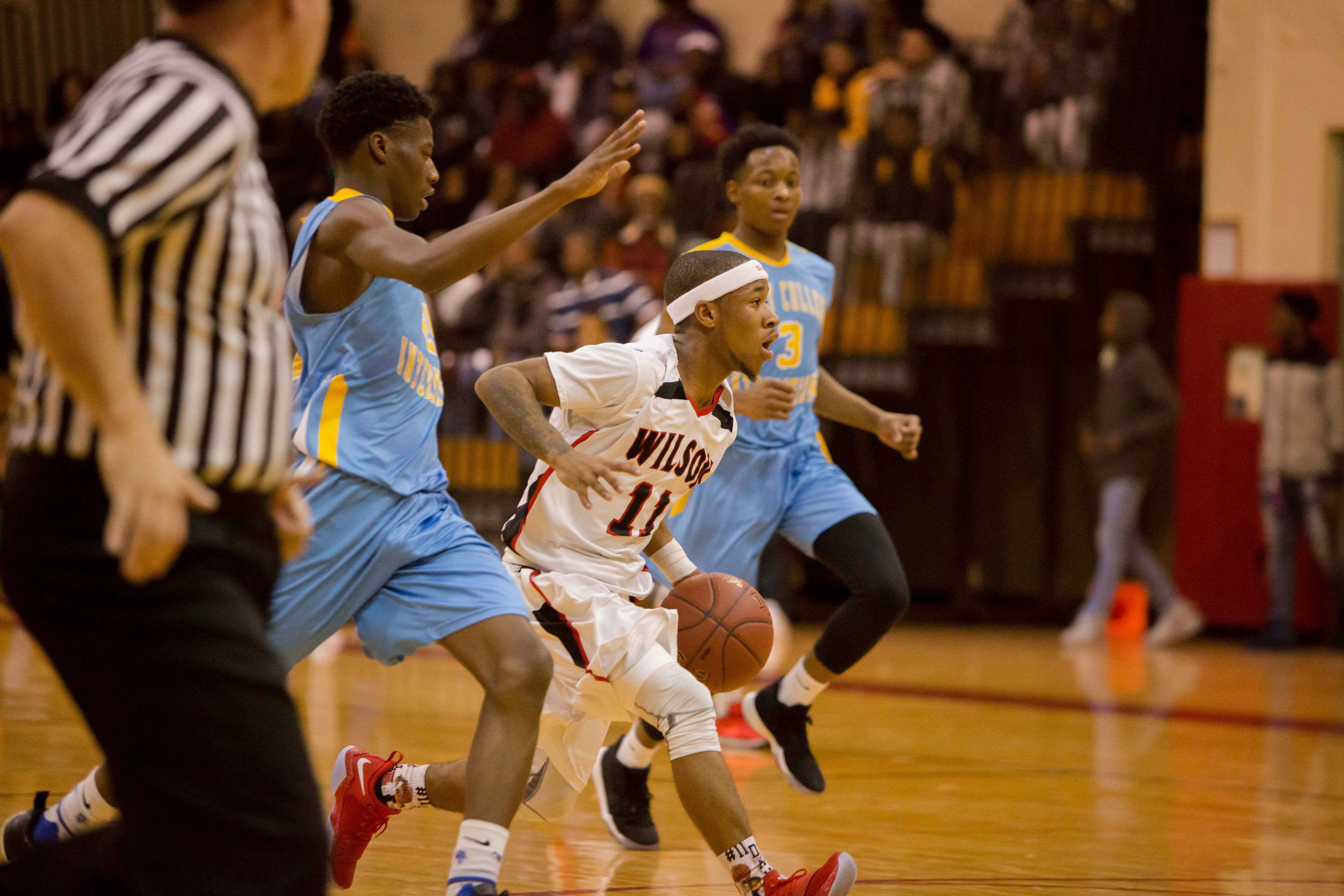 BY MATT TRABOLD
TRABS KEEPS TABS
Best of the 2017 Side of this Season
With the New Year quickly approaching in six days, the column had to churn out some words about the best moments of the 2017 side of this 2017-2018 campaign in Section V. We will keep the superb basketball memories to this season rather than the 2016-2017 one as to give the appropriate amount of love to the figures that are making this sport in this area great at this very moment.
As far as the best games that I have personally been able to attend this season thus far, the two that come to mind went down at Roberts Wesleyan College and East Rochester Junior-Senior High School. A common theme in each of those tussles was exciting trash talk amongst very real competitors. The former pitted University Preparatory Charter School for Young Men and Greece Athena against each other on what has become the home floor for the Griffins over the past couple of seasons. The Griffins and the Trojans were knotted at the same exact score after both the second quarter and the third quarter. Jabez Thomas and Ryan Kubanka are usually known for talking just about all of their best talk with their play on the court, but those two elite current Section V big men also threw in some strategic talk against each other through the more traditional vessel.
One of the top plays of the first half in that one was Thomas rising to hammer through a tip slam after the shot of a teammate missed high off the backboard. One of the big reasons Greece Athena was able to come out with a victory is the exhilarating way in which Christian Jones and Nigel Scantlebury scored off driving in the second half.
The other ballgame referenced above happened this past Wednesday night. One of the biggest draws of that one going in was the bouncy duo of tall and young guard brothers for the Lyons Lions in junior Justice Smith and freshman Justin Smith. The older Smith brother definitely lived up to the hype in that home game for East Rochester with the manner in which he was getting to the lane to score many a time and protecting the rim on the other end. The player that really stole the show though competed for the home side. Whether it was a no-look toss to set up a corner threeball for a teammate, a baseline drive ending in a layup that saw him slap the backboard or a successful triple try of his own, Mat Cicero was mesmerizing. Cicero and Justin Smith were consistently woofing at each other for much of the game. That just added to the spectacle. Lyons led by a pair of points going into the final frame, but Cicero and fellow backcourt senior Ben Pope played so well in the fourth quarter that it ended up being a comfortable win for the Bombers.
When it comes to the best plays of this Section V campaign so far, two of them occurred within the last six days. One of those was pulled off by Cicero against the Lions. It essentially served as the dagger in that victory by his Bombers. Justin Smith attempted to hit his older brother with a long baseball pass in transition in the fourth quarter. The pass was mighty, but Cicero leaped in to jump the route. The East Rochester senior wasted no time after pulling off that defensive stop. He immediately chugged towards the tin. When a pair of Lions stood in his way in the lane, he hopped, crunched his body into what almost resembled a cannonball attempt into a pool to get below their arms and unraveled back into his normal height with enough time for a circus layup while hitting the deck.
Plays at the Section V games I covered this week were extra way wavy. ● @Anthonyg0221 @MatCicero5 @HockeySchroeder @_AnthonyIglesia @Phall35 pic.twitter.com/rEb4iHA0Tb

— Matt Trabold (@TrabsMatt) December 24, 2017
This other play went down this past Friday night in a rivalry game between McQuaid Jesuit and Aquinas Institute. With the Knights boasting a sizable lead in the second half, a rebound came off the rim long to an already running Anthony Iglesia. At full speed with a larger defender in his path, Iglesia brought the ball behind his back without traveling and expertly put the rock off the square and in with a reverse layup. Cheers were had by many in that gymnasium to say the least.
.@_AnthonyIglesia of @MJSNetwork15 is a bad man. Scratch that. He is a bad, bad man. Jelly. Jam. Marmalade. Preserves. pic.twitter.com/9a5SMNxymE

— Matt Trabold (@TrabsMatt) December 23, 2017
SLAP YOUR PEEPERS ON THIS FIVER
Irondequoit at Rush-Henrietta—Wed., Dec. 27, 6:15 PM
The biggest storylines going into this one at the holiday tournament at Rush-Henrietta arguably have to do with availability concerns surrounding the most explosive player for each side with Patrick Thomas for the Eagles and Shamire Broyld for the Royal Comets. Thomas was injured during Irondequoit's most recent contest. Broyld has played in three of the Royal Comets' six games thus far this season. Those concerns make the most anticipated individual battle in this ballgame a matter of 6-foot-3 Malek Williams of the home squad against 6-foot-5 Gerald Drumgoole on the wing. The backcourt tandem of Kailee White and Mecca McCullough has been difficult to stifle this season so far for Chris Reed and his staff. Frederick June Jr. at least has the size to possibly combat the 6-foot-3 White. The real question mark is whether or not Robert Diaz-Judson and the rest of the rotation guards for the Eagles have what it takes to shut down McCullough.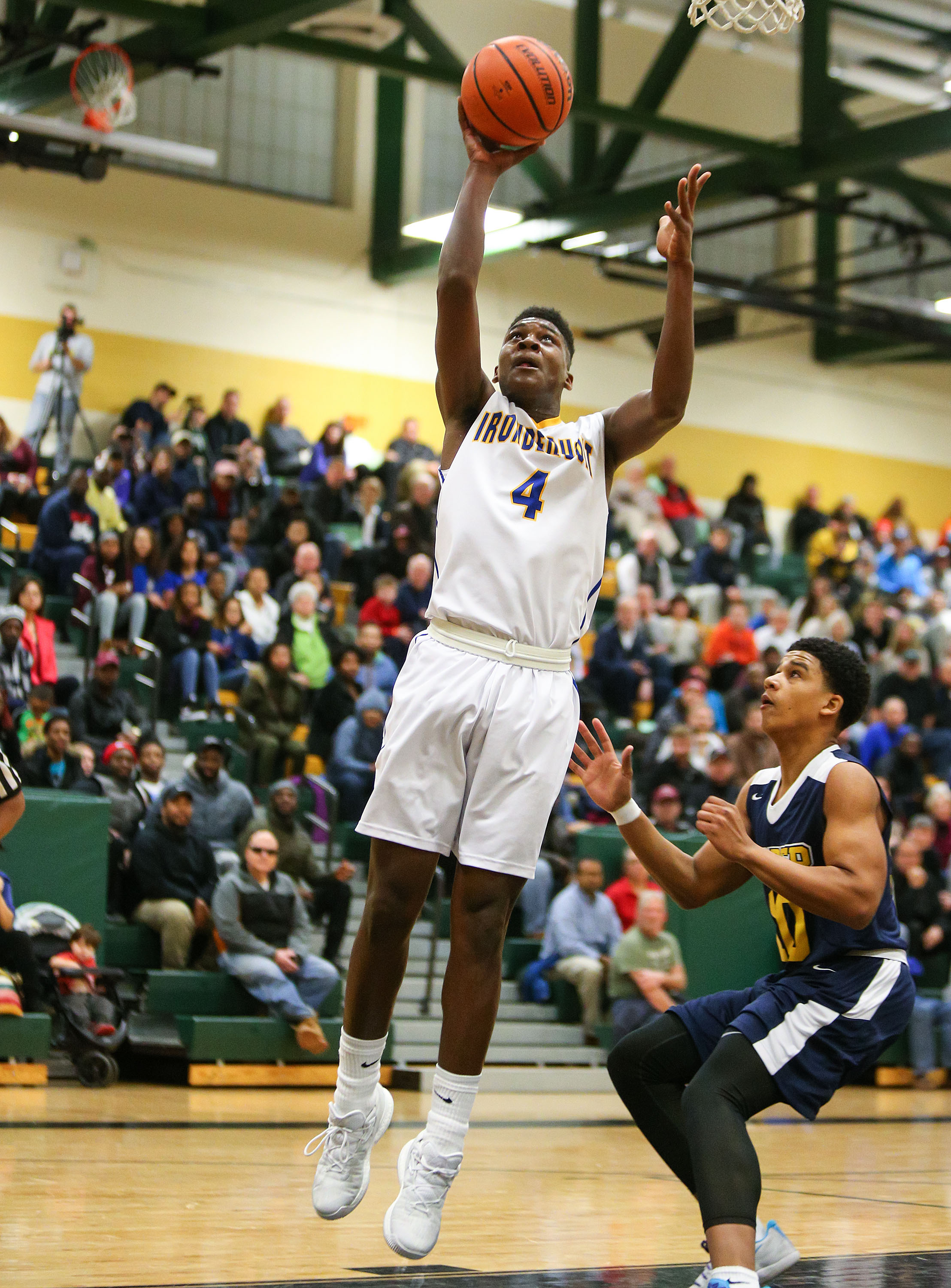 VIEW MORE CHRISTOPHER CECERE PHOTOS HERE.
University Preparatory Charter School for Young Men vs. Bishop Timon-St. Jude at Rush-Henrietta Senior High School—Wed., Dec. 27, 4:30 PM
The other contest on the first day of this installment of the holiday tournament at Rush-Henrietta features a deep team from the Buffalo area that narrowly dispatched of Bishop Kearney on the road this past weekend in Bishop Timon-St. Jude. Preventing Jabez Thomas from posting a strong performance is a trying task for any high school team. The Tigers boast Master Radford (and we are not speaking of the Highlanders from the collegiate ranks and Artsiom Parakhouski) though, and he blocked just about everything in sight against Bishop Kearney this past Saturday afternoon. Alero World spends much of his time on the offensive end on the perimeter, but he is still another big body for Bishop Timon-St. Jude.
This one also contains a notable battle of point guards behind Jakhi Lucas for the Section V side and Tahron Goudelock for the Section VI side. Goudelock never stops running and usually finds a way to be productive in transition. A springy 6-foot-2 sophomore for the Griffins in KayShawn Ross has been emerging recently.
Wilson Magnet at Penfield—Wed., Dec. 27, 7:45 PM
Both the Wildcats and the Patriots have notable backcourts in the Section V ranks this year – just for different reasons. Robert Davis is virtually unstoppable when it comes to getting quality shots off despite standing 5-foot-7. 5-foot-10 sophomore Tory Bradley is starting to follow in the sleek footsteps of Davis. Penfield senior point guard Isaiah Preston is a linebacker of a backcourt player that has been producing at a high level in this area for three years now. 6-foot-1 Desi Floyd plays much taller than he stands for Wilson Magnet due to his athleticism in all facets of the game and drive to throw his body into the lane on both ends. 6-foot-4 brothers Bryson Scott and Dyllon Scott can both get to the rim with ease for the Patriots. Their father spent his first two seasons in the collegiate ranks with Syracuse University. The Wildcat maybe most equipped to combat those brothers is rangy 6-foot-3 sophomore Brennan Clark.
Greece Athena vs. Bishop Kearney at Hilton High School—Thurs., Dec. 28, 6:15 PM
A sultan of spring for the Kings in the form of 6-foot-4 Irondequoit transfer Anthony Gray might offer up a new kind of challenge for the Greece Athena three-headed starting guard monster of Christian Jones, Nigel Scantlebury and Patrick Meisenzahl due to him having a bigger body than any member of that trio.
Plays at the Section V games I covered this week were extra way wavy. ● @Anthonyg0221 @MatCicero5 @HockeySchroeder @_AnthonyIglesia @Phall35 pic.twitter.com/rEb4iHA0Tb

— Matt Trabold (@TrabsMatt) December 24, 2017
The injury to Shykell Brown has caused Bishop Kearney to have a record at this point in the season that is not as good as many expected coming into this campaign, but Kevin Goode Sr. and his staff still have a more than talented six-man rotation to employ.
To pull off this upset at the holiday tournament at Hilton, the Kings will most likely need an impressive showing in the trenches out of 6-foot-6 Jordan Love against Johnny Salone and Ryan Kubanka. Love grabbed a rebound off his own missed shot attempt over a pair of Bishop Timon-St. Jude players, took one dribble and scored in traffic to cut the deficit to just four points with 2:11 remaining in regulation this past Saturday afternoon. That tally was part of a 21-3 run by the Kings after they trailed the Tigers from Section VI by 24 points late in the third quarter.
East High at Early College International—Thurs., Dec. 28, 6:15 PM
Both of these clubs out of the Rochester City Athletic Conference graduated a ton of talent from their stout groups a season ago. At the forefront of the rebuilding efforts for the Eagles is Maurice Coney III. The junior guard possesses a leadership mentality on the court, thorough vertical athleticism and a solid wingspan that he utilizes plentifully on the defensive end. Joining him in the East High backcourt is the one real holdover from what the Eagles put on the floor last year in Chaz Washington. Another junior for Darrell Barley and his staff in Jordan Randolph is one of the biggest bodies currently in Section V. As he keeps honing his offensive repertoire, Randolph could easily produce at a high level come sectional time later this season. Early and often this campaign, Shedrick Smith has displayed that he is capable of properly attacking opponents from inside and outside for the Cobras. Along with Jiahmere Mitchell from Northeast Douglass, Prophet Hampton is one of the best in the Rochester area right now at breaking the ankles of a defender and immediately pulling up for a successful jumper.
AND ONE MAYBE FOR GOOD LUCK
Aquinas Institute (possibly) vs. Bishop Ludden—Thurs., Dec. 28
If Aquinas Institute pulls off the difficult task of beating Liverpool out of the Syracuse area on Wednesday at the holiday tournament at Bishop Ludden, then those boys have a chance at some revenge against the host Gaelic Knights. In a game on Dewey Avenue last season between the two sides, three-star recruit Mika Adams-Woods beat Aquinas Institute just before the final horn.
MIKA ADAMS-Woods aka #SHOESTRINGS Hits Buzzer Beater @_egb23 @buddy21352135 @TheCityRocks @_ClutchCarter @KevanJr @UMassBasketball @UW_MBB pic.twitter.com/RvPmOXkctl

— NEW RECRUIT MEDIA (@NewRecruitMedia) June 19, 2017
Adams-Woods transferred to New Hampton School in New Hampshire for this season, but Bishop Ludden returned Jai Smith. The 6-foot-8 Smith is rated as a top twenty Class of 2021 recruit by national recruiting services. 6-foot-4 Kidtrell Blocker and 6-foot-10 Tyler Warner were not able to play against McQuaid Jesuit last time out. They would certainly be a sizable help in this one if it happens.
SECTION V IN DIVISION I UPDATE
Nahziah Carter—Fr., Washington (Bishop Kearney)
Nahziah had arguably the best game of his young collegiate career a week ago as he went for eleven points on 5-of-5 shooting from the field in nineteen minutes against Bethune-Cookman. That performance included hitting his only shot attempt from downtown on the night and almost immediately following that up with a dunk on the break as part of a 14-0 run for Washington in the first half.
Carter THREE!
Carter DUNK!

Washington on a 14-0 run to lead 22-10. #TougherTogether pic.twitter.com/vmRAwViRDo

— UW Men's Basketball (@UW_MBB) December 20, 2017
Since the recent stretch that saw the Huskies doing battle against ranked sides in Kansas and Gonzaga in consecutive games, Carter has gone for 8.7 points an outing in just 17.3 minutes of playing time an outing against Loyola Marymount, Bethune-Cookman and Montana.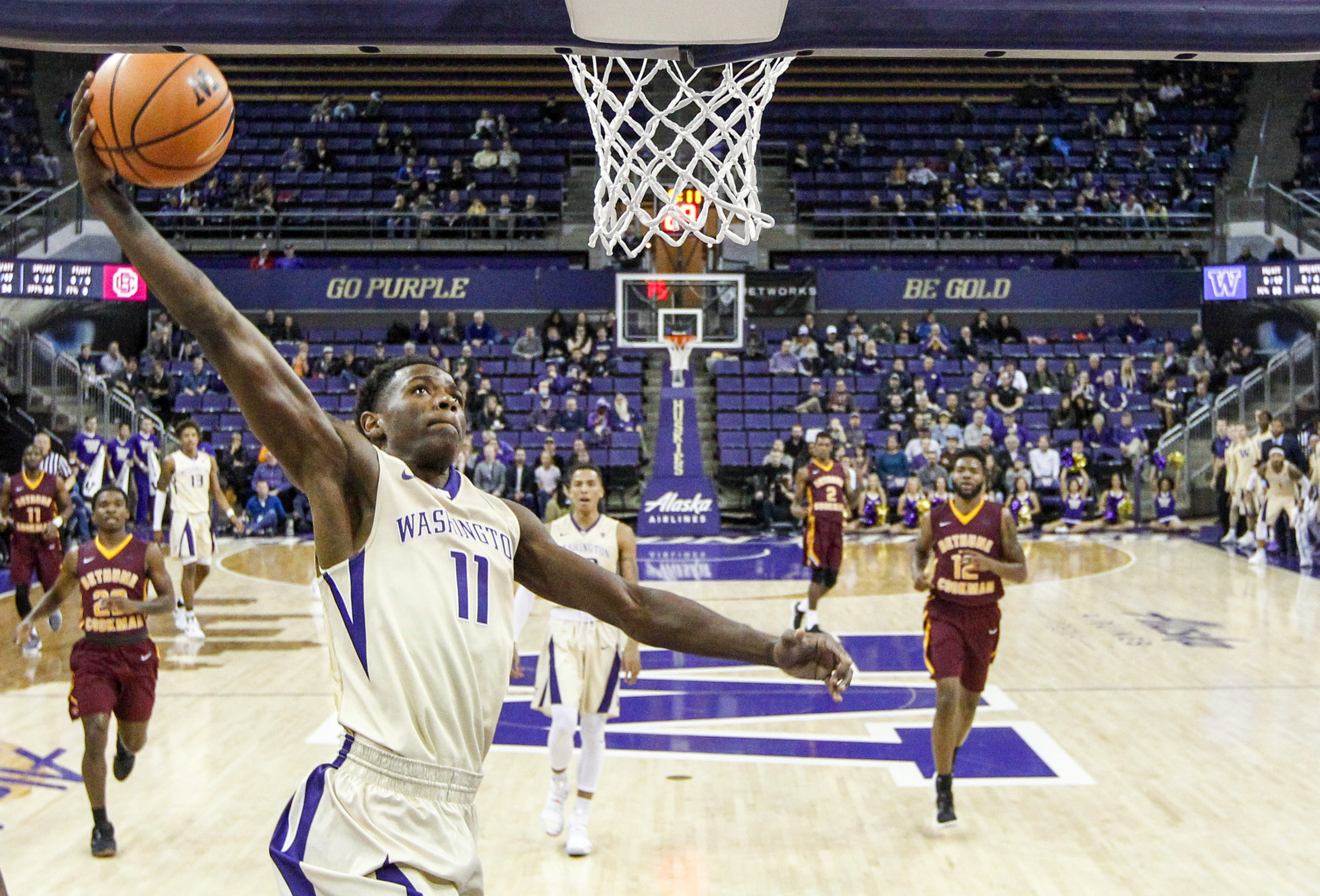 Anthony Lamb—So., Vermont (Greece Athena)
This past Thursday against Quinnipiac, Lamb did not put up quite as many points as he did versus St. Bonaventure when he returned to play in the Rochester area for the first time, but the performance still wowed many. Due to a good amount of his points coming off of 13-of-14 shooting from the charity stripe against the Bonnies, Lamb actually hit more shots from the field versus the Bobcats as he recorded twenty points on 7-of-13 shooting overall, six rebounds, two assists, one block and not a single turnover last week. He is currently posting better scoring, rebounding and assists numbers than he did in his phenomenal freshman campaign.