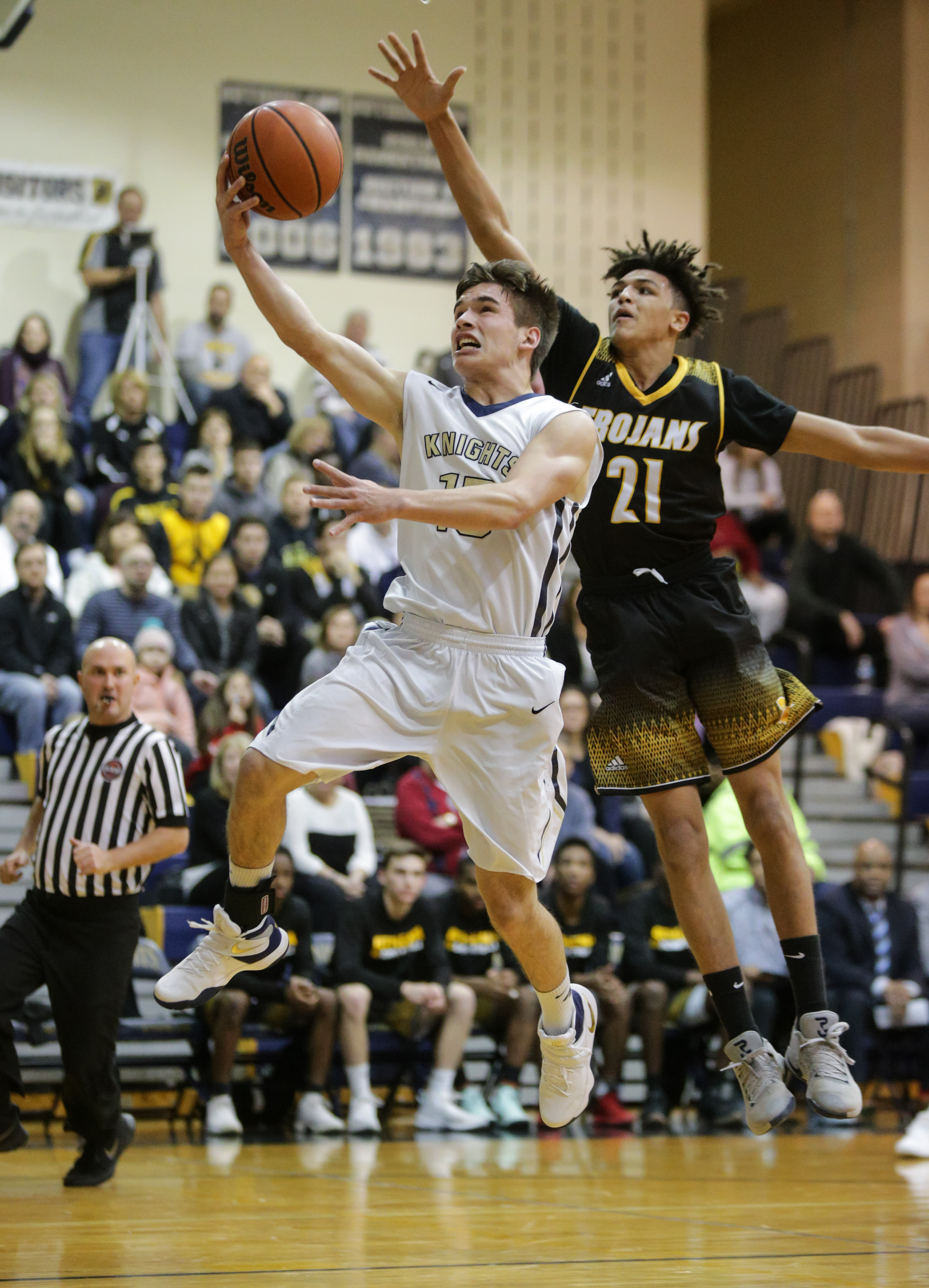 By MATT TRABOLD
TRABS KEEPS TABS
Many a Gift for Fans in Section V This Season
The country being deep in giving and receiving gifts during these winter holiday times offers up an excuse to put together some superlatives of sorts based on the themes of the calendar season for certain boys basketball players in Section V at the moment. This area has plenty of visual gifts in the form of the play of many scholastic hardwood talents this campaign to have cheer for during this time of the year.
There is no way around it. Most people first think of Santa Claus when it comes to figures during the winter holiday times. Section V boasts a wide array of young men capable of expertly handing out the specific gift of assists. 6-foot-3 Kailee White might be the leading scorer right now throughout all of the Monroe County divisions with 26 points an outing for Rush-Henrietta, but he has been so focused on getting his teammates involved over his high school career that one of the nicknames for an assist used to be part of his Twitter handle. With White scoring so much driving to the basket this year, he frequently draws over a second defender. Then, he has no problem supplying the open man with a dish. Venturing outside of the Monroe County divisions, maybe the best dribbler in the area over the last few seasons in McQuaid Jesuit senior Anthony Iglesia uses the same adeptness that drives his talent handling the basketball to execute countless awe-inspiring assists.
VIEW MORE CHRISTOPHER CECERE PHOTOS HERE. 
He is not the focal point of quite as many movies as the red-clad gentleman mentioned above, but the Grinch is another winter holiday figure that can be related to exploits on a basketball court. Yes, that is referring to steals. Following the graduation of Zach Stenglein from Irondequoit, the Section V ranks were hankering for some polished pickpockets on a basketball court coming into this campaign. One player around here that has already come away with quite a few steals this year is 6-foot-4 Edison Tech senior Marquan Anderson. The tallest player on a basketball roster is not always one that plays at the front of the defense, especially when said defense is pressing. This is such an asset for Jacob Scott and his staff with the Inventors because Anderson moves well enough with that daunting height and lengthiness to hound smaller dribblers, hop into passing lanes and then be able to do something with the rock in transition afterwards.
Another of the top on-ball defenders in the Rochester area right now stands seven inches shorter than Anderson. Gates Chili junior Keith Slack uses his slightly shorter stature to his advantage on the defensive side of the ball though. Slack utilizes it to get low when guarding a single offensive player or trying to come away with the basketball through a more populated area of the floor. Getting low the way that he does gives him a better view and shot at getting at least a finger on the rock as he ducks under some shoulders and arms.
A major part of "I Have a Little Dreidel" is the chorus of the song mentioning that the toy is molded out of clay. This Section V boys basketball season has been no stranger to many exciting role expansions in which a coaching staff has had to mold a prior bench player into a top option due to what personnel was lost from the season before. Fairport is an easy one for this list because Scott Fitch always finds a way to make his team competitive, and the squad lost its best nine scorers from last year. The best role expansion on those Red Raiders at the moment is arguably 6-foot-5 senior Jackson Sullivan. When Sullivan digs in with his back to the basket in the post, it is difficult to stop him from scoring off one of his many post moves. He is impressive at rolling his shoulders off the shoulders of a defender down low with a quick spin to usually score on a reverse layup via using the rim as defense from the defense.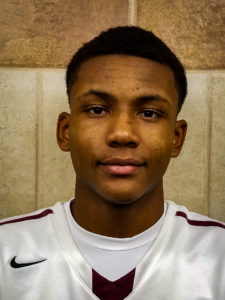 6-foot-4 Aquinas Institute sophomore Kidtrell Blocker joined the varsity squad over there a chunk of the way into last season. Now, not only is Blocker showing why he is one of the best vertical threats in the section presently, but he is also flaunting an improved outside shot. Kidtrell has led Aquinas Institute in scoring in four ballgames already this year.
SLAP YOUR PEEPERS ON THIS FIVER
Eastridge at Pittsford Sutherland—Tues., Dec. 19, 7:30 PM
This past Friday night, the Knights firmly staked their claim for the title of which team in the sport should be considered the best one in Section V at the moment with a win by nine points against Greece Athena. Matt Thaney might be known around these parts more for his perimeter prowess despite being one of the taller players in the area at 6-foot-5, but he dispensed a thunderous baseline dunk with a couple of Trojans in the vicinity in that victory. The sport 6-foot-3 Benedict DiGiovanni is arguably the best in is lacrosse, but he has emerged recently as a legitimate contributor for Pittsford Sutherland due to how he uses his above average height and frame for a backcourt player. Eastridge turned some heads a couple of weeks ago by beating Penfield by nine points. A sophomore guard for the Lancers in Tony Arnold is currently seventh in scoring amongst players across the Monroe County divisions. Kyndal Taggart has shown over the past pair of seasons that he is a guy capable of some exciting feats if he is allowed to get to the rim.
Northstar Christian at Vertus Charter—Tues., Dec. 19, 7:00 PM
Northstar Christian has been one of the very best teams in the state when it comes to the smaller classes over the past chunk of seasons thanks in large part to twins Miles Brown and Michael Brown. As a sophomore last year, 6-foot-1 Miles poured in nearly thirty points an outing. The also very productive Michael has become pretty polished on the alley end of setting up his slightly taller brother for dunks. During the first half of one ballgame last season, Michael threw the basketball off the glass to Miles for a transition throwdown. The Knights are also paced by the outside shooting of Tray Roberts and Matthew Medeiros. Vertus Charter was one of the most pleasant surprises in the sport in Section V a year ago due to ending the regular season with a 13-7 record and reaching the sectional semifinals for Class C1 so early in the lifetime of the program. 6-foot-2 Tajman Ball is one of the most underrated slashers in the section.
Leadership Academy for Young Men at Monroe—Wed., Dec. 20, 6:15 PM
There are not many teams in the sport in Section V that returned as many reliable starting rotation pieces from a season ago as the Lions. Senior guard Dezmere Ellis has been a vocal leader that this area is lucky to have on top of a leader whose example is also displayed through intense play on the court for a long time now. Rondell Watson started in the backcourt for the Lions as an underclassman last year. 6-foot-4 lane-stuffer Davon Brown added a pretty reliable perimeter jumper to his repertoire this campaign. The number of players that the Redjackets possess that are capable of making a shot from downtown in a game is staggering. This past Friday night against East High, three usual starters for Monroe did not get the starting nod, but Giovanniel Santiago was able to send back-to-back threeballs home to spark a comeback in the first half versus the Eagles.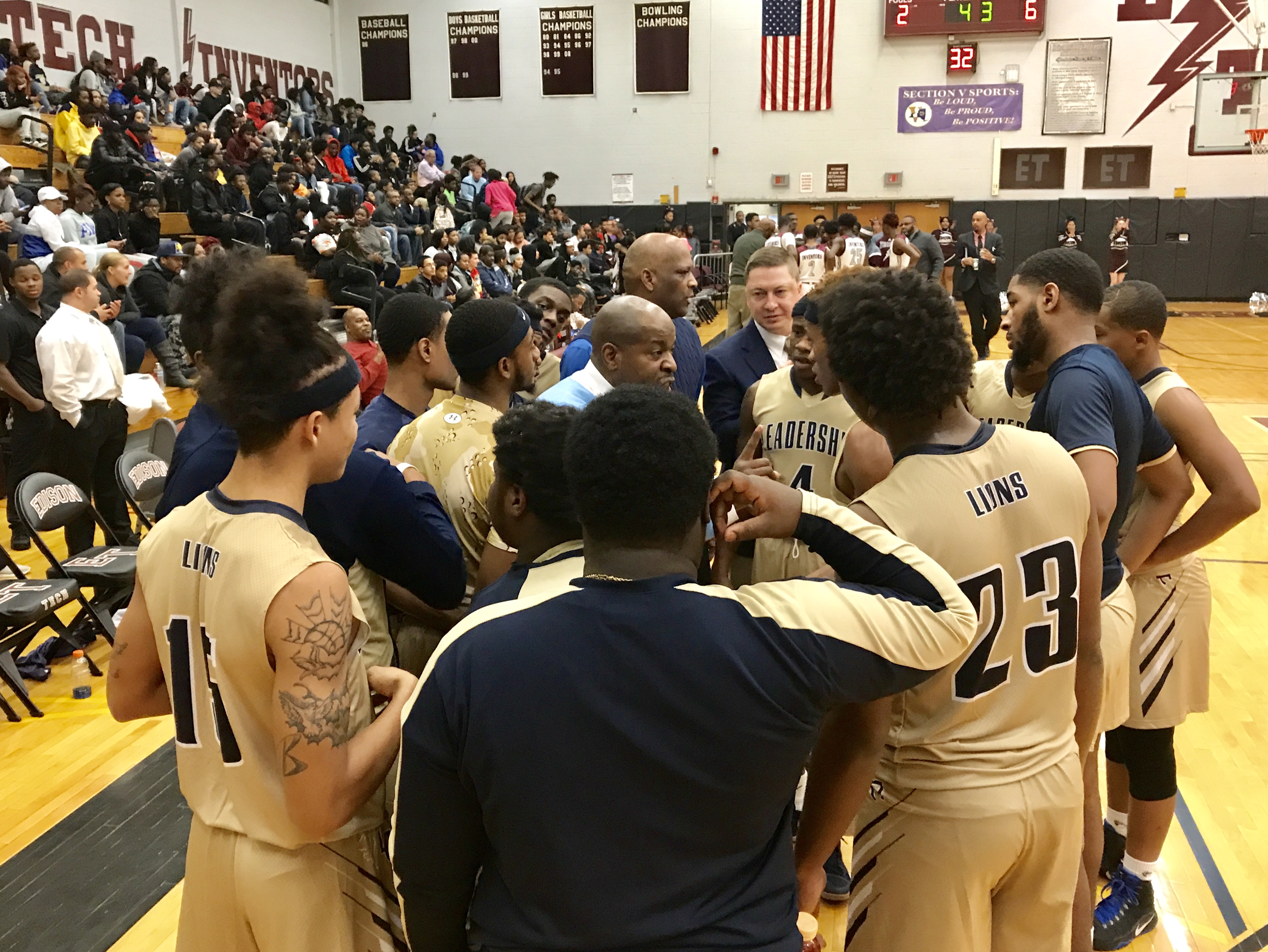 McQuaid Jesuit at Aquinas Institute—Fri., Dec. 22, 7:30 PM
In the final game of the regular season for both of these squads last year, the Knights came away with a win by nineteen points on the home floor of their heated rival. Aquinas Institute is coming off a notable win over Buffalo East that moved the team a game away from a .500 record. Underclassmen garner a lot of buzz for the home side for this one due to the roster containing a trio of frontcourt rotation players that all stand at least 6-foot-4, but junior Luke Putnam really shined against that Section VI opponent with 5-of-8 shooting from downtown. It took a little while for McQuaid Jesuit to gets its hands on its first victory of this season, but it sure was a marvel when it came. This past Friday night, the Knights took down a more than strong Edison Tech squad by 22 points. In one stretch of just a minute and nine seconds in the first quarter against the Inventors, 6-foot-3 sophomore Jermaine Taggart exploded for twelve points. Taggart had already scored 23 points in just the first half of a game earlier in the season.
Midlakes at Newark—Sat., Dec. 23, 5:00 PM
The Screaming Eagles graduated one of the best leapers in Section V recently in Daryn Carswell from their team from last year, but the program luckily returned one of the bigger names in terms of the smaller classes in this area in 6-foot-5 Trevor Milliman. He will be half of what should be one of the most notable individual frontcourt battles that Section V will see this season regardless of class. The other half of that tango will be 6-foot-7 Taylor Clements. Clements made headlines earlier this campaign after a successful one-handed heave at the very end of a quarter from next to the opposite hoop landed him on SportsCenter after just the first full day of boys basketball action in the section this season.
It is only through one full day of games, but this @sectvbb season already has an #SCTop10 play. Waffle fries! // @NewarkAthletics @NYSPHSAA pic.twitter.com/1rgYJKaNvz

— Matt Trabold (@TrabsMatt) November 30, 2017
His repertoire includes a wide variety of more traditional basketball skills as well, whether it be a smooth stroke on jumpers, being able to bring the ball up the floor in a pinch as a big man or leaping well to go along with that nice height of his. When he stays away from fouling issues, D'Andre Saunders is another springy frontcourt player for the Reds that can accumulate a ton of positive stats.
The dunk contest had players going into their bag of tricks for finishes pic.twitter.com/070rnpfsbB

— ScoutsFocus (@ScoutsFocusHelp) October 14, 2017
SECTION V IN DIVISION I UPDATE
Quinton Rose—So., Temple (Bishop Kearney)
Rose was one of the very top stories in men's college basketball this past Wednesday due to how he performed against top-ranked Villanova that night. He flaunted his improved jump shot to the tune of 5-of-6 shooting from deep as part of a performance of 27 points and three steals against the Wildcats. The highlight plays for Rose are usually of the dunking variety, but he made scouts salivate with a crossover dribble followed by a long two-point jumper from near the top of the key that stunned his defender. That defender just happened to be a projected lottery pick for the 2018 NBA Draft and one of the top candidates for which player should be considered the best defender in the collegiate ranks nationally this season in Mikal Bridges.
His Temple team might be overmatched by No.1 @NovaMBB but Rochester's Quinton Rose looks like a future NBA guard tonight @qrose_3 pic.twitter.com/X1X4tBW3Kc

— Mike Catalana (@MikeCatalana) December 14, 2017
At least one national NBA Draft expert in Reid Forgrave pegged Quinton as a first-round selection in the 2018 NBA Draft coming into this season. With his outside shooting becoming more efficient this time around and the numbers he is stacking up as a sophomore for the Owls, that just might happen.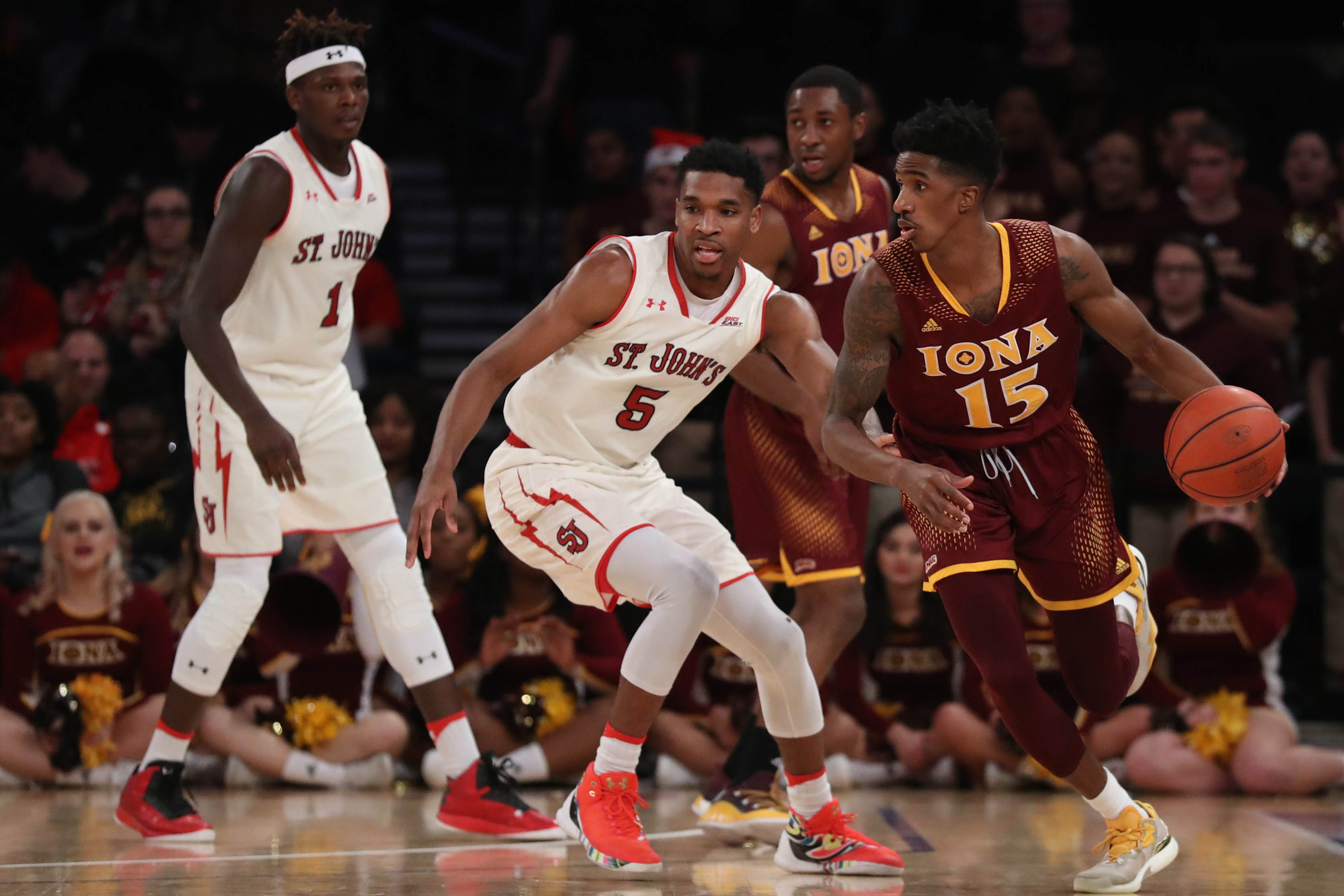 Deyshonee Much—Sr., Iona (Gates Chili)
Much is not shooting quite as efficiently from downtown this season thus far as he did in his first pair of campaigns as a Gael, but he has certainly picked it up from that range over the past week. Over his last couple of contests, Deyshonee shot a combined 8-of-16 from deep against St. John's and Yale. He also poured in a combined 34 points versus the Red Storm and Bulldogs in that span. That gives him a streak of three games in a row in terms of double-digit scoring. This is a promising sign because Much had not reached double figures in scoring in the three ballgames prior to that most recent trio of outings. Additionally, he is roughly a third of the way into his best collegiate season from an assists perspective.