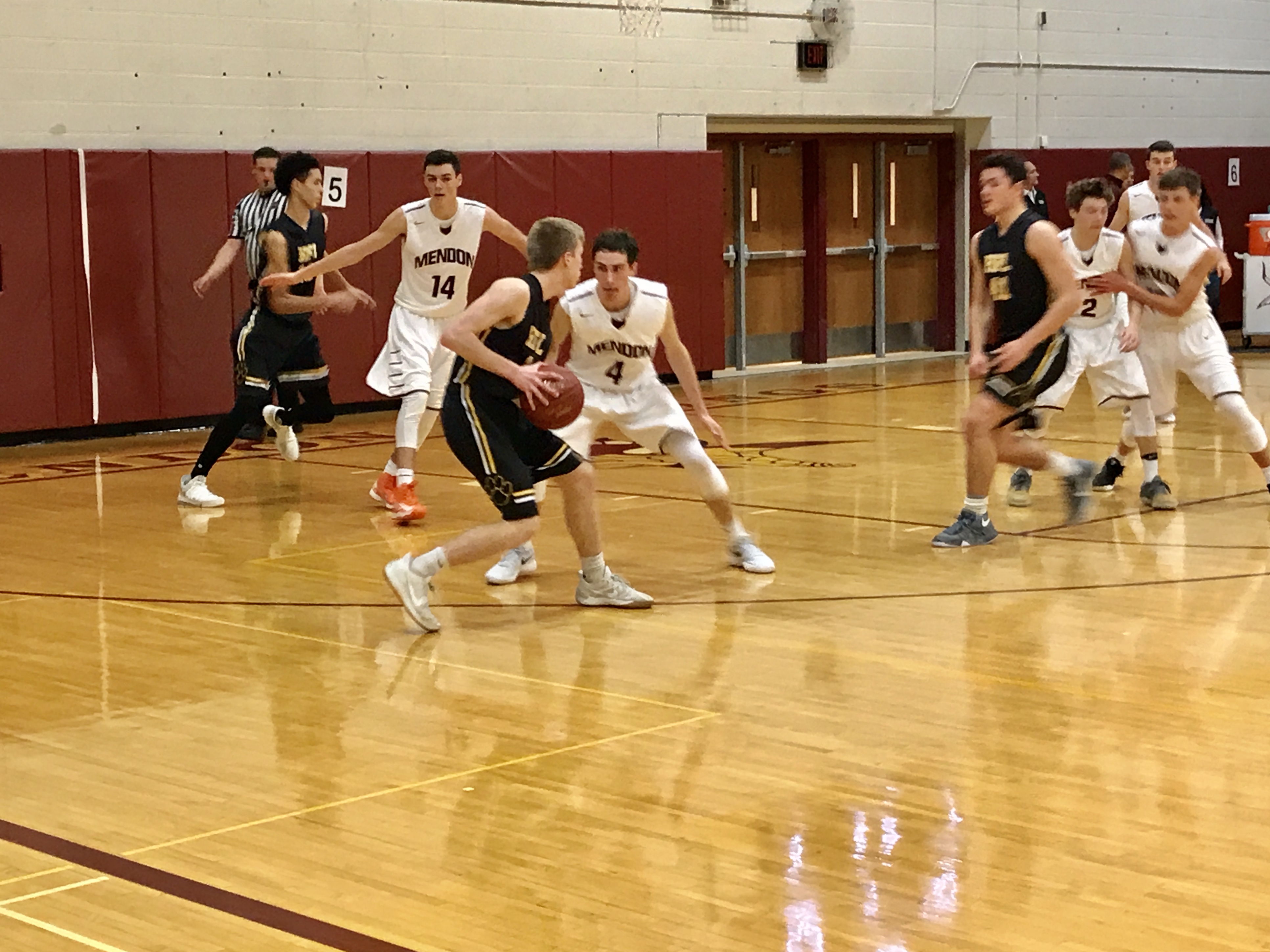 By PAUL GOTHAM
MENDON, N.Y. — Daniel Cook netted eight of his game-high 22 points early in the third quarter, and the Pittsford Mendon boys' basketball team turned a two-point halftime edge into a double-digit cushion en route to a 68-58 victory over the Honeoye Falls-Lima Cougars, Monday night.
Cook finished a layup in transition, converted three of four free throws and made it an 11-point game with a traditional 3-point play.
"My teammates just played out of their minds," the 6-foot-5 junior said. "They knew I was open. They got me the ball."
His rebound, putback and one gave the Vikings a 40-29 lead with 3:56 to go in the third quarter.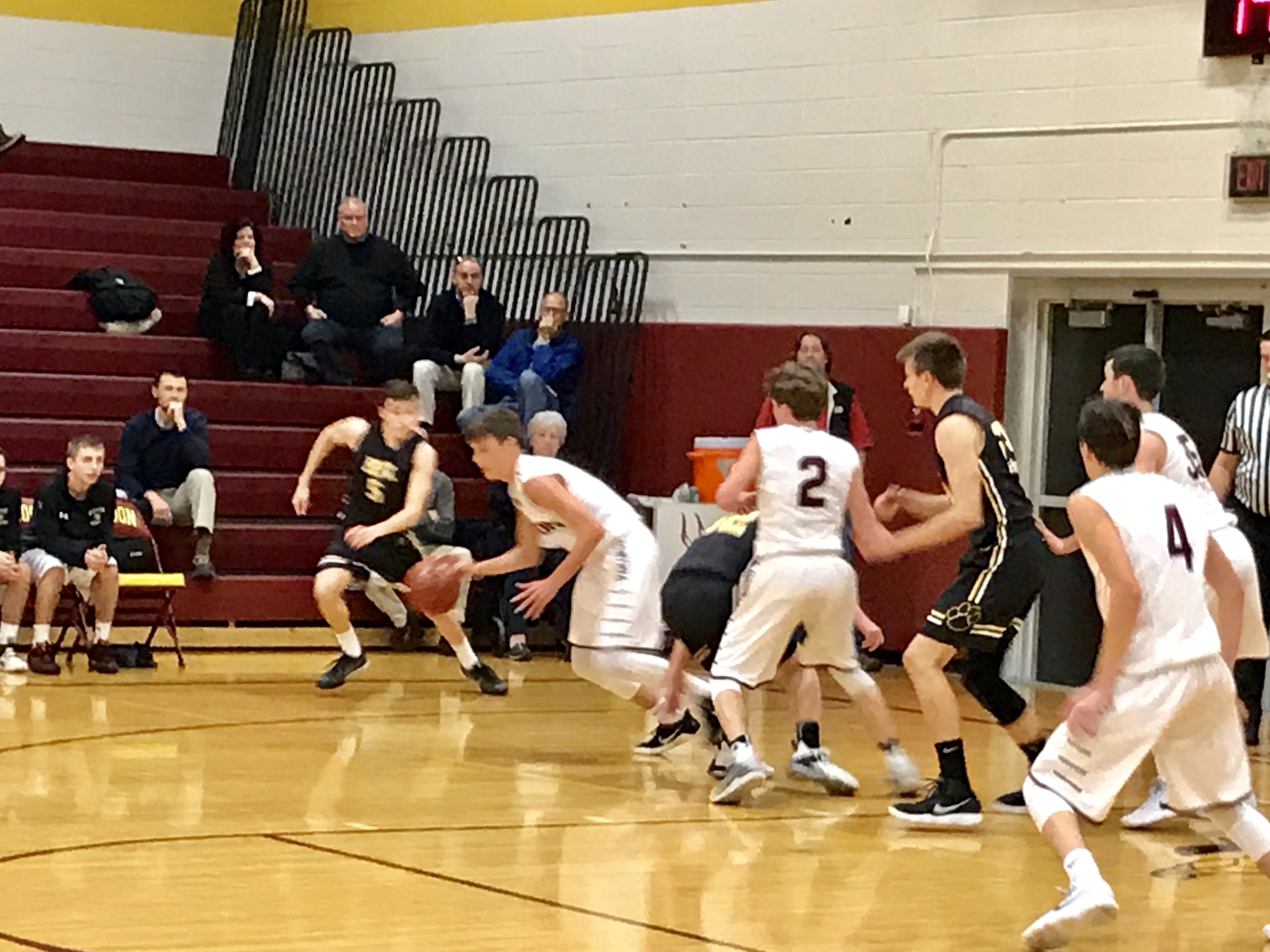 "He's smart with the ball and crafty," Mendon head coach Bob Nally said of the guard/forward.  "He gets his eyes on the rim which gets guys out of their stance and off-balance a little bit. He's got good hands, and he's able to finish with his right and left."
Cook entered play scoring 16 points per game for the Vikings.
"The thing with him that I see is he's got a lot of room to grow too," Nally commented. "He's still not as strong as he will be. He's a young junior. He turned 16 [around] the first day of school.  When he gets a little bit stronger, he's going to be a real threat."
While Cook produced on the offensive end, Mendon's man-to-man defense held HF-L without a field goal for the first 4:30 of the second half.
"We knew we had to come out with energy," Nally stated. "We traded runs a little bit in the first half. We talked about getting out and getting after it. We knew the team that came out and delivered that first run would have a little bit of a psychological edge."
After HF-L pulled to within five, the Vikings tallied the last six of the quarter with Connor Krapf getting a steal and layup for a 48-37 Mendon lead going into the fourth stanza.
Cook scored a pair of buckets early in the fourth as Mendon solved HF-L's half-court trap.
"We had two guys pretty deep in the corners who were not seeing the ball," Nally explained. "After a timeout, we brought them a little bit closer. Once we were able to close that passing lane in a little bit and not have to throw a 20-footer and maybe just a 10-12 foot pass, we were able to attack and take advantage of the one guy down low and get some two-on-ones."
Matt Powers pushed the lead to 13 with one of his two 3-pointers on the night. Krapf followed with a runner on the break. Two possessions later, Krapf hit a pair from the free throw line, and the Vikings had their largest lead of the night at 59-42 with 4:25 remaining in the contest.
"It's good to see us step up," Nally said of his club which was playing without starting point guard Jacob Shadders. "We're doing well. I'm proud of the way we responded. We're pretty young. We only return two guys with any varsity experience, so it's baptism by fire for a lot of the guys out there. It's the first time with the physicality and the strength and the speed difference."
HF-L's Dan Hayes scored 11 of his 18 points in the first half as neither team led by more than four points. Owen VanNewkirk hit three 3-pointers and finished with 10 points on the night. Trevor Chamberlain hit two 3s and also scored 10 for the Cougars which fell to 3-2 with the loss.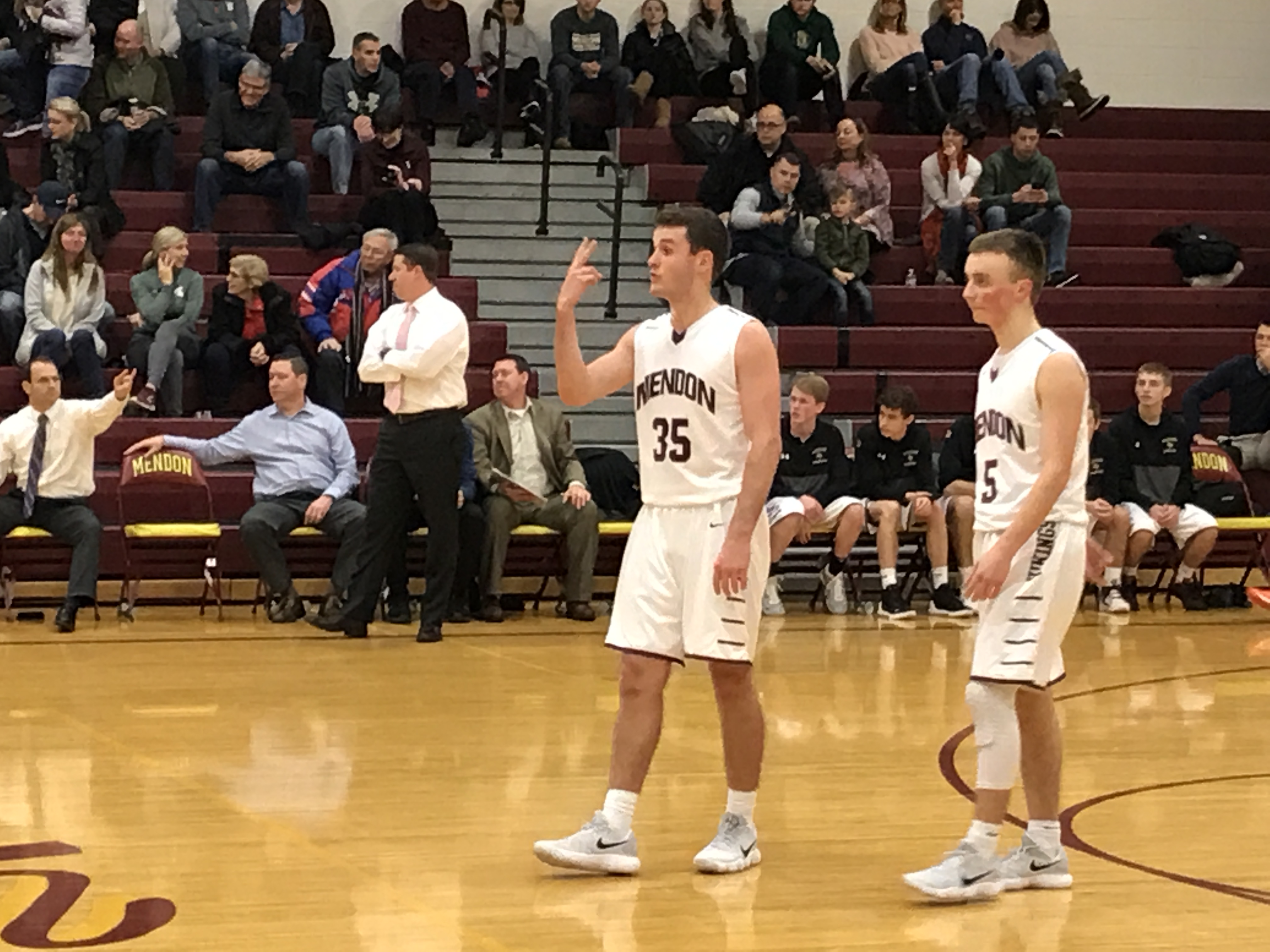 Powers scored 10 of his 20 points in the first half for the Vikings (3-1). Krapf added 15.
Shadders suffered a foot injury in a recent contest. The freshman will miss this Friday's crosstown matchup with Pittsford Sutherland.
Other scorers: HF-L – Jack Eastman (7), Garrett Ruff (7) and David O'Connell (6). Mendon – Michael Harrington (4), Nathan Strauf (4), Garrett Bartzsch (2) and Michael Kneuer (1).