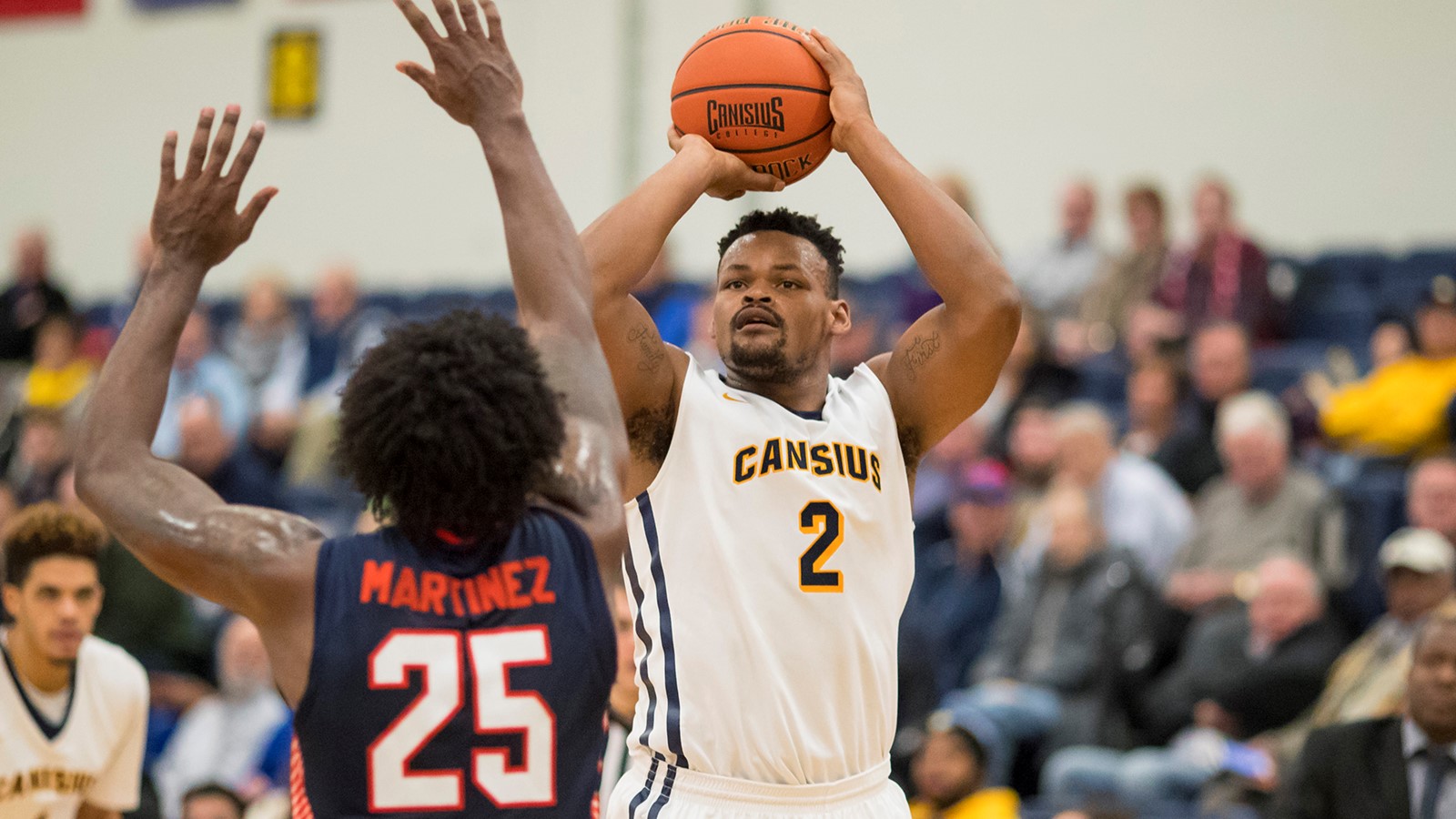 Courtesy of GoGriffs.com
EVANSVILLE, IND. – Evansville made 15 second-half free-throws, with 13 of those coming in the game's final 3:48, as the host Purple Aces defeated Canisius 65-58 Saturday afternoon in the Ford Center in Evansville, Ind. The win moves Evansville to 8-2 on the year, while the Golden Griffins slipped to 4-6 with their second-straight loss.
Senior Jermaine Crumpton scored a team-high 14 points and grabbed nine rebounds in the loss for Canisius, while sophomore Isaiah Reese added 13 points, five assists and four steals. Freshman Takal Molson was good for eight points and junior Marcale Lotts scored a career-high seven points for the Griffs, who shot a season-low 37.7 percent from the field and just 18.2 percent (6-for-33) from 3-point land.
For Evansville, Dru Smith led all scorers with 17 points to go along with six assists and three rebounds. Blake Simmons chipped in 12 points and four assists for the Aces, who shot 51.2 percent from the field despite hitting on just 1-of-7 attempts (14.3 percent). Evansville ended the game by making 22 of its 28 tries at the free-throw line, while the Griffs went 6-for-9 from the charity stripe.
Canisius trailed by as many as 15 points early in the second half after the Aces used a 17-4 run that spanned over the two halves to take a 38-23 lead with 17:36 left on the clock. After a Canisius timeout, the Griffs cranked up the defensive pressure that fueled an 18-8 run that got the Blue and Gold within five at 46-41 with 9:29 showing on the clock. Evansville kept Canisius at arms-length and took a 52-43 lead with 5:44 left to play after Simmons scored on a backdoor lay-up. That basket would end up being the Aces' final field goal for the game, as Evansville scored its final 13 points at the free-throw line.
Canisius got within three points at 53-50 with 2:47 left after Crumpton drilled a 3-pointer from the top of the key. Four-straight free-throws for Evansville pushed the Aces' cushion back to seven, but an offensive put-back by sophomore Spencer Foley and a lay-up by Crumpton with 1:26left got Canisius within three points at 57-54. Crumpton drilled another 3-pointer moments later to make the score 59-57 with 57 seconds left to play, but the Griffs came up empty on their next trip down the floor with a turnover, and Evansville made two charity tosses to push its cushion back to four points at 61-57 with 23 ticks left.
Every Griff who played on Saturday scored at least two points, and the team was credited with 14 assists on 23 field goals. Sophomore Malik Johnson added four assists to the Griffs' total, while senior Selvedin Planincic was good for four points and three rebounds off the bench. He also matched a season-high with three blocked shots. After turning the ball over 19 times in the loss to St. Bonaventure on Wednesday, Canisius matched a season-low with 12 turnovers.
Head Coach Reggie Witherspoon's Postgame Comments
"We had a feeling that this was going to be a tough, grind it out kind of game, and it was. I think the thing that jumps out at you today is that we missed 27 3-point attempts. We're normally a better team in that regard. We also had some good free-throw shooters on the line late and we missed some. When you only get nine [free-throws], you need to make them. I thought we did a pretty good job with defending their motion offense, and we held the top 3-point field goal percentage team in the country to 14 percent. We just need to focus on the things that we can control, and continue to work at minimizing our turnovers."
Game Notes
• This was the second all-time meeting between the two schools, and it is the first at Evansville.
• The Purple Aces now lead the all-time series between the program's 2-0.
• Canisius played its first game on the road against a current member of the Missouri Valley Conference since the 2009-10 opener when the Griffs played at Loyola in Chicago.
• Crumpton has now scored in double-figures in eight games this season and 60 times in his career.
The nine rebounds for Crumpton on Saturday are a season-high for the senior, who now has 347 career boards.
• Johnson's four assists on Saturday gives him 200 for his career in 44 career games. He is the second-fastest Griff in program history to dish out 200 assists, trailing only former Griff guard Frank Turner.
• Reese matched a season-high with four steals on Saturday.
Up Next
Canisius will have a week off for final exams before returning to the road Saturday, Dec. 16 at Albany. Tipoff with the Great Danes is set for 7 p.m.That game will be broadcast live on ESPN3, with the radio call available on Buffalo's WECK 1230-AM and 102.9-FM, GoGriffs.com and the TUNEIN app.