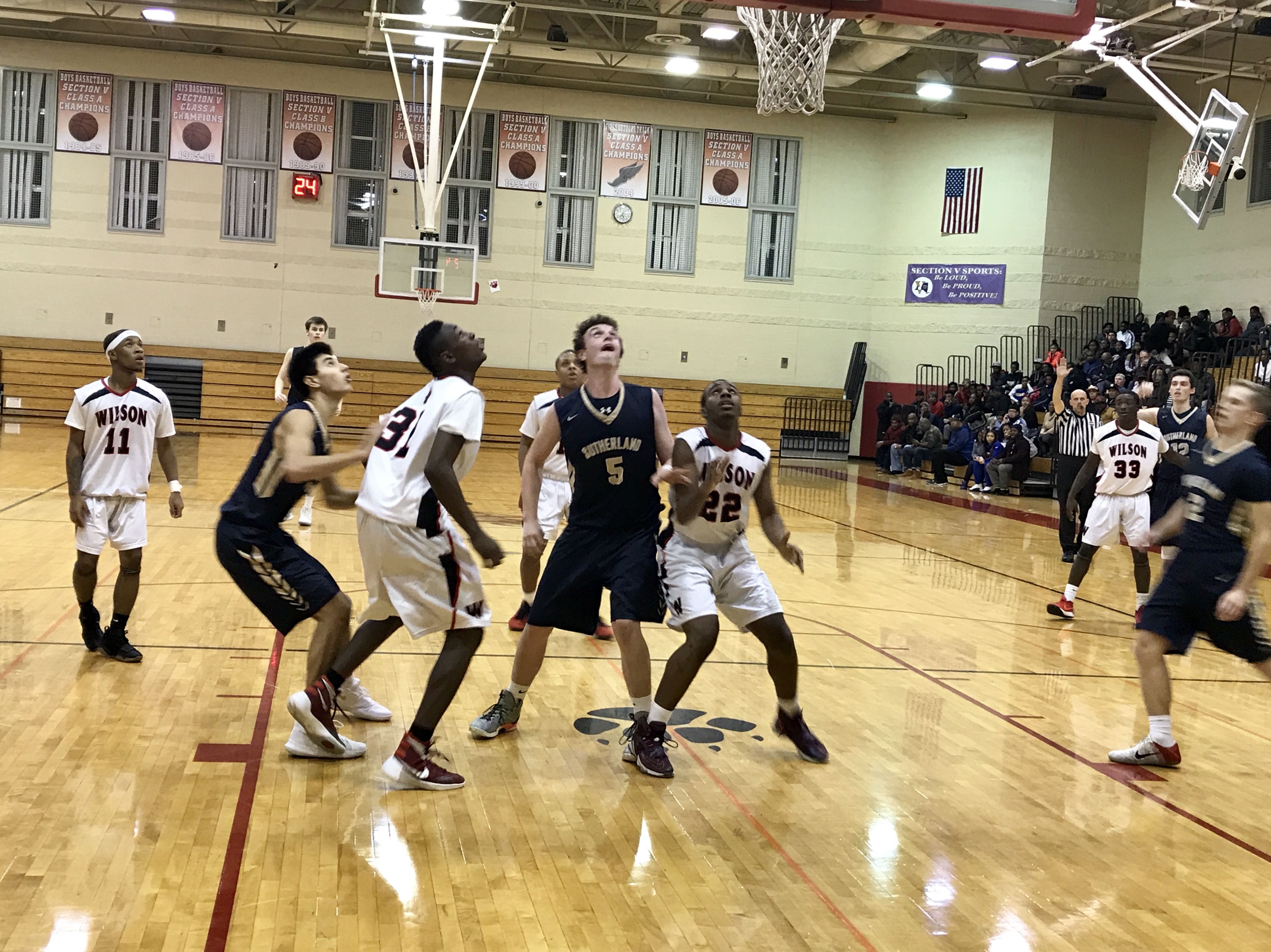 By PAUL GOTHAM
ROCHESTER, N.Y. — Fans might have figured the Pittsford Sutherland boys basketball team had the game well in hand when the Knights took a 23-point lead early in the fourth quarter.
On the road against two-time Section V Class A2 finalist Wilson-Magnet, Sutherland coach John Nally knew better.
Wilson-Magnet outscored Sutherland by 16 over a three-and-a-half minute stretch and had a chance to make it a one-possession game before Sutherland regained its composure.
Kevin Ryan netted a game-high 23 points, and the Knights improved to 3-0 with a 65-58 victory over Wilson.
"They're not afraid to be down 20," Nally said of Wilson. "They don't quit. They keep coming at you. We needed to handle it better obviously but we didn't."
Wilson's Robert Davis stuck a 3-pointer with 43.6 seconds remaining to make it five-point game at 63-58. The Wildcats forced a five-second call on the ensuing inbound, but could not convert on the opportunity.
"They got that spurt-ability," Nally said. "They're really dangerous in transition, so they're capable of making those runs."
Ryan scored five points in the third quarter and opened the fourth with a pair of free throws and a bucket off a spin move in the lane. After a Josh Rosen 3-pointer, Davis Heyman connected on one of two free throws to give Sutherland a 58-35 advantage.
Kevin Ryan finishes in the lane. End 3rd: @SutherlandHoops 50 @wildcats_wilson 33 pic.twitter.com/cgx8VdWrsq

— Paul Gotham (@PickinSplinters) December 9, 2017
The game's momentum swung from there.
Desi Floyd sparked the Wilson rally with a 3-pointer from the right corner. The junior forward followed with five more points during a sequence when Wilson grabbed back-to-back offensive boards on missed free throws and scored six points without Sutherland touching the ball.
Brennan Clark hit two free throws then grabbed an offensive rebound and scored before Davis cut the deficit to five with the last of his team-high 17 points.
"This team and in this gym, it's a real game of runs," Nally noted. "These guys have played in games like that before. I see it all the time."
Sutherland's Ben DiGiovanni scored all seven of his points in the third quarter as the Knights stretched an eight-point halftime lead to 17.
Leading 35-27, Chris Cox converted a steal and layup. DiGiovanni connected on a pull-up jumper. Graham Schild got ahead of the defense for a layup. After Ryan scored underneath, Schild led DiGiovanni for a bucket, free throw and three-point play. DiGiovanni hit two more from the free throw line, and Sutherland led 48-31.
"Our half-court defense was really good for a little while," Nally noted "In general for 28 minutes I thought we really locked them down. Then we stopped rebounding, stopped taking care of the ball."
Matt Thaney hit two three-pointers as Sutherland opened the game on a 12-0 run.
A Davis 3-point play with 6:30 to go in the second quarter cut the margin to three at 20-17.
Wilson could not get over the hump from there.
Thaney finished with 11 points. Schild had six.
Clark had 14 for Wilson and Floyd 10. Malikk Johnson scored eight for the Wildcats.