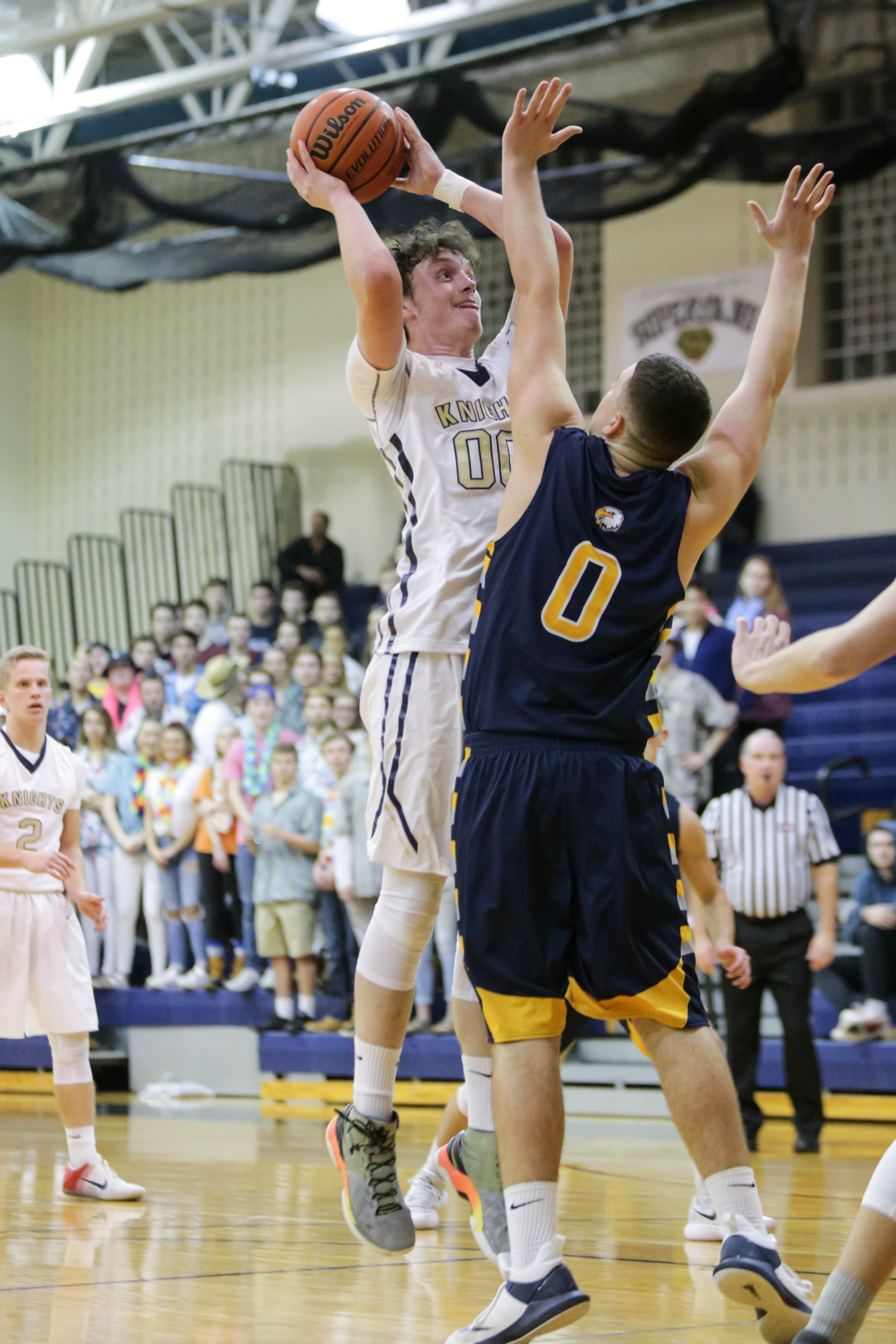 By PAUL GOTHAM
ROCHESTER, N.Y. — Credit the Pittsford Sutherland boys basketball team with the willingness to stare down a past failure. After bowing out of the 2017 Class A2 sectionals in the quarter-finals, the Knights opened the 2017-18 campaign against the same opponent that ended their season just nine months ago.
Sutherland turned the tables Wednesday night.
Sparked by a relentless defensive effort and the deft inside scoring touch of Kevin Ryan, the Knights defeated the Wayne Eagles, 58-44.
"We were really, really good defensively in that first quarter," Sutherland head coach John Nally said."I thought the guys were really locked in. They did what the game plan said we had to do."
Ryan netted eight of his game-high 22 points, and Sutherland, which never trailed in the contest, forced four turnovers in the first eight minutes to take a 13-5 lead into the second quarter.
"The pressure and the energy, we were really tough," Nally added. "We were fighting over screens. We made it hard for them to run their stuff. That was pretty critical to be able to jump out, get that lead and set the tone defensively."
Ryan got himself in the scorebook with a finish underneath to go with an and-one for an 8-2 Sutherland lead. Two possessions later, the 6-foot-5 junior followed Josh Rosen's layup attempt in the open floor. He converted one of two free throws and capped the first quarter with a baseline pivot and a lay in.
VIEW MORE CHRISTOPHER CECERE PHOTOS HERE.
"Kevin is a really good player for us," Nally said. "He's got really good athleticism in small space. His hands are phenomenal, and he's got all sorts of up and under stuff. He is really one of the few throwback post players these days."
Ryan found Ben DiGiovanni with a block-to-block pass early in the second quarter to give Sutherland its first double-digit advantage of the game at 15-5.
Chris Cox gets the steal. Matt Thaney finishes at the other end. End 3: Sutherland 42 Wayne 33 @PCSDAthletics pic.twitter.com/aq4vl40dp2

— Paul Gotham (@PickinSplinters) November 30, 2017
Logan Blankenberg hit back-to-back 3-pointers to pull Wayne within three at 17-14, but the Knights closed the second quarter on a 9-2 run.
"We really struggled against their zone, offensively last year," Nally said referring to the loss in sectionals. "We knew that it probably wasn't going to be a game where we got into the 60s. But defensively we just had to make sure we were going to be good. If the energy was good and we were tough on that end of the floor, then things would work themselves out."
Sutherland's Matt Panara stripped a ball in the paint and went the length of the floor for a layup. DiGiovanni followed the play for a putback and a 26-16 advantage at half.
Wayne opened the second half on a 10-2 run, and Blankenberg's traditional three-point play made it 29-26 with 5:26 to go in the quarter. It was as close as the Eagles would get for the remainder of the contest.
Senior point guard Graham Schild connected for a 3 from the top of the key.
"That was definitely big," Nally said of Schild's trey. "It loosened us up a little bit."
Ryan closed the stanza with a pair of buckets when he knocked down a turnaround jumper just inside the free throw line and finished on the back end of the press break when Panara found him behind the Wayne defense.
Billy Thomson drives baseline for two. @WCSD_Athletics pic.twitter.com/eW1QTeHZKj

— Paul Gotham (@PickinSplinters) November 30, 2017
"The zone is tough for a big," Nally explained. "They were collapsing really hard on him."
Ryan finished with nine rebounds on the night.
Rosen connected four times behind the arc and added a dozen points. DiGiovanni had 11 and Schild seven.
Blankenberg paced Wayne with 17 points. Ryan's interior counterpart, Nick Carmichael chipped in 12 points for the Eagles.
"Billy and I were both kidding before the game," Nally said referring to a conversation with Wayne coach Bill Thomson.  "Between him (Ryan) and Carmichael this might be the last two great post players we ever coach. It's enjoyable. There are not a lot of kids who are natural in the post anymore."
Sutherland hosts Canandaigua next Wednesday, December 6th. Wayne hosts Honeoye Falls-Lima on Friday, December 1st.